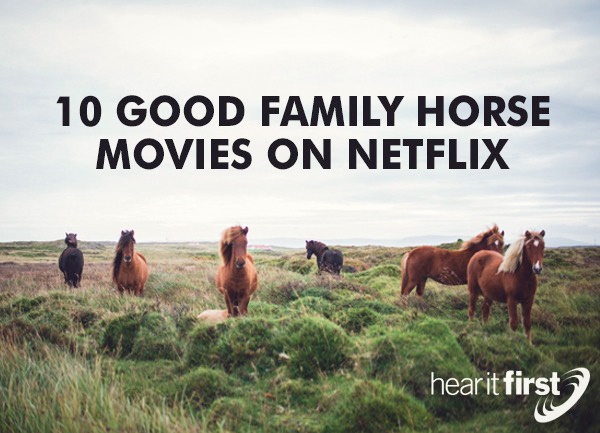 Do you have a daughter who absolutely loves horses? I certainly do and I want to encourage her love of horses. They are friendly animals that are devoted and can help a person heal and blossom in many ways. At three, my daughter is a little young for the responsibility of taking care of and training a horse, but there are many horse movies we love watching together on Netflix instant.
Here are ten good family horse movies on Netflix Instant.
10. Black Beauty (1946 – TV-PG)
Squire Weldon is a recent widower and is struggling to raise his young daughter Anne (played by Mona Freeman) who is left without a mother. Squire gives Anne a colt named Black Beauty and the task of taming the horse. He really hopes that Black Beauty can tame Anne as she is running wild. This touching story shows a father trying to do what's right in a difficult circumstance and a daughter who wants to be seen as the young woman she is becoming.
9. Dark Horse (1992 – PG)
Allison is a teenager who just lost her mother and hates the new city she was forced to move to. She can't stand the new school either and gets into trouble after hanging out with the wrong guy. The judge orders her to community service working at a horse stable to introduce her to something new. Allison builds a connection with a horse named Jet. The two get into a horrible car accident and they have to rely on each other to overcome many challenges.
8. A Fine Step (2014 – PG)
Luke Perry is a horseman and endures an injury that leaves him reeling to cover the costs of maintaining his horse, farm and lifestyle. Mason Scott is a businessman who buys the property next door for his teenage daughter Claire. It doesn't take long for Claire to become acquainted with Luke and wants her dad to be neighborly by lending Luke the money they desperately need.
7. Storm Rider (2013 – PG)
Dani is a spoiled teenager who is used to everyone bending to every wish and whim she invents. Her dad is sent to jail and she is forced to live with her uncle, Sam Fielding (played by Kevin Sorbo). Sam is dedicated to his horses and farm and doesn't care much about maintaining a clean house or developing a relationship with the niece newly dropped on his doorstep.
6. Camp Harlow (2014 – Not Rated)
Alex follows a boy, Eric, she likes to a summer camp and doesn't anticipate how connecting with a horse will lead her to finding God. She fights everything about the camp to start with and then begins giving her life to God.
5. Amazing Racer (2013 – PG)
Julianne Michelle is 17 and suddenly on a new path in life as her father dies and she meets the mother she didn't know existed. She learns that she was actually kidnapped from her mother, Christine, as a baby and she decides to move to be close to her. While there, she starts spending time at the horse stable of Christine's boyfriend. She connects with a horse named Rainbow and begins putting the shattered pieces of her life back together.
4. Cowgirls 'N Angels (2012 – PG)
The Sweethearts of the Rodeo are competitive trick riders lead by Terence, an older man who was a rodeo star in his glory days. Terence meets Ida, who is a young girl often left by herself while her mother works. He realizes that Ida is bored and decides to recruit her for the team. Ida is excited, thinking she may finally be able to find her father who she has never met.
3. The Greening of Whitney Brown (2011 – PG)
Whitney Brown lives a privileged life with credit card shopping trips and is surrounded by the most popular circle of friends in school. Everything changes when her father loses his job and they have nowhere else to go except the small country town where her parents grew up. They live in her grandfather's house and eat homegrown food. Whitney soon becomes connected with a horse named Bob and learns it's a bit harder to transition into country life than she expected.
2. Flicka 2 (2012 – PG)
Seventeen-year-old Carrie McLaughlin loves living in Philadelphia with her grandmother, but her grandmother can no longer take care of her. She is forced to move out west and live on her father's horse ranch. Carrie hasn't seen her father, Hank, since she was a baby and is angry and feels a sense of abandonment by her father. Carrie connects with Flicka, a wild mustang that Hank agreed to take care of for his niece.
1. Cowgirls 'N Angels 2: Dakota's Summer (2014 – PG)
Dakota Rose is 17 and part of the Sweethearts of the Rodeo. She learns that she was adopted and the news leaves her in a mix of devastation and full of questions. She spends the summer trying to learn about her background and who she really is. While working at a camp for disadvantaged children, Dakota meets Summer Jennings and the two connect and learn that riding and family are all about the heart.
The best thing about these horse movies is that you won't mind watching them over and over and over again. What are your favorite horse movies to watch?
Article by Elise Cleary
I am a Christian writer and editor that lives in northern Michigan and thoroughly enjoy music, movies, TV shows, books and other entertainment with a Christian focus. My favorite song is "Oceans" by Hillsong United because it reminds me that has big plans for me and everyone else who puts their trust in Him. There are many movies that have impacted my life, but a few include God's Not Dead, The Shunning and Letters to God. I also write for www.faithandentertainment.com and love connecting with readers, so please don't hesitate to contact me! When I'm not writing I enjoy watching movies and laughing with my busy toddler and husband.