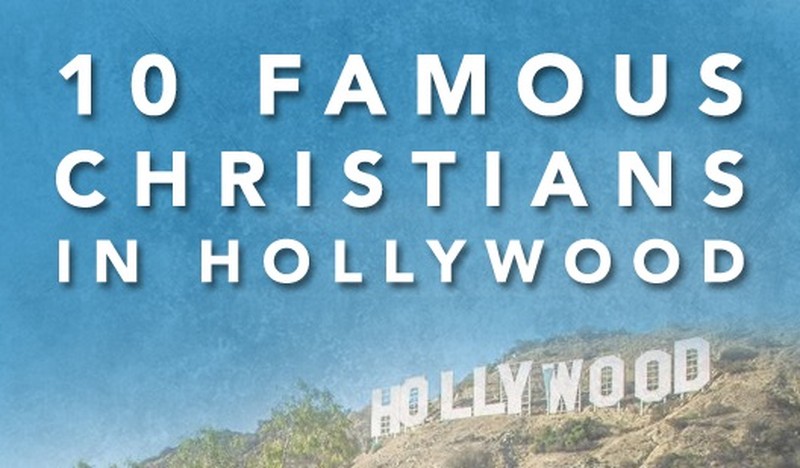 There are many negative views of celebrities in Hollywood with stars getting away with speeding tickets, crimes and lifestyles that are unacceptable for other people. Fortunately, there are many Hollywood stars who are Christians by example and not afraid of sharing their faith. Here are 10 famous Christians in Hollywood.
10. Sherri Shepherd – Actor, Comedian and TV Personality
If you watch The View, then you may follow Sherri Shepherd's career. She is an outspoken Christian who, at times, has been in the middle of controversy, but she holds true to her faith. As a comedian and actress she has starred in different roles and has been able to speak about her faith.
9. Mark Burnett – Producer
Have you watched Shark Tank, The Apprentice, Survivor or The Voice? Mark Burnett is the television producer of these hit shows and many more. He isn't often seen on camera, but has a lot of influence behind the scenes and took a step of faith and huge risk in producing the docuseries The Bible.
8. Carrie Underwood – Singer, Actress
After becoming the winner of the fourth season of American Idol, Carrie Underwood rose to fame as a country music artist. Her first single "Inside Your Heaven" quickly became the number one song on Billboard's Hot 100. As a performer, Carrie doesn't get on stage in skimpy outfits and often shares her faith.
7. Tom Hanks – Actor, Producer, Director, Writer
Born in 1956, Tom Hanks has played so many roles and gained fame through films including Dragnet, Big, A League of Their Own, Sleepless in Seattle, Forrest Gump, The Da Vinci Code, Saving Mr. Banks and many others. He has been very outspoken based on his faith and beliefs in politics.
6. Tyler Perry – Actor, Writer, Producer, Screenwriter, Songwriter
Tyler Perry has been a successful Christian celebrity but started out as a high school dropout who began writing as a form of therapy. This lead to writing the community production of I Know I've Been Changed, which talks about forgiveness, self-worth and family dysfunction. It was reworked and has been incredibly successful. As an outspoken Christian, many of his award-winning projects include the Black church culture.
5. Denzel Washington – Actor, Director, Producer
As a gifted actor, Denzel rose to fame and didn't walk the same troubled path that many celebrities embark upon. He has been married to wife Pauletta Pearson since 1983, has been the spokesperson for the Boys & Girls Clubs of America for over 20 years and is known for his donations to many causes. Denzel's mild manner and genuine smile has captivated many and he still remains humble.
4. Roma Downey – Actress, Producer
Originally born in Ireland, Roma found fame and success early in her career starring in Touched By An Angel with Della Reese from 1994 to 2003. She passed up many opportunities before the hit show. This really shows that waiting for the right opportunity from God is more rewarding than dedicating your time on anything. In 2011 she worked on the docudrama The Bible with successful producer and husband Mark Burnett.
3. Candace Cameron-Bure – Actor, Author, Speaker
As outspoken about her faith as her brother Kirk Cameron, you may assume that the two were raised in a Christian home. Candace walked her own faith journey to become the Hollywood Christian she is today. She started acting at a young age and played D.J. Tanner on Full House from 1987 to 1995. She also played the role of Summer Van Horne on Make It or Break It who was a Christian engaged to rich gymnastic dad Steve Tanner.
2. Kirk Cameron – Actor, Producer, Speaker
Kirk Cameron has become an open book about his faith and journey to becoming a godly man. Early in his acting career, Kirk starred in Beyond Witch Mountain and countless other shows and films before becoming a main character in Growing Pains. He has focused on many faith-based projects, such as Touched by An Angel, Praise the Lord, The Birth of Jesus, The Left Behind Series, Fireproof and his recent documentary Unstoppable.
1. Chuck Norris – Actor, Speaker, Author, Marital Artist
Whether you know him as an exercise and health guru, political conservative, martial arts master or devout Christian, Chuck Norris has become a household name. After working on many movies, he made the break to television in 1993 with Walker, Texas Ranger, which ran until 2001.
There are many other Christians in Hollywood and with successful Christian reality shows like Duck Dynasty and 19 Kids and Counting. I expect an increasing number of outspoken Christian celebrities.
Article by Elise Cleary
I am a Christian writer and editor that lives in northern Michigan and thoroughly enjoy music, movies, TV shows, books and other entertainment with a Christian focus. My favorite song is "Oceans" by Hillsong United because it reminds me that has big plans for me and everyone else who puts their trust in Him. There are many movies that have impacted my life, but a few include God's Not Dead, The Shunning and Letters to God. I also write for www.faithandentertainment.com and love connecting with readers, so please don't hesitate to contact me! When I'm not writing I enjoy watching movies and laughing with my busy toddler and husband.