Caleb and Kelsey Sing 'O Holy Night / Silent Night' Medley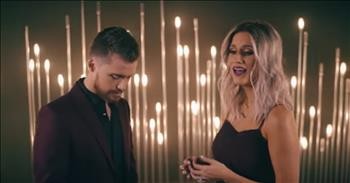 The popular husband and wife duo, Caleb and Kelsey, are back with a stunning mash up of "O Holy Night/Silent Night". These songs feel like they were meant to be together and we are loving this Christmas worship!

"O holy night the stars are brightly shining
It is the night of our dear Savior's birth
Long lay the world in sin and error pining
Till He appeared and the soul felt its worth "
Taking these two popular Christmas hymns and blending them together and the result is beautiful. Singing about our Savior's birth, both of these songs have always been near to our hearts this time of year. There is something so wonderful to take a moment and sink into these quiet moments of praise.
"Glories streams from heaven afar
Heavenly hosts sing, alleluia"
The often skipped verse of 'O Holy Night' offers such a powerful reminder of how God intended us to love one another and to offer grace to each other. Especially in this Christmas season as we mark the birth of our Savior it's important to focus on Christmas as a time of worship and a season where our hearts should be overflowing with love for others.
"Truly He taught us to love one another
His law is Love and His gospel is Peace
Chains shall he break, for the slave is our brother
And in his name all oppression shall cease
Sweet hymns of joy in grateful Chorus raise we
Let all within us praise his Holy name!"
anthem-lights

8728 views

2018-11-21T10:05:38

source: Anthem Lights The popular husband and wife duo, Caleb and Kelsey, are back with a stunning mash up of "O Holy Night/Silent Night". These songs feel like they were meant to be together and we are loving this Christmas worship!

"O holy night the stars are brightly shining
It is the night of our dear Savior's birth
Long lay the world in sin and error pining
Till He appeared and the soul felt its worth "

Taking these two popular Christmas hymns and blending them together and the result is beautiful. Singing about our Savior's birth, both of these songs have always been near to our hearts this time of year. There is something so wonderful to take a moment and sink into these quiet moments of praise.

"Glories streams from heaven afar
Heavenly hosts sing, alleluia"

The often skipped verse of 'O Holy Night' offers such a powerful reminder of how God intended us to love one another and to offer grace to each other. Especially in this Christmas season as we mark the birth of our Savior it's important to focus on Christmas as a time of worship and a season where our hearts should be overflowing with love for others.

"Truly He taught us to love one another
His law is Love and His gospel is Peace
Chains shall he break, for the slave is our brother
And in his name all oppression shall cease
Sweet hymns of joy in grateful Chorus raise we
Let all within us praise his Holy name!"
Suggested For You
---
Related Videos
---
Today's Devotional
A Prayer for Progress over Perfection - Your Daily Prayer - February 19, 2019
Top Artists