100 New York Churches Come Together To Sing 'The Blessing'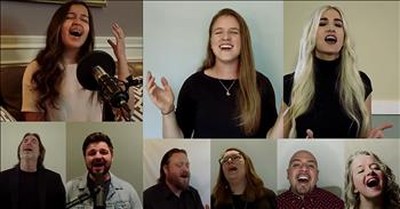 100 churches in New York come together for a virtual performance of 'The Blessing' from Kari Jobe.

Kari Jobe is a Grammy award-winning musician and a staple in the Christian music scene for over nearly two decades. Through the years, she's given us hits such as 'Revelation Song' and 'The Garden.' Her husband, Cody Carnes, is also a Christian artist.
Along with their friends, Christopher Joel Brown and Pastor Steven Furtick, they recently wrote the beautiful words to 'The Blessing.'
"The Lord bless you
And keep you
Make His face shine upon you
And be gracious to you
The Lord turn His Face toward you
And give you peace"
In 2020, New York was hit hard by COVID-19. Despite the sadness and struggled, the city came together as a community and the churches decided to share an important message. The caption of the video says, "From the epicenter of COVID-19, a prophetic song is rising from the heart of 100 churches in greater NY through 125 singers in 8 languages over the city of New York and to the world!"
And when you hear all of these incredible voices come together to sing 'The Blessing,' you will be in awe.
"In the morning
In the evening
In your coming
And your going
In your weeping
And rejoicing
He is for you
He is for you"
James 1:17 "Every good gift and every perfect gift is from above, coming down from the Father of lights with whom there is no variation or shadow due to change."
GodTube-Music

2997 views

2020-07-17T16:29:59

source: newyorkblessing 100 churches in New York come together for a virtual performance of 'The Blessing' from Kari Jobe.

Kari Jobe is a Grammy award-winning musician and a staple in the Christian music scene for over nearly two decades. Through the years, she's given us hits such as 'Revelation Song' and 'The Garden.' Her husband, Cody Carnes, is also a Christian artist.

Along with their friends, Christopher Joel Brown and Pastor Steven Furtick, they recently wrote the beautiful words to 'The Blessing.'

"The Lord bless you
And keep you
Make His face shine upon you
And be gracious to you
The Lord turn His Face toward you
And give you peace"

In 2020, New York was hit hard by COVID-19. Despite the sadness and struggled, the city came together as a community and the churches decided to share an important message. The caption of the video says, "From the epicenter of COVID-19, a prophetic song is rising from the heart of 100 churches in greater NY through 125 singers in 8 languages over the city of New York and to the world!"

And when you hear all of these incredible voices come together to sing 'The Blessing,' you will be in awe.

"In the morning
In the evening
In your coming
And your going
In your weeping
And rejoicing
He is for you
He is for you"

James 1:17 "Every good gift and every perfect gift is from above, coming down from the Father of lights with whom there is no variation or shadow due to change."

Today's Devotional
A Prayer to Remember That Joy Is a Way of Life - Your Daily Prayer - May 21
The Bible commands us, "be joyful aways!"
Top Artists
Top Music Videos