Security Footage Captures Florida Dad Jumping Into Pool To Save Toddler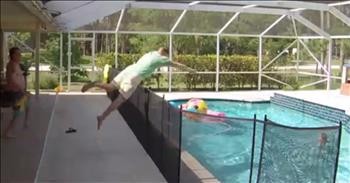 Security footage captures a terrifying sight as one father jumps into the pool to save his toddler son.

As summer approaches, children and their families will flock to pools and other areas of water for fun and recreation. While swimming pools are a great place to cool down during the hot summer months, they can also be a place of great danger.
Drowning is the number one cause of death for children age 1 to 4. Many times, parents or caregivers are close to a child when the incident occurs. Even when we are at our own pools or another private residence, the dangers of the water are still present.
This chilling video clip shows how quickly things can change from completely safe to panic. While friends are playing in the pool, Albert Passavanti sat on a nearby chair.
That is when his 1-year-old son, Rocco, spotted his ball in the pool. He walked over to it and attempted to reach out for the toy. In a split second Rocco had fallen into the pool and was unable to swim.
Even though there were people in the pool, no one reacted as fast Albert. He leaped right over the pool fence and dived in to save his toddler.
Thankfully, Rocco was not hurt but it taught this father a few valuable lessons. Albert now knows to always lock to the pool gate and told WPTV-TV that he "can't stress enough, nothing is as effective as watching your kids very closely."
Florida dad saves son from pool

HERO! A fast-reacting Florida dad leaped over a pool fence and dove head-first to save his 1-and-half-year-old son from drowning, and the dramatic action was all caught on camera. 👏👏👏 MORE: bit.ly/2X5AdNq

Posted by FOX 10 Phoenix on Tuesday, June 25, 2019
godtube-inspiration

7150 views

2019-07-02T14:57:27

source: Fox 10 Phoenix Security footage captures a terrifying sight as one father jumps into the pool to save his toddler son.

As summer approaches, children and their families will flock to pools and other areas of water for fun and recreation. While swimming pools are a great place to cool down during the hot summer months, they can also be a place of great danger.

Drowning is the number one cause of death for children age 1 to 4. Many times, parents or caregivers are close to a child when the incident occurs. Even when we are at our own pools or another private residence, the dangers of the water are still present.

This chilling video clip shows how quickly things can change from completely safe to panic. While friends are playing in the pool, Albert Passavanti sat on a nearby chair.

That is when his 1-year-old son, Rocco, spotted his ball in the pool. He walked over to it and attempted to reach out for the toy. In a split second Rocco had fallen into the pool and was unable to swim.

Even though there were people in the pool, no one reacted as fast Albert. He leaped right over the pool fence and dived in to save his toddler.

Thankfully, Rocco was not hurt but it taught this father a few valuable lessons. Albert now knows to always lock to the pool gate and told WPTV-TV that he "can't stress enough, nothing is as effective as watching your kids very closely."
Today's Devotional
A Prayer for Perspective - Your Daily Prayer - October 18
Top Artists