'God And Country Music' George Strait Live Performance From ACM Awards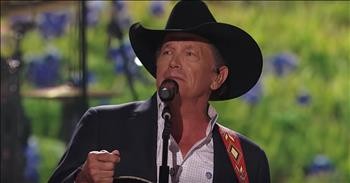 Country superstar George Strait performs his single 'God And Country Music' live at the 54th ACM Awards.

There's something about country music and the gospel that fit together so perfectly. Nothing can compare to hearing an uplifting Christian song with a bluegrass backdrop.
Legendary country performer George Strait certainly agrees with this sentiment. The words of his latest song, from the album 'Honky Tonk Time Machine," remind us of the unique connection.
"God and country music,
They both showed you the truth
Seen the low of the valley
And the highs of the mountains too
Folded hands and guitar strings
Jukebox preachers and angels singing
Call you like they knew ya
Between the hell and hallelujah"
Today, George is performing this powerful single at the 54th Academy Of Country Music Awards show. With a guitar in his hand, this country icon belts out the words as members of the audience nod their head in agreement.
"God and country music are like whiskey and a prayer
Like Johnny Cash's arm around Billy Graham
God and country music
They both never change
You find 'em when you need 'em
Where you stand"
George Strait is one of the most beloved country artists of all-time. Time after time, his songs resonate with fans all over the world.
'God And Country Music' premiered during one of his 'Strait to Vegas' residency shows and, since that moment, people have rallied around the anthem. Everyone is in agreement, just like George sings, "there's two things still worth saving, God and country music."
godtube-inspiration

4682 views

2019-04-22T15:37:08

source: George Strait Country superstar George Strait performs his single 'God And Country Music' live at the 54th ACM Awards.

There's something about country music and the gospel that fit together so perfectly. Nothing can compare to hearing an uplifting Christian song with a bluegrass backdrop.

Legendary country performer George Strait certainly agrees with this sentiment. The words of his latest song, from the album 'Honky Tonk Time Machine," remind us of the unique connection.

"God and country music,
They both showed you the truth
Seen the low of the valley
And the highs of the mountains too
Folded hands and guitar strings
Jukebox preachers and angels singing
Call you like they knew ya
Between the hell and hallelujah"

Today, George is performing this powerful single at the 54th Academy Of Country Music Awards show. With a guitar in his hand, this country icon belts out the words as members of the audience nod their head in agreement.

"God and country music are like whiskey and a prayer
Like Johnny Cash's arm around Billy Graham
God and country music
They both never change
You find 'em when you need 'em
Where you stand"

George Strait is one of the most beloved country artists of all-time. Time after time, his songs resonate with fans all over the world.

'God And Country Music' premiered during one of his 'Strait to Vegas' residency shows and, since that moment, people have rallied around the anthem. Everyone is in agreement, just like George sings, "there's two things still worth saving, God and country music."
Today's Devotional
A Prayer for God's Strength When You Feel Under Attack - Your Daily Prayer - May 24
Top Artists