'White Flag' Matt Maher Live Performance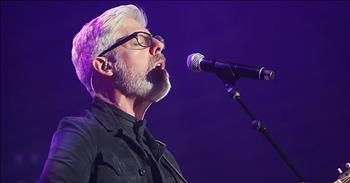 Christian artist Matt Maher performs a live rendition of the hit worship song 'White Flag.' This powerful song reminds us all that we find strength and solace in the arms of the Lord.

"We raise our white flag
We surrender
All to you
All for you
We raise our white flag
The war is over
Love has come
Love has won"
This popular track was originally released in 2012 by Passion. The song was written by Chris Tomlin, Jason Ingram, Matt Maher and Matt Redman. All four of these men are big names in the Christian music scene and this worship song proved to be a huge hit.
Chris Tomlin eventually released his own rendition of the song and it became a worldwide, inspirational anthem. Today, Matt Maher is releasing a live performance of 'White Flag' and you've got to hear him belt out these words of praise.
"Here on this holy ground
You made a way for peace
Laying your body down
You took our rightful place
This freedom song is marching on"
These incredible lyrics remind us that we need to hand it all over to God. When we put our trust in Him, He will truly lead us on the path to righteous. Let your Earthly worries fade away and give your heart to Him. 'White Flag' is just the worship song that I needed to hear today. Who else agrees?
1 Thessalonians 4:17 "Now may the God of peace himself sanctify you completely, and may your whole spirit and soul and body be kept blameless at the coming of our Lord Jesus Christ"
matt-maher

1814 views

2019-10-01T14:49:48

source: Matt Maher Christian artist Matt Maher performs a live rendition of the hit worship song 'White Flag.' This powerful song reminds us all that we find strength and solace in the arms of the Lord.

"We raise our white flag
We surrender
All to you
All for you
We raise our white flag
The war is over
Love has come
Love has won"

This popular track was originally released in 2012 by Passion. The song was written by Chris Tomlin, Jason Ingram, Matt Maher and Matt Redman. All four of these men are big names in the Christian music scene and this worship song proved to be a huge hit.

Chris Tomlin eventually released his own rendition of the song and it became a worldwide, inspirational anthem. Today, Matt Maher is releasing a live performance of 'White Flag' and you've got to hear him belt out these words of praise.

"Here on this holy ground
You made a way for peace
Laying your body down
You took our rightful place
This freedom song is marching on"

These incredible lyrics remind us that we need to hand it all over to God. When we put our trust in Him, He will truly lead us on the path to righteous. Let your Earthly worries fade away and give your heart to Him. 'White Flag' is just the worship song that I needed to hear today. Who else agrees?

1 Thessalonians 4:17 "Now may the God of peace himself sanctify you completely, and may your whole spirit and soul and body be kept blameless at the coming of our Lord Jesus Christ"

Suggested For You
---
Related Videos
---
Today's Devotional
A Prayer against Anxious Thoughts - Your Daily Prayer - June 4
Top Artists