'In Christ Alone' A Cappella Hymn From Anthem Lights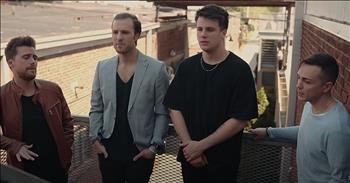 The incredible voices of Anthem Lights lead us in worship with a stunning a cappella rendition of 'In Christ Alone.'

The powerful lyrics of this classic hymn will remind you just how mighty God truly is. God is truly our hope, our light and our strength. He stands by us through every single struggle and never leads us astray.
"In Christ alone my hope is found,
He is my light, my strength, my song
This Cornerstone, this solid Ground
Firm through the fiercest drought and storm.
What heights of love, what depths of peace
When fears are stilled, when strivings cease
My Comforter, my All in All
Here in the love of Christ I stand."
Anthem Lights is one of the most recognized names in modern day Christian music. They became social media sensations with covers of popular hymns like 'How Great Thou Art' and 'It Is Well.'
Through the years, they've racked up over 140 million video views online and that number is still growing. With each medley and mashup, they continue to delight fans with their stunning vocals and unique arrangements.
We are blessed to serve such a loving and gracious Father in Heaven and these words are the perfect way to praise His Name.
1 Peter 1:8-9 "Though you have not seen him, you love him; and even though you do not see him now, you believe in him and are filled with an inexpressible and glorious joy, for you are receiving the end result of your faith, the salvation of your souls."
anthem-lights

4921 views

2020-05-05T11:41:41

source: Anthem Lights The incredible voices of Anthem Lights lead us in worship with a stunning a cappella rendition of 'In Christ Alone.'

The powerful lyrics of this classic hymn will remind you just how mighty God truly is. God is truly our hope, our light and our strength. He stands by us through every single struggle and never leads us astray.

"In Christ alone my hope is found,
He is my light, my strength, my song
This Cornerstone, this solid Ground
Firm through the fiercest drought and storm.
What heights of love, what depths of peace
When fears are stilled, when strivings cease
My Comforter, my All in All
Here in the love of Christ I stand."

Anthem Lights is one of the most recognized names in modern day Christian music. They became social media sensations with covers of popular hymns like 'How Great Thou Art' and 'It Is Well.'

Through the years, they've racked up over 140 million video views online and that number is still growing. With each medley and mashup, they continue to delight fans with their stunning vocals and unique arrangements.

We are blessed to serve such a loving and gracious Father in Heaven and these words are the perfect way to praise His Name.

1 Peter 1:8-9 "Though you have not seen him, you love him; and even though you do not see him now, you believe in him and are filled with an inexpressible and glorious joy, for you are receiving the end result of your faith, the salvation of your souls."

Today's Devotional
A Prayer to Forgive Yourself - Your Daily Prayer - June 3
Top Artists