A Father's Day Prayer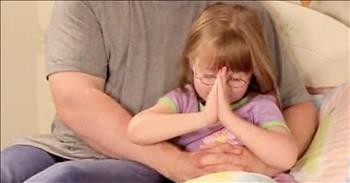 There is truly no one like a father in the eyes of a child. Whether it be our Father in Heaven above or the one we have been given on Earth, our dads play an important role in our lives.

Today, we get hear a very special Father's Day prayer that will truly stick with you. This innocent and touching prayer is sure to resonate in the hearts of fathers and reminds each of us just how important dads are to their children.
Fathers give us the love and support that we need each and every day. Even when they aren't physically with us, we can still feel their presence watching over us. Listening to these powerful words has me reaching for the phone to call my own father right now. What about you?
Video done by Hyper Pixels Media. Buy this video:
http://www.worshiphousemedia.com/producers/108/Hyper-Pixels-Media
Buy Now

Embed

worshiphousemedia

63211 views

2011-06-14T14:44:00

There is truly no one like a father in the eyes of a child. Whether it be our Father in Heaven above or the one we have been given on Earth, our dads play an important role in our lives.

Today, we get hear a very special Father's Day prayer that will truly stick with you. This innocent and touching prayer is sure to resonate in the hearts of fathers and reminds each of us just how important dads are to their children.

Fathers give us the love and support that we need each and every day. Even when they aren't physically with us, we can still feel their presence watching over us. Listening to these powerful words has me reaching for the phone to call my own father right now. What about you?

Video done by Hyper Pixels Media. Buy this video: http://www.worshiphousemedia.com/producers/108/Hyper-Pixels-Media

Today's Devotional
A Prayer for Dishing Out Truth - Your Daily Prayer - February 18, 2019
Top Artists