'Lord I Need You' Phil Wickham Featuring Matt Maher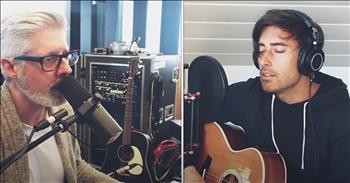 Contemporary Christian artists Phil Wickham and Matt Maher come together for a special at-home rendition of 'Lord, I Need You.' These words are the comfort and peace that we all need right now.

"Lord, I come, I confess
Bowing here I find my rest
Without You I fall apart
You're the One that guides my heart"
'Lord, I Need You' was a Grammy-nominated song for Matt Maher. He wrote the iconic hit along with fellow artists Kristian Stanfill, Christy Nockels, and two of Chris Tomlin's band mates, Jesse Reeves and Daniel Carson. They collaborated line by line and drew inspiration from the classic hymn 'I Need Thee Every Hour.'
Today, fellow Christian artist Phil Wickham is going Matt Maher to lead us in worship with this iconic song. While both artists are performing from home, they are using technology to come to together and praise His Name.
"Lord, I need You, oh, I need You
Every hour I need You
My one defense, my righteousness
Oh God, how I need You"
During these times of uncertainty, it is more important than ever to turn to God. He is truly the source of our light and strength and He will always be there with open arms. Let us use these words to lift up His Name in praise for all the world to hear.
Proverbs 3:5-6 "Trust in the LORD with all your heart, and do not lean on your own understanding. In all your ways acknowledge him, and he will make straight your paths."
phil-wickham

2487 views

2020-06-02T13:33:31

source: Phil Wickham Contemporary Christian artists Phil Wickham and Matt Maher come together for a special at-home rendition of 'Lord, I Need You.' These words are the comfort and peace that we all need right now.

"Lord, I come, I confess
Bowing here I find my rest
Without You I fall apart
You're the One that guides my heart"

'Lord, I Need You' was a Grammy-nominated song for Matt Maher. He wrote the iconic hit along with fellow artists Kristian Stanfill, Christy Nockels, and two of Chris Tomlin's band mates, Jesse Reeves and Daniel Carson. They collaborated line by line and drew inspiration from the classic hymn 'I Need Thee Every Hour.'

Today, fellow Christian artist Phil Wickham is going Matt Maher to lead us in worship with this iconic song. While both artists are performing from home, they are using technology to come to together and praise His Name.

"Lord, I need You, oh, I need You
Every hour I need You
My one defense, my righteousness
Oh God, how I need You"

During these times of uncertainty, it is more important than ever to turn to God. He is truly the source of our light and strength and He will always be there with open arms. Let us use these words to lift up His Name in praise for all the world to hear.

Proverbs 3:5-6 "Trust in the LORD with all your heart, and do not lean on your own understanding. In all your ways acknowledge him, and he will make straight your paths."

Today's Devotional
A Prayer of Praise for Worn Out Bibles - Your Daily Prayer - September 19I live in this book, with this book, and by this book. Like our verse in Hebrews says, God's word to me is "alive and active."
Top Artists