'While I Wait' Lincoln Brewster Official Video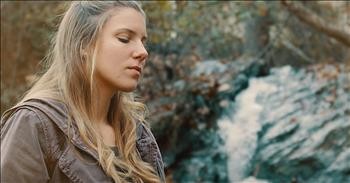 Talented Christian artist Lincoln Brewster shares the official music video for his single, 'While I Wait.'

This song is the perfect reminder that God has the ultimate plan for our lives and all we need to do is follow His lead.
"While I wait, I will worship
Lord, I'll worship Your name
While I wait, I will trust You
Lord, I'll trust You all the same"
'While I Wait' is featured on Lincoln's album, 'God Of The Impossible.' He wrote this song during a very difficult time period of his life. Lincoln and his wife were in a season of waiting and he turned to God to find strength and guidance.
"When I fall apart, You are my strength
Help me not forget
Seeing every scar, You make me whole
You're my healer"
These words remind us to put our trust in God no matter what. He will always be right beside us each and every step of the way.
Even when we may struggle and be faced with darkness, God will be the light that is there to guide us home. Lincoln Brewster summed it up perfectly when he spoke about his own situation.
"There is much meaning to be found in the pain of waiting. Often, we never know what the purpose is until the promise is fulfilled. Then there are times when we never discover the ultimate purpose of our wait.
However, I do know that the wait is never wasted. While we're waiting, God is molding us, shaping us, transforming us."
godtube-inspiration

3062 views

2019-04-03T14:46:28

source: Integrity Music Talented Christian artist Lincoln Brewster shares the official music video for his single, 'While I Wait.'

This song is the perfect reminder that God has the ultimate plan for our lives and all we need to do is follow His lead.

"While I wait, I will worship
Lord, I'll worship Your name
While I wait, I will trust You
Lord, I'll trust You all the same"

'While I Wait' is featured on Lincoln's album, 'God Of The Impossible.' He wrote this song during a very difficult time period of his life. Lincoln and his wife were in a season of waiting and he turned to God to find strength and guidance.

"When I fall apart, You are my strength
Help me not forget
Seeing every scar, You make me whole
You're my healer"

These words remind us to put our trust in God no matter what. He will always be right beside us each and every step of the way.

Even when we may struggle and be faced with darkness, God will be the light that is there to guide us home. Lincoln Brewster summed it up perfectly when he spoke about his own situation.

"There is much meaning to be found in the pain of waiting. Often, we never know what the purpose is until the promise is fulfilled. Then there are times when we never discover the ultimate purpose of our wait.

However, I do know that the wait is never wasted. While we're waiting, God is molding us, shaping us, transforming us."
Today's Devotional
A Prayer for Your Aging Parent - Your Daily Prayer - October 19
Top Artists