Cory Asbury 'Reckless Love' Cover From 6 Talented Sisters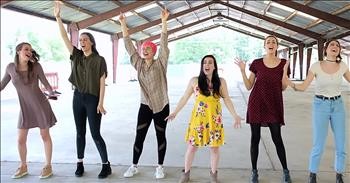 The six talented sisters of Cimoreli perform an incredible cover of 'Reckless Love' from Cory Asbury. These siblings range in age from eighteen to twenty-eight.

They've been performing together for over a decade. Cimorelli started with a YouTube channel where they would upload and sing cover songs. Then, the popularity exploded and the vocalists were signed to their very own record deal. Today, they're performing this Christian hit and it's absolutely beautiful.
"Oh, the overwhelming, never-ending, reckless love of God
Oh, it chases me down, fights 'til I'm found, leaves the ninety-nine
I couldn't earn it, and I don't deserve it, still, You give Yourself away
Oh, the overwhelming, never-ending, reckless love of God, yeah"
'Reckless Love' was originally written and recorded by Christian artist Cory Asbury. This incredible worship song has touched lives all over the world and the inspiring message is still reaching out to the multitudes.
God loves us in ways that we could never imagine. Despite our sins and mistakes, He continues to show us mercy and grace.
This performance from these six sisters serves as a reminder that God's love for us will never end. It is such a blessing to serve a powerful Father in Heaven above. This worship song is the perfect way to give praise to His name.
1 Peter 1:3 "Praise be to the God and Father of our Lord Jesus Christ! In his great mercy he has given us new birth into a living hope through the resurrection of Jesus Christ from the dead."
godtube-inspiration

1971 views

2019-04-11T16:16:00

source: Cimorelli The six talented sisters of Cimoreli perform an incredible cover of 'Reckless Love' from Cory Asbury. These siblings range in age from eighteen to twenty-eight.

They've been performing together for over a decade. Cimorelli started with a YouTube channel where they would upload and sing cover songs. Then, the popularity exploded and the vocalists were signed to their very own record deal. Today, they're performing this Christian hit and it's absolutely beautiful.

"Oh, the overwhelming, never-ending, reckless love of God
Oh, it chases me down, fights 'til I'm found, leaves the ninety-nine
I couldn't earn it, and I don't deserve it, still, You give Yourself away
Oh, the overwhelming, never-ending, reckless love of God, yeah"

'Reckless Love' was originally written and recorded by Christian artist Cory Asbury. This incredible worship song has touched lives all over the world and the inspiring message is still reaching out to the multitudes.

God loves us in ways that we could never imagine. Despite our sins and mistakes, He continues to show us mercy and grace.

This performance from these six sisters serves as a reminder that God's love for us will never end. It is such a blessing to serve a powerful Father in Heaven above. This worship song is the perfect way to give praise to His name.

1 Peter 1:3 "Praise be to the God and Father of our Lord Jesus Christ! In his great mercy he has given us new birth into a living hope through the resurrection of Jesus Christ from the dead."
Today's Devotional
A Prayer for When Life Doesn't Turn Out the Way You Expect - Your Daily Prayer - June 18
Top Artists