'Crazy Love' Chris McClarney Acoustic Performance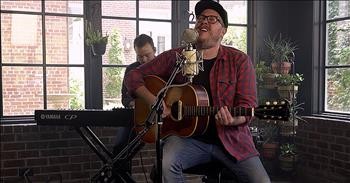 Talented Christian artist Chris McClarney performs an acoustic rendition of his hit song 'Crazy Love' at New Song Café. The lyrics of this song truly remind us that there is no love greater than that which comes from our Father in Heaven.

"There's nothing that can change it
Your love, Your love
There's no one that could tame it
This crazy love
Oh, what could separate us from
Your love, Your love
This crazy love"
Chris McClarney rose to fame as part of the popular Christian group, Jesus Culture. This man truly has a heart of the Lord and, now, he's sharing his God-given talent with the entire world. When speaking about the inspiration behind 'Crazy Love,' Chris said, "God, the Creator of the entire universe, loves us so much He gave His only Son to die for us! That is a crazy amount of love. So many of us have grown up hearing this story, but think about the things you'd give up for the ones you love. It can't compare."
These powerful words are such an important reminder that the love from our Father is never-ending. Despite our sins and shortcomings, God continues to stand by us each step of the way. We truly serve such an amazing Lord and this song is the perfect way to give praise to His name.
1 John 4:16 "And so we know and rely on the love God has for us. God is love. Whoever lives in love lives in God, and God in them."
GodTube-Music

1941 views

2019-05-20T16:21:16

source: Worship Together Talented Christian artist Chris McClarney performs an acoustic rendition of his hit song 'Crazy Love' at New Song Café. The lyrics of this song truly remind us that there is no love greater than that which comes from our Father in Heaven.

"There's nothing that can change it
Your love, Your love
There's no one that could tame it
This crazy love
Oh, what could separate us from
Your love, Your love
This crazy love"

Chris McClarney rose to fame as part of the popular Christian group, Jesus Culture. This man truly has a heart of the Lord and, now, he's sharing his God-given talent with the entire world. When speaking about the inspiration behind 'Crazy Love,' Chris said, "God, the Creator of the entire universe, loves us so much He gave His only Son to die for us! That is a crazy amount of love. So many of us have grown up hearing this story, but think about the things you'd give up for the ones you love. It can't compare."

These powerful words are such an important reminder that the love from our Father is never-ending. Despite our sins and shortcomings, God continues to stand by us each step of the way. We truly serve such an amazing Lord and this song is the perfect way to give praise to His name.

1 John 4:16 "And so we know and rely on the love God has for us. God is love. Whoever lives in love lives in God, and God in them."

Today's Devotional
A Prayer for When Life Doesn't Turn Out the Way You Expect - Your Daily Prayer - June 18
Top Artists