'Masterpiece' - Tori Kelly Featuring Lecrae Live Performance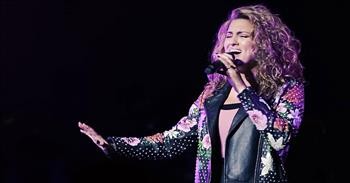 Christian artists Tori Kelly and Lecrae give a live performance of 'Masterpiece.' You can find this and other powerful songs on Tori's album 'Hiding Place.'

'That's why tonight I pray
Don't take Your love away
Forever in Your embrace
Without You I'm like a storm with no end
Tossed by the wind and sea
And when I'm incomplete
Just one request from me
God take my heart forever, it's Yours
Make me Your masterpiece'
Tori Kelly has been a staple on the music scene for years, but 2018 marked her first gospel album. Packed with stunning vocals and brilliant collaborations with artists like Kirk Franklin and The HamilTones, this album is sure to work its way up the charts. These poignant lyrics truly remind us that God made us just as we are. Even when we may feel at our lowest, know in your heart that God created us and He is always with us.
'You one of one and ain't no synonym
A Master Artist take a mess and make a masterpiece
And look at you, you been a gem'
The lyrics to the song are so moving. Asking God to take us into His arms and guide us through the storms of life. There is such beautiful imagery in those words and a message that we can all find solace in.
Joshua 1:9 "Have I not commanded you? Be strong and courageous. Do not be afraid; do not be discouraged, for the LORD your God will be with you wherever you go."
theremix

7326 views

2018-12-20T15:34:34

source: Tori Kelly Christian artists Tori Kelly and Lecrae give a live performance of 'Masterpiece.' You can find this and other powerful songs on Tori's album 'Hiding Place.'

'That's why tonight I pray
Don't take Your love away
Forever in Your embrace
Without You I'm like a storm with no end
Tossed by the wind and sea
And when I'm incomplete
Just one request from me
God take my heart forever, it's Yours
Make me Your masterpiece'

Tori Kelly has been a staple on the music scene for years, but 2018 marked her first gospel album. Packed with stunning vocals and brilliant collaborations with artists like Kirk Franklin and The HamilTones, this album is sure to work its way up the charts. These poignant lyrics truly remind us that God made us just as we are. Even when we may feel at our lowest, know in your heart that God created us and He is always with us.

'You one of one and ain't no synonym
A Master Artist take a mess and make a masterpiece
And look at you, you been a gem'

The lyrics to the song are so moving. Asking God to take us into His arms and guide us through the storms of life. There is such beautiful imagery in those words and a message that we can all find solace in.

Joshua 1:9 "Have I not commanded you? Be strong and courageous. Do not be afraid; do not be discouraged, for the LORD your God will be with you wherever you go."
Today's Devotional
A Prayer for Strength to Endure - Your Daily Prayer - May 29
Top Artists