Beautiful Christmas Video Reminds Us To Reach Out to the Lonely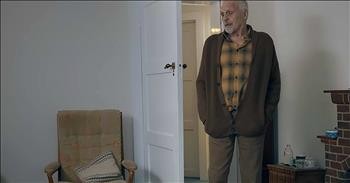 This touching Christmas video from Good Morning Britain's 1 Million Minutes Campaign reminds us that the holidays can be tough for some people. In order to help combat the loneliness, this daytime show enlisted the help of famed filmmaker Phil Beastall.

Beastall shot to attention when he created a Christmas advert about a young man missing his mom during the holidays. The video quickly went viral on Facebook even though the entire production only cost £50. When it came time for Good Morning Britain to create their own ad, they knew Beastall was the man for the job. So, he put together a powerful short film titled 'Time is a Gift.'
It showcases the pain and heartache that others feel when a piece of them has gone on to Heaven. One by one, each person shares their heartache, but also how they are working to overcome that hurdle. The 1 Million Minutes Campaign aims to help those struggling with loss or loneliness. People are given the opportunity to volunteer their time or money to help those in need.
The Christmas season can be an especially difficult time if you are missing a family member or loved one. It may feel like there is emptiness in your heart and loneliness in your soul. But there is comfort in knowing that our loved ones are in the hands of the Lord and He is the Prince of Peace.
Romans 8:28 'And we know that in all things God works for the good of those who love him, who have been called according to his purpose.'
godtube-inspiration

644 views

2018-12-11T16:20:52

source: Good Morning Britain This touching Christmas video from Good Morning Britain's 1 Million Minutes Campaign reminds us that the holidays can be tough for some people. In order to help combat the loneliness, this daytime show enlisted the help of famed filmmaker Phil Beastall.

Beastall shot to attention when he created a Christmas advert about a young man missing his mom during the holidays. The video quickly went viral on Facebook even though the entire production only cost £50. When it came time for Good Morning Britain to create their own ad, they knew Beastall was the man for the job. So, he put together a powerful short film titled 'Time is a Gift.'

It showcases the pain and heartache that others feel when a piece of them has gone on to Heaven. One by one, each person shares their heartache, but also how they are working to overcome that hurdle. The 1 Million Minutes Campaign aims to help those struggling with loss or loneliness. People are given the opportunity to volunteer their time or money to help those in need.

The Christmas season can be an especially difficult time if you are missing a family member or loved one. It may feel like there is emptiness in your heart and loneliness in your soul. But there is comfort in knowing that our loved ones are in the hands of the Lord and He is the Prince of Peace.

Romans 8:28 'And we know that in all things God works for the good of those who love him, who have been called according to his purpose.'
Today's Devotional
A Prayer to Love When It's Inconvenient - Your Daily Prayer - November 17
Top Artists