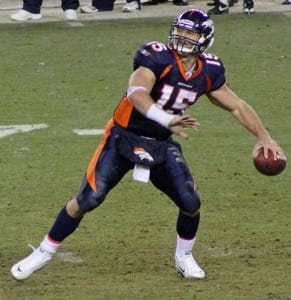 Tim Tebow is one of the most widely known and followed players in football. He has made a name for himself in being a Christian. Anyone who has heard of him should know this fact about him. He is a believer in Jesus Christ and he is not ashamed to show it at all. The issue with this is that many people don't want him to promote his faith from the stage that he is on. So, why is Tim Tebow so controversial? This is because he is choosing to show the love of Jesus Christ to a secular world. Let's look at some of the things from his past and present that he is doing for the kingdom and why those things may bring negative criticism from unbelievers or positive criticism from believers.
Events From The Past: Verses in the Eye Black
While playing for the University of Florida, Tim Tebow was widely known for putting scripture verses in his eye black. Christians all over were excited for this! Tim was a man of God standing up with visible verses for people to see on him. It was great! However, on the other side of the spectrum, the nay sayers would hurl insults at him. His eye black verses were so controversial that they were banned from being used by the end of his career.
Here are three of the verses that he used:
John 3:16 – "For God so loved the world, that He gave His only Son, that whoever believes in Him should not perish but have eternal life."
Ephesians 2:8-10 – "For by grace you have been saved through faith. And this is not your own doing; it is the gift of God, not a result of works, so that no one may boast. For we are His workmanship, created in Christ Jesus for good works, which God prepared beforehand, that we should walk in them."
James 1:2-4 – "Count it all joy, my brothers, when you meet trials of various kinds, for you know that the testing of your faith produces steadfastness. And let steadfastness have its full effect, that you may be perfect and complete, lacking in nothing."
Present Controversy
On April 29, 2013 the New York Jets released Tim Tebow and there have not been any solid offers thrown his way. Tim has a lot of negativity following him because of "Tebowmania." Many believe that the press he gets doesn't merit the attention he receives because his skill level is not high enough to receive so much publicity. Many feel like all of that attention will distract the other players. Owners don't want to commit to Tim because of this reason. So, his career is hanging in the balance and he may very well have to join the Canadian league before ever having a chance to join the ranks of the NFL again.
Also, "Tebowing" has always been an ongoing controversial issue with him. In case you don't know, "Tebowing" is when he gets down on one knee to say a prayer or give thanks to God. Many feel it is too invasive or "in your face". This also is a reason why he may not get picked up by another NFL team. Owners don't want to deal with all of the media and negative attention that the secular world gives him. Christians love this quality about him though. He is one of the biggest role models out there to Christian families everywhere.
His Future?
Well, as of now Tim has no idea what his future is. Many think his skill level is not NFL worthy, so he may be headed to the Canadian league. However, they may not want him there either. So if he isn't playing football, what is left for him? Well, there may be a bright future for him in preaching, public speaking or even being a motivational speaker. While his faith in God is very evident, his loyalty to our Creator is just as strong. He has said himself, "If all I am is a football player and that is it I would consider my life to be a tragedy. Being an inspiration is more important that winning football games. I want to be a great role model to the next generation. In the short term, I want to be the best football player I can be. In the long term, I want to inspire people. At the end of the day I can do that through the platform football gave me."
Conclusion
Tim Tebow has the most dedicated fans in all of football. Christians around the United States applaud his boldness to defend and uphold the gospel of Jesus Christ. For this reason, he has created quite a controversy with those who oppose the Christian faith. His past controversial issues with the eye black were at the beginning of this ordeal. However, he stayed strong and continued "Tebowing" at every game. Now, his future is a controversy because he has no idea where he will wind up next. However, the way he has conducted himself through all of the ups and downs of his career is something to be admired. His faith is real and I really don't think he is scared of his future. He knows that God is in control. God bless you!
"The Truth" Hebrews 12:1-2 "Therefore, since we are surrounded by so great a cloud of witnesses, let us also lay aside every weight, and sin which clings so closely, and let us run with endurance the race that is set before us, looking to Jesus, the founder and perfecter of our faith, who for the joy that was set before him endured the cross, despising the shame, and is seated at the right hand of the throne of God."
Resources- The Holy Bible, English Standard Version"Scripture quotations are from The Holy Bible, English Standard Version® (ESV®), copyright © 2001 by Crossway, a publishing ministry of Good News Publishers. Used by permission. All rights reserved.", www.youtube.com,photo credit: Jeffrey Beall via photopin cc,photo credit: Jeffrey Beall via photopin cc,photo credit: Jeffrey Beall via photopin cc