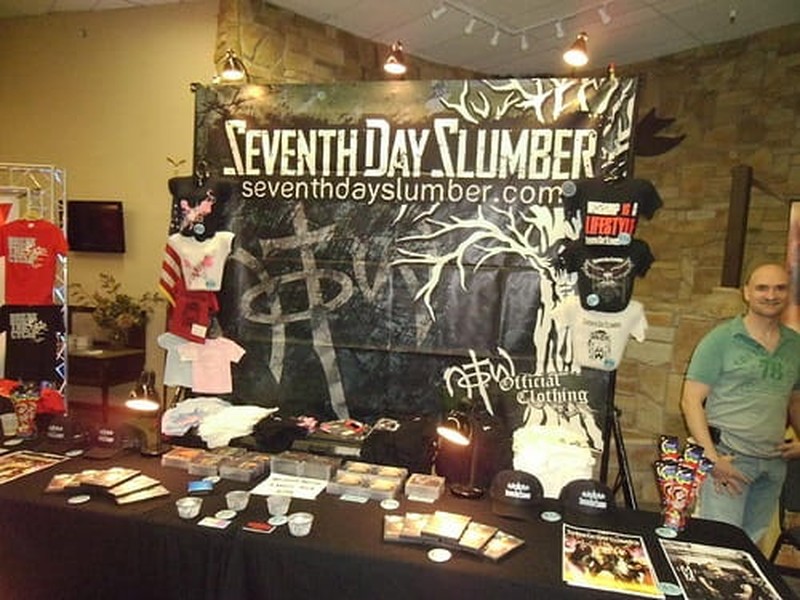 There are so many talented guitarists in Christian music today.  To pick only 5 was very tough because I didn't want to stick to one genre of music.  The 5 I have chosen range from 1980's hair bands and 1990's rock bands all the way to metal bands of today.  Here are my top 5 guitarists in Christian bands to date.
"The Truth" Psalm 101:1 I will sing of steadfast love and justice; to you, O Lord, I will make music.
5.  Jason Combs (Phineas)
This is kind of funny, but I just stumbled upon this band and I already love their sound.  Jason has an amazing solo in the song "I Am the Lion."  He is an amazing guitar player from his heavy riffs in the rhythm to his fast and melodic solo.  I wish I could say more, but I haven't heard much from them yet.  They are Christian and they rock!
4.  Ben Kasica (former guitarist for Skillet)
I love how Ben plays.  He was very original in what he wrote and played while with Skillet.  No other band sounds like them, which is why they are so talented.  My favorite song by Skillet is "Whispers in the Dark."  Ben does an amazing job at drawing you in with the melodic/mysterious sounding riffs of that song.  He has an awesome guitar solo in it too.  Ben was very good at playing different styles for Skillet.  He played heavier songs like "Savior" and "Rebirthing" all the way to lighter songs like "Yours to Hold" and "Believe".  He was a key player in pushing originality and diversity into their music which is why he deserves a spot on my top 5.
3.  Jeremy Holderfield (Seventh Day Slumber)
Jeremy Holderfield is the perfect guitar player to connect the 1980's soloing with the 1990's and 2000's rock/heavy music.  I believe that he was instrumental in pushing music forward into the direction that it is in today.  Jeremy, much like Ben (Skillet), has his own sound and he is easy to distinguish from other players.  He stands out in his playing.  The first song I ever heard from them was "I know" and I was blown away.  The verses have that 1990's "feel," until the solo kicks in and brings you back to the 1980's.  I loved it the first time I heard it.  Not only did he help bridge the gap between decades of music, but he plays with feeling too.  He doesn't play fast just to play fast.  Whatever he is playing has feeling in it.  Check out the song "My Only Hope" by them to get a glimpse of their heavier side with a great solo.  Also check out "Always".  It is an absolutely beautiful song about loving your kids and being real with them about how you will be there to guide them as they grow older.  This is one of my favorite songs of all time!  Jeremy pulls you into the lyrics with his beautiful melodies on this song.
"Little children, let us not love in word or talk but in deed and in truth." (1 John 3:18)  This kind of verse is what we all need to bless our children with.
2.  Steve Brown (War of Ages)
Steve Brown is an underrated guitarist.  Everything that he plays, he plays with ease.  His solos are absolutely brilliant because they have feeling in them while being melodic and fast.  There are not a lot of guitarists that really have a lot of feeling in their solos anymore, which is disheartening.  Steve is keeping the passion alive in the licks that he plays.  I have chosen the song "Collapse" for you to check out.  It is one of my favorites by them and it really features all of Steve's amazing skills.  Fast-forward to 2:42 if you don't care for this type of music so you can see him solo.  He is a beast!
1.  Rex Carroll (Whitecross)
This is probably a shocker to you if you have read some of my previous music articles, but Rex Carroll is one of the best guitarists I have ever heard.  He is the guitar player for the band, Whitecross.  They have been around since the 1980's.  He is why Whitecross became famous.  His shredding skills are unmatched.  There aren't many people out there that can play such melodic licks as fast as he does.  I don't listen to 80's music much anymore, but man oh man Rex Carroll is worth listening to anytime.  Check out this video of him shredding up and down the guitar like it's nothing to him.
Conclusion
I hope you enjoyed my list of top 5 guitarists of Christian bands.  I would love to know who you like to listen to.  Who are some of you favorite guitar players?
Resources
photo credit: In Paris Texas via photopin cc
www.youtube.com
The Holy Bible, English Standard Version
"Scripture quotations are from The Holy Bible, English Standard Version® (ESV®), copyright © 2001 by Crossway, a publishing ministry of Good News Publishers. Used by permission. All rights reserved."