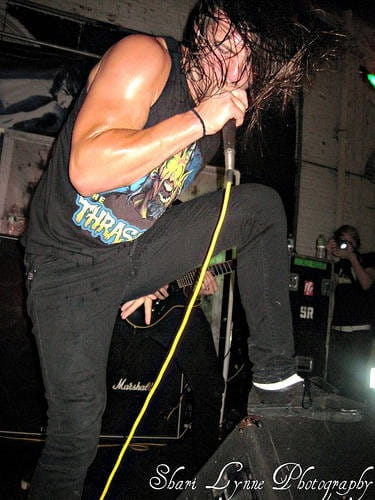 Christian metal music has become a big influence on our culture.  I am living proof.  There are many genres of metal: progressive metal, power metal, thrash metal, death core and so on.  They all speak truth about the Living God.  Here are my 10 favorite Christian metal bands.  Please note that my favorite lyrics may not be from my favorite albums.
10.The Showdown
The Showdown is a Southern Metal band from Elizabethton, TN.  They have released 4 studio albums.  Their latest album, Blood in the Gears, draws more of the southern metal style into it.  The first 2 albums were very heavy, death core/metal core in the music and vocals.  Blood in the Gears has really defined them and brought out their best music yet.
Favorite Lyric from "Man Named Hell" – "No respect for the demon's cry, no fury like mine.  Hell, hell hath dominion of air and sky.  I reject and deny its right."
9. Demon Hunter
Demon Hunter is a metal band from Seattle, Washington.  They have released 6 studio albums to date.  Their latest album, True Defiance, is their heaviest yet.  Ryan Clark's voice keeps getting stronger on each album.  This band is loved by Christians and Non-Christians alike.  Their fans are some of the most loyal out there.
Favorite Lyric from "My Destiny" – "Now the weight of the Living Word come calling true, and my heart will drink the blood of death my soul forever knew.  On the reverence of a voice, my clarity of you.  The king of whom I never was has run my spirit through."
8. For Today
For Today is a metal band formed in Sioux City, Iowa.   They have released 5 studio albums and they still haven't hit their prime yet.  Every album they release is better than the last.   I admire this band because they talk about Jesus at every single concert, and they are not ashamed of the gospel at all.
Favorite Lyric from "Devastator" – "Let my name be feared at the gates of hell as I exalt the Savior, the One that died to buy my victory and gave me a new name!"
7. The Devil Wears Prada
TDWP hails from Dayton, Ohio.  They formed in 2005.  They have released 4 studio albums and 1 EP.  None of their albums are alike, which is why I think I love them so much.  Every album is heavy, but they wrote them all so different.  Their latest album, Dead Throne, is their heaviest to date.  The title track, "Dead Throne" talks about how we have put the world on a dead throne because the world rejects the gospel.  Nothing in this world matters without Christ.
Favorite Lyric from "Danger: Wildman" - All mistakes can be marked by borders.  All of love can be traced to a Maker.  It seems as if what is most important isn't noticed when forgotten."
6. Becoming the Archetype
BTA is a progressive death metal band formed in Dacula, Georgia.  This band's albums have morphed and changed as much as the band itself.  BTA has had numerous lineup changes since its origin.  With that said, I do love their newest album, I AM, but their best album is Celestial Completion.  Celestial Completion is their masterpiece.  They put more time into it to make every song sound unique.
Favorite lyric from "Elemental Wrath" – "All the earth is silent.  The universe has shifted.  Creation holds its breath as the curse of death is lifted."
5. Theocracy
Theocracy is a power metal band.  They are from Athens, Georgia.  Their front man, Matt Smith recorded their first album completely on his own.  He made and played all of the music himself!  Awesome!  They have released two albums since, Mirror of Souls and As the World Bleeds.  Both of these albums are absolutely epic!  If you enjoy power metal/prog rock, then these guys are a must listen.
Favorite Lyric from "Laying the Demon to Rest" – "As the battle rages on and on I face the things that put my faith to the test.  When fallen angels won't leave me alone, Father, come and lay the demon to rest."
4. August Burns Red
ABR is a metal core band from Manheim, Pennsylvania.  ABR has also gone through a few lineup changes, but they are stronger than ever.  They have released 5 studio albums, one of them being a Christmas album.  Their latest album, Leveler, is brilliant, but my favorite song to date is off of their album, Constellations.  It is called, White Washed.
Favorite Lyric from "White Washed" – "Push your controlling values aside, and dissect your own life.  It's not about my beliefs. It's about personal choice.  It breaks your heart to see me consume, but it shatters mine to see people follow you."
"The Truth" Matthew 23:27 Woe to you, scribes and Pharisees, hypocrites! For you are like whitewashed tombs, which outwardly appear beautiful, but within are full of dead people's bones and all uncleanness.
3. Living Sacrifice
Living Sacrifice has a very special place in my heart.  They are who helped me make it through high school and college.  They formed in Little Rock, Arkansas in 1989.  Their first 3 albums were definitely thrash metal.  When Bruce Fitzhugh took over lead vocals on the fourth album, they became more of a thrash/death core band.  Their album "Reborn" was the first to feature Bruce as the lead vocalist.  Their follow up to that album was "The Hammering Process" and it is still my favorite album of theirs.
Favorite Lyric from "Burn the End" - Concerned with perception, can't come off looking weak, least of all with you.  If I need this image to be me then where is my God able to shine through?"
2. Impending Doom
Impending Doom originated out of Riverside, California.  They are a death core band with 4 studio albums to date.  Their latest album, Baptized in Filth, is the heaviest in my opinion and the best also.  It focuses on how we are all sinners and how our sins caused the death of Jesus.  It also focuses on Satan, who being the great deceiver will trick many.  It also talks about the anti-Christ and the death and resurrection of Jesus Christ.
Favorite Lyric from "More than Conquerors" – "If you wanna go to heaven with me, I will show you the way.  Eternal youth, forever young, immortalize your name."
1. As I Lay Dying
AILD is one of the most influential Christian metal bands today.  AILD was formed in 2000 by vocalist Tim Lambesis.  They started out playing shows for small crowds and sometimes for free.  I have always respected them for that.  They have produced 6 studio albums and they all are amazing.  Between the metal breakdowns, shredding solos and beastly growls I get consumed by their songs.  Their lyrics are poetic and real.  They speak on issues that many do not such as abortion.  I don't have a favorite song or lyric by them.  There are too many to choose from.  Here is their music video for their song "Parallels".  Enjoy!
I hope you have enjoyed my top 10 metal bands list.  It was hard to leave some out, for sure.  Who are some of your favorite metal bands?
Resources
photo credit: SKupkowski via photopin cc
photo credit: SKupkowski via photopin cc
photo credit: Derrick Austinson Photog via photopin cc
www.youtube.com
The Holy Bible, English Standard Version
"Scripture quotations are from The Holy Bible, English Standard Version® (ESV®), copyright © 2001 by Crossway, a publishing ministry of Good News Publishers. Used by permission. All rights reserved."