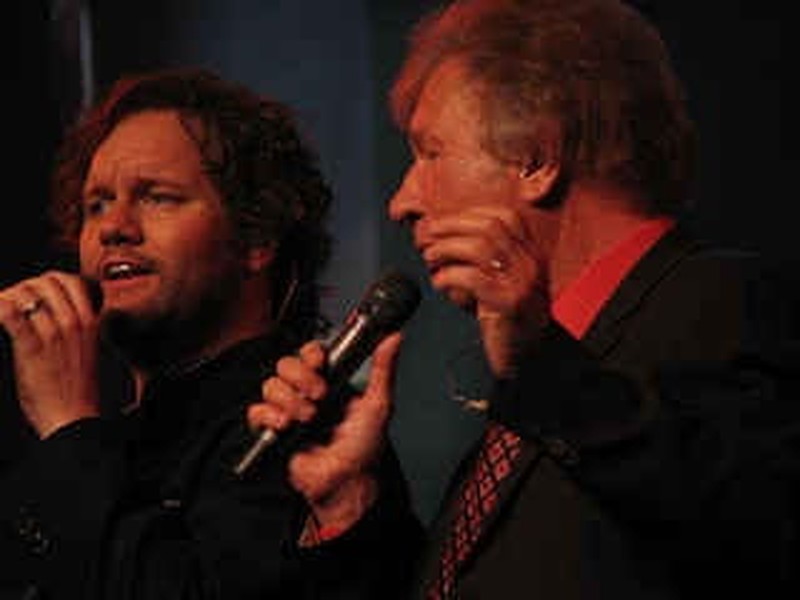 No doubt Southern Gospel is one of my favorite genres of music. Southern Gospel got its start in what we know as the "Bible belt" in the southeastern United States. It is Christian music with a southern (country) style. This could be music sung by solo artists, family bands and trios and quartets. In this genre, unlike some other Christian music, you will hear styles of jazz, ragtime, pop, country, boogie-woogie and even some contemporary Christian. No matter who is singing or what this style of music you can always be assured that the lyrics glorify Jesus and are sung from the deepest part of the heart. Here are 10 of my favorite Southern Gospel songs.
10) Greater Vision "My Name is Lazarus"
One of my favorite trios and one which I have had the pleasure to enjoy live on several occasions is Greater Vision. Many of their songs are written by their own baritone Rodney Griffin. Like all of his songs, this one makes the pages of Scripture come alive.
John 11:43-44 And when he thus had spoken, he cried with a loud voice, Lazarus, come forth. And he that was dead came forth, bound hand and foot with graveclothes: and his face was bound about with a napkin. Jesus saith unto them, Loose him, and let him go.
I love the lyrics of the last verse:
He said, "My name is Lazarus, could I testify?

My name is Lazarus, it feels good to be alive

When I in chains of death was bound

This man named Jesus called me out

If you think your little problem is too big for Him to solve

Take it from the one who's heard the mighty voice of God

A living testimony of His death-defying touch, my name is Lazarus"
This is a lovely and powerful ballad praising God for all he has done.
Jude 1:25 To the only wise God our Saviour, be glory and majesty, dominion and power, both now and ever. Amen.
8) The Martins "Grace"
There is something about a family that sings together … the harmonies are perfect because many times the voices are identical or so close, that perfect harmony is all you can get. Siblings Judy Martin Hess, Jonathan Martin & Joyce Martin Sanders were discovered by Michael English, Mark Lowry and Gloria Gaither in 1992. They went on to participate in more than two dozen Gaither Homecoming videos. They have recorded dozens of albums as well.
1 Corinthians 15:10 But by the grace of God I am what I am: and his grace which was bestowed upon me was not in vain; but I laboured more abundantly than they all: yet not I, but the grace of God which was with me.
7) The Gaither Vocal Band "The King is Coming"
Bill and Gloria Gaither, in my opinion, have been the greatest influence on Southern Gospel music, not only because they have written over 700 songs but because they have selflessly promoted other singers to glorify the name of Jesus as well. The King is Coming was originally recorded by the Gaither Trio (Bill, Gloria & Danny Gaither), but I especially like it as sung by the Gaither Vocal Band -- Bill Gaither, Guy Penrod, Mark Lowry and David Phelps.
1 Corinthians 15:52 In a moment, in the twinkling of an eye, at the last trump: for the trumpet shall sound, and the dead shall be raised incorruptible, and we shall be changed.
6) The Isaacs "Waiting in the Water"
This song is based upon Isaacs's member Becky Isaacs Bowman's own healing. She tells of the account of the blind man that Jesus healed.
John 9:7 And said unto him, Go, wash in the pool of Siloam, (which is by interpretation, Sent.) He went his way therefore, and washed, and came seeing.
Favorite lyrics: "Every step I take is a step of faith. When I can't see what's in front of me, I'll walk on and just believe.
5) The Hoppers "God Raised the Ransom"
A wonderful Easter song sung by powerhouse Kim Hopper is one that allows us to reflect upon the unspeakable gift that so many of us take for granted – the amazing gift of grace that is offered for all.
1 Timothy 2:5-6 For there is one God, and one mediator between God and men, the man Christ Jesus; Who gave himself a ransom for all, to be testified in due time.
4) The Crabb Family "I Go to the Rock"
Written by Southern Gospel legend Dottie Rambo, this one has a jazzy feeling to it. I especially like it because it takes a detour from lead singer Jason to allow Terah Crabb Penhollow to offer her lovely alto lead. Again, we can find many of the lyrics in the Bible:
Psalms 18:2 The LORD is my rock, and my fortress, and my deliverer; my God, my strength, in whom I will trust; my buckler, and the horn of my salvation, and my high tower.
3) George Younce & The Cathedrals "Thanks to Calvary" (I Don't Live Here Anymore)
Made popular by the late, great bass George Younce, this song is one that has a very special place in my heart. You see, I had been married to my husband for more than 10 years before I ever heard him sing. Sure, I had plenty of opportunity to hear his deep and clear speaking voice, but singing was an altogether different thing. This song is one that we had heard several times before and I was astounded when my husband not only chose to sing it … but he did a solo for special music in church. I was not the only one that was surprised and soon he was recruited for the choir! The song is one that talks about our new life in Christ.
Romans 6:4 Therefore we are buried with him by baptism into death: that like as Christ was raised up from the dead by the glory of the Father, even so we also should walk in newness of life.
2) Gold City Quartet "Good Ol' Gospel Song"
I love to hear a song that showcases the bass voice. Aaron McCune shows that some bass singers can carry the melody as well as the bull frog background. The lyrics themselves are the essence of Southern Gospel:
There's something about a good ol' gospel song

That brings joy to your heart when things are going wrong.

It brings a smile to your face, the tears can erase as through life you travel along.

There's something about a good ol' gospel song.
1) The Whisnants "A Greater Yes"
The Whisnants are not the best known Southern Gospel group, but I just had to share my favorite Southern Gospel song with you. It reminds me of a lovely man who has gone on to be with the Lord. I sang this as special music when he was fighting the return of a cancer to his body. He and his wife were part of our praise team and they carried the practice CD with them to and from doctor visits. They learned the backup vocal parts in the car! I had to sing this many, many times before I could do it without shedding a tear. God always answers prayer in His time, with what is best. I hope you are encouraged by this video.
Hebrews 4:16 Let us therefore come boldly to the throne of grace,that we may obtain mercy and find grace to help in time of need.
The Whisnants "A Greater Yes"
There are literally thousands of Southern Gospel songs available. Do you have a favorite that I have not listed here? Feel free to share it in the comments below.
Sources
The Holy Bible, King James Version
www. Youtube.com
Photo on Flickr by: ruthdaniel3444