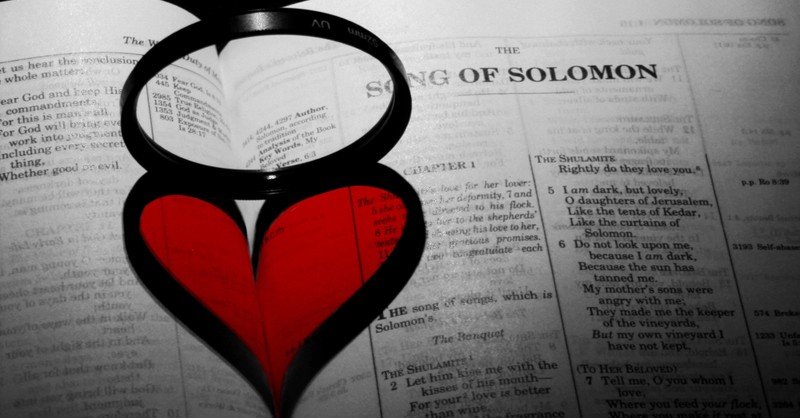 Many Christian artists sing about the love God has for us, but there are also some amazing Christian love songs for couples. Countless couples, whether dating or married, quickly determine their "song". It describes the uniqueness of their relationship and the lyrics speak to their souls. Nearly every successful Christian artist that has been around for more than 10 years has at least one love song.
Here are the Top 15 Christian Love Songs.
1 Corinthians 13:13 - "So now faith, hope, and love abide, these three; but the greatest of these is love."
15. "I Will Be Here" by Steven Curtis Chapman
Favorite Lyrics
I will be here
When you feel like being quiet
When you need to speak your mind
I will listen
14. "Perfect Union" by Matthew Ward
Favorite Lyrics
There's a love that lasts a lifetime
A love between a man and wife
A love so strong it goes beyond our reason
It flows from God above
13. "The Gift" by Jim Brickman
Favorite Lyrics
Sittin' by the fire we made
You're the answer when I prayed
I would find someone
And, baby, I found you
12. "Flesh of My Flesh" by Leon Patillo
Favorite Lyrics
I have searched and searched for someone
Who'd make my dreams come true
Nowhere else on this earth
Is there anyone like you
11. "When Love Comes Home" by Matthew West
Favorite Lyrics
For tear stained letters and the sad goodbyes
For every Christmas that i wasn't by your side
For all the lost time won't you hear me say (hear me say)
(That) when love comes home it will be to stay
Top 10 Christian Love Songs
1 John 4:8 - "Anyone who does not love does not know God, because God is love."
10. "Forever Yours" by Michael W Smith
Favorite Lyrics
Come waltz with me through the twilight
and we will dance as seasons pass
we move together
Ill be forever yours
9. "Imagine Me Without You" by Jaci Velasquez
Favorite Lyrics
Imagine me without you
Lord, you know it's just impossible
Because of you, it's all brand new
My life is now worthwhile
I can't imagine me without you
8. "Alone" by Sanctus Real
Favorite Lyrics
You are not alone
Know that I would fight the tides to
Be together
When you feel alone
Listen to this song to make your heart
feel better
7. "You Belong to Me" by Michael W. Smith
Favorite Lyrics
Oh, you are a miracle
You're sweeter than I've ever dreamed
You're so much more than beautiful
How can it be that you belong to me?
6. "When Did You Fall" by Chris Rice
Favorite Lyrics
When did you let your heart run free?
Have you been waiting long?
When did you fall in love with me?
When did you fall in love?
Top Five Christian Love Songs
Colossians 3:14 - "And above all these put on love, which binds everything together in perfect harmony."
1 Peter 4:8 "Above all, keep loving one another earnestly, since love covers a multitude of sins."
5. "Beautiful Love" by The Afters (2005)
Favorite Lyrics
Larger than the moon, my love for you
Worlds collide as heaven pulls us through
The secret of the world is written in the stars
I'm carrying your heart in mine
4. "When God Made You" by Natalie Grant and Newsong
Favorite Lyrics
I wonder what God was thinking
When He created you
I wonder if He knew everything I would need
Because He made all my dreams come true
When God made you
He must have been thinking about me
3. "Unfailing Love" by Jimmy Needham
Favorite Lyrics
My unfailing love for you will not be moved
For you will not be moved
My unfailing love for you
And though the mountains be shaken
And the hills be removed
Yet my unfailing love for you
2. "1000 Miles" by Mark Schultz
Favorite Lyrics
Cause You've got my heart and you've got my soul
You've got this promise too
If I could write 10,000 songs
I'd Sing them all for you
1. "The Day Before You" by Matthew West
Favorite Lyrics
Oh, but heaven knows those years without you
Were shaping my heart for the day that I found you
And if you're the reason for all I've been through
Then I'm thankful for the day before you, yeah
Whether you are just falling in love or have been married for a while, Christian love songs explore a deeper side of love. Other great Christian love songs include "I Will Never Go" by Twila Paris, "When I Say I Do," by Matthew West, "I Promise" by CeCe Winnans, "Unfailing Love" by Chris Tomlin, "Love Will Be Our Home" by Sandi Patty, "Household of Faith" by Steve Green and "God Bless the Broken Road" by Rascal Flatts.
John 13:34-35 - "A new commandment I give to you, that you love one another: just as I have loved you, you also are to love one another. By this all people will know that you are my disciples, if you have love for one another."
Article by Elise Cleary
I am a Christian writer and editor that lives in northern Michigan and thoroughly enjoy music, movies, TV shows, books and other entertainment with a Christian focus. My favorite song is "Oceans" by Hillsong United because it reminds me that has big plans for me and everyone else who puts their trust in Him. There are many movies that have impacted my life, but a few include God's Not Dead, The Shunning and Letters to God. I love connecting with readers, so please don't hesitate to contact me! When I'm not writing I enjoy watching movies and laughing with my busy toddler and husband.