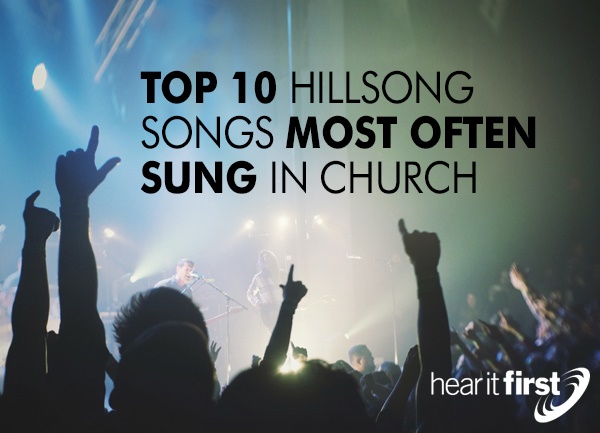 Hillsong United started as the worship band in Hillsong Church, located in Sydney, Australia. Their first album was released in 1998 and many songs have been performing their songs since the beginning. Band members have changed over the years, but the quality of inspirational music has continued to motivate and encourage countless.
Here are the top 10 Hillsong songs most often sung in church:
10. "Perfect Love" from In a Valley by the Sea
The beat of this song brings you right into the lyrics of hope what God's love truly means.
Favorite Lyrics

Your love brings me to my knees again
We're gonna bring an anthem of love
We're gonna live for you now

This perfect love, I can't explain
This way of life that has no end
Your mercy satisfies, it's all I need
My purpose found in You alone
to love the lost and bring them home
We were made to glorify our king
9. "Sing to the Lord" from This Is Our God
I love the music in this song as it's calming and peaceful while singing how amazing our God is.
Favorite Lyrics

Sing to the Lord, oh my soul
Let the heavens shout for joy
Great is our God
Great is our God

The heavens shall declare
The glory of our great God

The heavens shall declare
The glory of our great God

The heavens shall declare
The glory of our great God
8. "God Is Able" from God Is Able
We may question what God's plans are, but never fear what is to come because God is able to make anything happen. A marriage certain to be over can be restored. A child with a hardened heart can be made new. A family who lost everything in from a fire can be fully rebuilt.
Favorite Lyrics

God is with us
God is on our side
He will make a way

Far above all we know
Far above all we hope
He has done great things

Lifted up, He defeated the grave
Raised to life, our God is able
In His name, we overcome
For the Lord, our God is able
7. "From the Inside Out" from United We Stand
Do you feel like you have failed one too many times? All is not lost and God's light can shine through any situation.
Favorite Lyrics

In my heart, in my soul
I give you control
Consume me from the inside out
Let justice and praise
Become my embrace
To love you from the inside out

Everlasting, your light will shine when all else fades
Never ending, your glory goes beyond all fame
And the cry of my heart is to bring you praise
From the inside out
Lord my soul cries out
6. "Forever Reign" from A Beautiful Exchange
The lyrics in this song are simple, but so powerful. God is good, love, light, hope, peace, true, joy and life. He is all we need and knows how to fulfill our needs perfectly.
Favorite Lyrics

Oh, I'm running to your arms
I'm running to your arms
The riches of your love
Will always be enough
Nothing compares to your embrace
Light of the world forever reign

You are more
You are more
Than my words will ever say
You are lord
You are lord
All creation will proclaim
5. "Search My Heart" from Aftermath
Unlike other Hillsong United songs, the lyrics in "Search My Heart", begins immediately. The drums bring the lyrics to life.
Favorite Lyrics

Hear my cry
And hear my prayer
Draw me close
I know your near

Give me strength
And give me grace
To walk with You
Lord, all my days
4. "Cornerstone" from Cornerstone
I have always loved the piano paired with a strong song. "Cornerstone" is a song that uplifts and restores your hope and faith in God.
Favorite Lyrics

Christ alone; cornerstone
Weak made strong; in the Saviour's love
Through the storm, He is Lord
Lord of all

When Darkness seems to hide His face
I rest on His unchanging grace
In every high and stormy gale
My anchor holds within the veil
My anchor holds within the veil
3. "Desert Song" from This Is Our God
Do you feel like you are living in a desert at times? You are surrounded by needs that are unmet and see no end in insight. Listen to Desert Song a few times and let the words sink in offering hope. No matter what, God is still God.
Favorite Lyrics

All of my life
In every season
You are still God
I have a reason to sing
I have a reason to worship

And I will bring praise
I will bring praise
No weapon formed against me shall remain
I will rejoice
I will declare
God is my victory and He is here
2. "Healer" from This Is Our God
We often run to things trying to find fulfillment and only God can truly fill what our soul longs for.
Favorite Lyrics

I believe You're my Healer
I believe You are all I need
I believe You're my Portion
I believe You're more than enough for me
Jesus You're all I need
1. "Oceans (Where Feet May Fail)" from Mighty to Save
Will you let God lead you over unknown waters? It is not always easy, but you will experience growth in your relationship with God.
Favorite Lyrics

And I will call upon Your name
And keep my eyes above the waves
When oceans rise
My soul will rest in Your embrace
For I am Yours, and You are mine

Your grace abounds in deepest waters
Your sovereign hand will be my guide
Where feet may fail and fear surrounds me
You've never failed, and You won't start now
Hillsong United has released 19 albums and 9 DVDs. The highest selling album in the United Stated is All of the Above, which was released in 2007. The song "Oceans (Where Feet May Fail)" topped at No. 83 on the U.S. Billboard Hot 100 chart. What is your favorite Hillsong United song to sing in church?
Article by Elise Cleary
I am a Christian writer and editor that lives in northern Michigan and thoroughly enjoy music, movies, TV shows, books and other entertainment with a Christian focus. My favorite song is "Oceans" by Hillsong United because it reminds me that has big plans for me and everyone else who puts their trust in Him. There are many movies that have impacted my life, but a few include God's Not Dead, The Shunning and Letters to God. I also write for www.faithandentertainment.com and love connecting with readers, so please don't hesitate to contact me! When I'm not writing I enjoy watching movies and laughing with my busy toddler and husband.