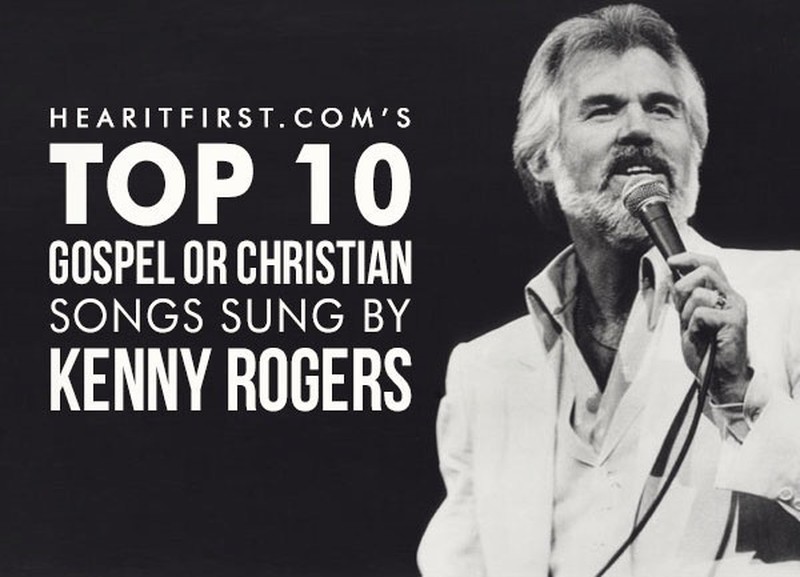 Here are 10 of the top Christian or Gospel songs sung by Kenny Rogers according to their popularity and ranked by Kenny Roger's himself and not based upon sales only.

The Sweet By And By
This is one of Kenny Roger's favorites because it was his mom's favorite song. This wasn't just his mom's favorite Christian or gospel song but her all-time favorite song among any songs! This makes it quite special to Kenny Rogers and why it's among his favorites too. This song might have been the most authentic bluegrass song ever sung by Kenny Rogers because he has fond memories of his mother singing along with this song on the radio as she did her ironing or any other number things around the house and the version Kenny Roger's mom heard had a strong bluegrass flavor to it so that's why he included it in this genre. Music and memories have such a close tie to one another and this could be the reason that every time Kenny Roger's hears this song, he thinks of his beloved mother. The "Sweet By and By" is written by S. Fillmore Bennett with music by Joseph P. Webster.
This was Kenny Roger's most requested song when he sang in the church choir as a young person. Can you imagine having Kenny Roger's in your church choir? This song is the bestselling and most sung of all Christian songs when you hear him sing this it's evident he has a strong connection with the popular hymn. This amazing hymn was written by an amazing man, John Newton, who was about a vile of a man as there ever was before he was saved and that's why he wrote about such an amazing grace from God who saved a wretch like him (and like us!).
Leaning on the Everlasting Arms
Here is a song that is still being sung today and by many Christian contemporary bands too and a song that's delivered in a refreshingly sincere way in which only Kenny Rogers' emotive vocal voice could sing. In the background is a faint church organ that sounds like it's being played off in the distance yet it's a surprising yet perfectly effective way to close the album "The Love of God" which was his first inspirational, full-gospel album ever released.
Will the Circle be Unbroken
Maybe you're noticing a pattern here. Kenny Roger's loves the old hymns that are time-tested and treasured by generations of old and today are still lifting the rafters of many churches. This Christian classic hymn was written by Ada R. Habershon with music by Charles H. Gabriel and it fits perfectly within this album with the other traditional hymns and is often sung at Christian funerals. That's perhaps why Kenny Rogers included this song in his album "The Love of God."
What a Friend we have in Jesus
This song is also one of Kenny Roger's favorites. Written by Joseph M. Scriven in 1855, it focuses on prayer and Kenny Roger's is a firm believer in prayer, having seen his Christian mother engaged in prayer many times. That's why this song is so popular in many churches today. In our own church, it has been interwoven among those who produce what is called Christian Rock or Contemporary Christian music but the hymn is also popular among the older generation because many know it by heart and don't necessarily need a hymn book to know the words and follow along. The words are just as relevant today as in the day that they were written. Mr. Scriven wrote this song to comfort his own mother who was living in faraway Ireland while he was living in Canada. This song by Kenny Roger's is one that he knows by heart as he sung it so often in the church choir where he was a youth.
I'll Fly Away
Are you noticing a theme among all of these gospel songs sung by Kenny Rogers and the ones that are among the top ten? They are gospel songs or hymns that are in most church hymnals today. This one's also one that is often sung at Christian funerals because it speaks about the journey home into the Promised Land of the kingdom. This one was written in 1929 by Albert E. Brumley but wasn't actually published until 1932. This is also on the album "The Love of God" and why this album continues to sell around the world today. Kenny Rogers was very careful with the songs that he included on this album but he felt like this was a "must" in this album.
For the Love of God
This song is one of the few top ten Kenny Roger's gospel songs that isn't on the album "The Love of God" and is on one of Kenny Roger's greatest selling gospel albums "Amazing Grace." Some of those who listened to this song and reviewed it wrote that they would recommend this song to anyone who just wants to worship God but also for those who are going through any kind of struggles because they commented that it will strengthen you and your faith in God.
The Rock of Your Love
This great gospel song is on both the album "Amazing Grace" and "The Love of God" so it's popular enough to have been included in more than one of Kenny Roger's gospel albums. This song was written by Vince Gill, another great country singer in his own right, but also an extraordinarily great songwriter.
On the Wings of a Dove
On the Wings of a Dove, written by award winning composer and songwriter Robert Bruce "Bob" Fergusson Jr., it was another very popular song sung by Kenny Rogers and was sung on national TV more than once. This song was first sung by Ferlin Husky and was so popular that it crossed over from country into the pop music charts even though it focused on Jesus, Bible stories, and the Spirit of God and was decidedly country in flavor.
Peace
This song is still available on CD and in an MP3 format and at the heart of the album "The Love of God," this song is at the middle of the selections. Peace, written by Michael McDonald and Beth Nielsen is a calming, peaceful song, just as the title suggests. Kenny Roger's website calls this song a calming song of peace because there is peace in knowing God and there is the peace of God and if you've ever heard it, you can see why it's among the top ten Kenny Roger's gospel songs of all time.
Conclusion
Kenny Rogers is one of music's legendary voices and the album "The Love of God" has most of his top ten bestselling gospel songs on it. Classics included are "Will The Circle Be Unbroken," "I'll Fly Away," "Amazing Grace" and "In The Sweet By And By" but you'll also find guest artists appearing on the album, including the gospel group The Whites and Winfield Locket among others. Kenny Roger's gospel songs still rank high today in popularity at home, on Christian radio, and even in church.
Article by Pastor Jack Wellman