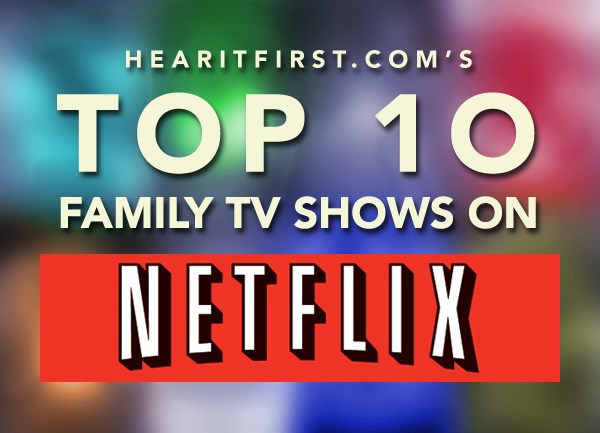 Ready for more shows to watch on Netflix Instant? This time I'm focusing on TV shows and there are some great ones! From reality TV to classics from the late 80's, there truly is something for everyone to enjoy! Netflix has expanded the type of shows you can now watch, from season one of Cedar Cove (2013) to the Andy Griffith Show.
Here are the top 10 family TV shows to watch on Netflix Instant:
#10 Saved By The Bell
Yes, this awesome show from 1989–1993 still lives on Netflix Instant! It follows a group of teens at Bayside High and their challenges and frustrations. Zack is constantly causing trouble, Slater is the jock, Screech is a nerd, Kelly is the girl that everyone is jealous of, Lisa loves fashion and Jessie is the good student. The students drive Principal Belding (played by Dennis Haskins) crazy, but he always has the student's best interests at heart. The flare of the 80's and early 90's with big hair and bring colors will highly entertain your kids.
#9 DC Cupcakes
The popularity of cupcakes has exploded and two sisters, Katherine and Sophie, quit their jobs in corporate America to pursue their dream of owning and running a bakery. DC Cupcakes shows the fun and challenges they face operating a growing business – both in popularity and with clients. Sophie is more analytical and Katherine is more spur-of-the-moment, which makes an interesting combination while trying to work together.
#8 Kickin' It
Disney's Kickin' It is a fictional show about the Wasabi Martial Arts Academy and the teens that practice martial arts. Jack is the new kid in town and as a skateboarder, has a few tricks to and lessons to teach them. If your family loves martial arts then you will love this humorous show.
#7 Little People Big World
The Roloff family is unique since husband and wife Matthew and Amy are little people and have four kids, one of which is also little. Matt is a successful businessman and Amy stayed at home raising the kids for years. Together, they developed and run Roloff Farms, which – just like the Roloffs – is far from your traditional crop-producing farm.
#6 Next Great Baker
As the bakery on Cake Boss has expanded and opened the warehouse at Lakawanna, Buddy has started hosting the reality show Next Great Baker. Up and coming bakers compete for a chance to win $50,000 and a chance to work with Buddy.
#5 Good Luck Charlie
Parents Amy and Bob are raising teenagers and a toddler – Charlie who was a surprise child later in life. Good Luck Charlie shows how two laid back parents deal with their crazy, busy life and how older sister Teddy and older brothers Gabe and PJ want the best for their sister. Charlie never gets hurt, but does get put in some interesting situations.
#4 The Little Couple
Husband and wife Bill Klein and Jennifer Arnold, MD, are The Little Couple. They are both little people and have worked hard to have a normal life. Jennifer is a doctor and Bill is a successful entrepreneur. Season one begins with both of them moving to Houston and starting new jobs. With seven seasons of the show available on Netflix, you can watch their relationship grow as they buy a house, struggle to start a family, learn that Jennifer has cancer and decide to adopt children. Their hearts and commitment for one another show why they have been so successful in life.
#3 The Suite Life of Zack and Cody
Disney's The Suite Life of Zack and Cody aired from 2005-2008 and created a huge fan base. Twins Zack (played by Dylan Sprouse) and Cody (played by Cole Sprouse) live at the Tipton Hotel, which is where their mother works. They are left to entertain themselves and find every way possible to create trouble, which keeps the bellhop and hotel staff hopping. There are three seasons available to watch on Netflix Instant and each episode is about 20 minutes long.
#2 19 Kids & Counting
The show 19 Kids and Counting on TLC first aired in 2008 and took the country by storm! Ten seasons are available to watch on Netflix Instant and it is a clean show naturally because of how the Duggars choose to live. Jim Bob and Michelle have 19 kids (two of which are married), homeschool their kids and follow a very conservative way of life.
#1 Cake Boss
Cake Boss follows the Valastro family and Carlo's Bakery that Buddy Valastro manages. The family is Italian and they often drive each other crazy, but at the end of the day their love for one another prevents any real divisions from happening. With seven seasons available to stream on Netflix Instant, you can see the bakery transform from just one location opening a warehouse to continue expanding.
One thing I love about Netflix Instant is when it alerts me to new episodes of the shows in my queue. I use this a lot and it's especially helpful when finding shows my toddler loves that I haven't watched over and over again. What are your favorite TV shows on Netflix instant?
Article by Elise Cleary
I am a Christian writer and editor that lives in northern Michigan and thoroughly enjoy music, movies, TV shows, books and other entertainment with a Christian focus. My favorite song is "Oceans" by Hillsong United because it reminds me that has big plans for me and everyone else who puts their trust in Him. There are many movies that have impacted my life, but a few include God's Not Dead, The Shunning and Letters to God. I also write for www.faithandentertainment.com and love connecting with readers, so please don't hesitate to contact me! When I'm not writing I enjoy watching movies and laughing with my busy toddler and husband.