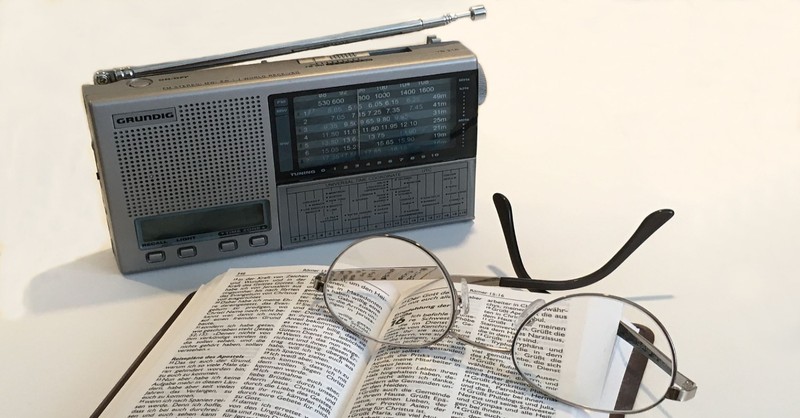 I don't know if you are like me, but I find that listening to my favorite Christian radio station provides the encouragement I need to get through my day. The day can get hectic meeting deadlines, taking care of my daughter and the daily chores. Hearing inspirational stories and song lyrics are often great reminders of God's love and blessings.
Choosing my top 10 radio Christian radio stations was hard! When I look for a new radio station, I like to know what their ministries are outside of the music they play.
Top 10 Christian Radio Stations
Here are the Top 10 Christian radio stations and broadcasts from around the country.
1 Chronicles 29:13 "And now we thank you, our God, and praise your glorious name."
10. The Message: Sirius XM Radio
If you listen to Sirius XM Radio, be sure to check out The Message on channel 63. The station plays mainstream contemporary Christian music and also has interviews and talks with pastors and musicians. The three biggest programs they offer are The Message: AMPED!, Sunday Praise and Changing Tracks. The only drawback is that you have to have a subscription to Sirius XM Radio in order to listen to the station.
Listen to The Message: Sirius XM Radio
9. Christianrock.net
This radio station is strictly streamed across the Internet and they play heavier Christian rock music. The benefit is that you can listen to the radio station wherever you have access to the Internet, so it's a great pick for when you are traveling. Artists they play include We As Human, The Wedding, The Protest, Submission Red, Project 86, POD, Skillet, Nine Lashes, Awaken and Audio Adrenaline.
Listen to Christianrock.net
8. Smile FM
Know as "Michigan's Positive Hits" radio, Smile FM has diversified while maintaining a great selection of hits. They are known for supporting family-friendly events and their mascot Giggles makes children smile. They support many local missions and up and coming artists throughout Michigan (as well as other states). The prayer forum online helps people pray for those in need and allows people in dire need to submit requests. They play a variety of old and new music.
Listen to Smile FM
7. 94.9 KLTY – Texas
Set in the heart of Texas, everything about the radio station speaks family-friendly. Their Family-Friendly Morning Show and Family-Fun Five @ Five are just two programs they center around families. They play a variety of music, from newer artists like Sidewalk Prophets, Matt Maher and Francesca Battistelli to older favorites from Switchfoot and Michael W. Smith.
Listen to 94.9 KLTY – Texas
Romans 12:13 "Contribute to the needs of the saints and seek to show hospitality."
6. American Family Radio
American Family Radio has a strong military presence with its Military Biblestick program. They have 180 radio stations in 40 states across the country. Online streaming programs include AFR Talk LIVE, AFR Inspirational LIVE, AFR Talk Audio Live and Urban Family Communications. They provide insight on topics relevant today and also play upbeat mainstream Christian music.
Listen to American Family Radio
5. Moody Radio
The network of Moody Radio stations reach far and wide across the country. They have six different radio stations online that each focus on something slightly different. Majesty Radio offers a blend of traditional hymns and sacred music, Praise and Worship play a combination of Christian music that is uplifting, Proclaim! It is more of a talk radio station with teaching and preaching, Radio Moody is focused on reaching a Hispanic audience and Urban Praise plays soulful and energizing music. With such a broad range of programs, they offer a lot for the listener to choose from and make you truly think.
Listen to Moody Radio
4. WGTS 91.9 FM – Washington D.C.
I really came to love Christian music by listening to WGTS 91.9 FM when I was working as an intern right outside of Washington D.C. for seven months. They are based in Maryland and support the Drive-thru Difference program, which encourages people to pay for the orders behind them while at a drive-thru restaurant. They have many different DJ's that offer a great personality to listen to and connect with while playing the latest Christian hits.
Listen to WGTS 91.9 FM – Washington D.C.
3. Air1 Radio
This radio station gives great tidbits of information about the songs they play and they offer quite a variety of music. Some of the tunes are a little edgier, but they also play a lot of the popular, mainstream Christian music. They are supported by donations and follow the mission statement "To create compelling media that inspires and encourages you to have a meaningful relationship with Christ." It's one of the larger radio broadcasts in the country, with stations in 41 states.
Listen to Air1 Radio
2. WFSH 104.7 FM – Atlanta
The Fish is very connected with businesses around Atlanta and offers many deals and discounts. Their music is focused on a younger crowd and they run an active program called Happy Meal Heroes, which awards and rewards some of the community's youngest volunteers. If you are looking for ways to get involved, their website and programs provide many opportunities while playing great music.
Listen to WFSH 104.7 FM – Atlanta
Deuteronomy 15:10 "You shall give to him freely, and your heart shall not be grudging when you give to him, because for this the LORD your God will bless you in all your work and in all that you undertake."
1. K-Love
I love, love, love K-Love! They have great talk shows, a fun morning show and they always include powerful inspirational stories. They plan fun events for the family around local stations and help listeners get involved with larger ministries. I don't get tired of the music selection since they seem to have a balance by not overplaying the music. Oh, and they always have a free song available for download on iTunes each week!
Listen to K-Love
Conclusion
Many of these stations and ministries are listener-supported; so, don't forget to make a donation when you are able to. I'm grateful for the work these stations do and have relied on Christian music for encouragement many times. What are your favorite Christian radio stations?
Resources- ESV Holy Bible, youtube.com, photo credit: ThreeDee912 via photopin cc