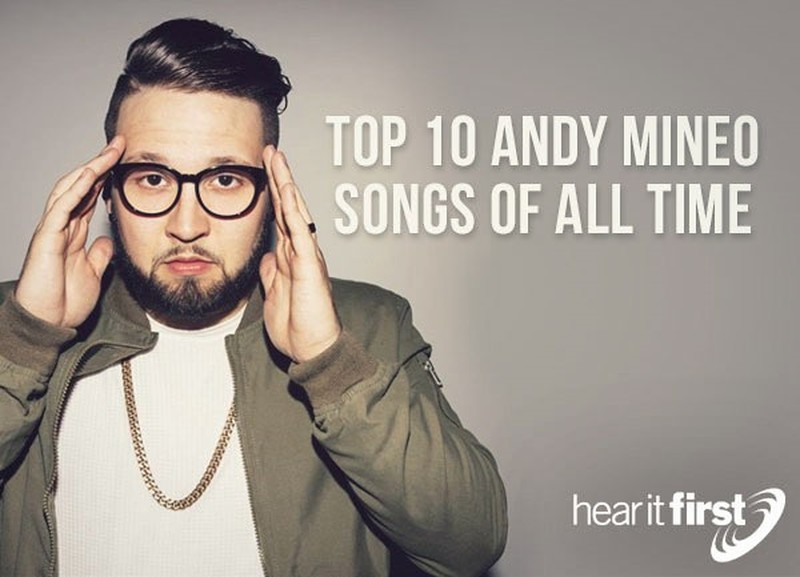 Here are Andy Mineo's greatest songs of all time.
Who is Andy Mineo?
Andy Mineo is Andrew Aaron "Andy" Mineo, formerly known as C-Lite. He is an American Christian hip hop artist, producer, and TV and music video director who hails from New York City. He is currently signed to Reach Records and in addition to his solo work, Mineo is a member of that label's hip hop collective 116 Clique and has been described as being in the top ten of Christian rappers in the 21st century and so here is a glance at his top ten songs of all time.
Uncomfortable
One of Andy Mineo's greatest songs, if not his greatest, is Uncomfortable where Andy sings/raps about loving your enemies and attacks racial prejudice by rapping "I promise Jesus wouldn't act like that.
He said it's hard for a rich man to get to heaven" and while "Our stomachs full and our pockets fat' the rest of the world suffers. Mineo is "uncomfortable" with this present, evil world but focuses on Jesus' return to make all things right.
"The Saints" (featuring KB & Trip Lee)
When Mineo sings/raps about the fact that he's "been told when the saints come marching in we roll" and breaks out into the classic, "When the saints, go marching in. When the saints, go marching in" and as the Bride of Christ, the church, we are to God "fragrant, the aroma is that our God saves. Married to the Rock and I'm faithful." Rather than depending on this world's riches, Mineo sings "I bank on Christ go and talk to the teller" on that day when Jesus brings His reward with Him as Jesus said, "Behold, I am coming soon, bringing my recompense with me, to repay each one for what he has done" (Rev 22:12).
You Can't Stop Me
The song, "You Can't Stop Me" is a rap song about perseverance and even though they "try to shut us down, and it ain't gon' slide. Only thing I fear is God and he on my side" so for Mineo, "That's the confidence of God, cause he got me. That's why I really feel like." Mineo triumphantly sings, "Well, if I listen to you, and everything you put in my ear. I'll be living like woulda, shoulda, coulda, I'll be paralyzed by fear" but for Mineo, his only fear is a fear of God.
Never Land
The song, Never Land by Andy Mineo addresses the world's idea of success with money, cars, and clothing but for him, he sings/raps, "I know we own things we don't need to impress people we don't know. Then we go broke trying to look rich. For Mineo, his "goal is to be close to the one that made my soul man. Them other highs will gon' let you down" and pleads to the lost "You gonna face death.
I know the one to reverse it" Who of course is Jesus Christ.
You Will
You Will by Andy Mineo is definitely about evangelism as Mineo sings/raps "Fishers of men so I stay looking. Casting nets like I'm straight Brooklyn" and while "Satan try to make the straight crooked.
With the porn sites but I ain't looking" and tells the ladies to wait for a wedding ring, so "Ladies if you ain't got one. Don't give him none true love is waiting" or save yourself for your husband, emphasizing sexual purity before God.
Ayo!
The song, Ayo! by Andy Mineo raps about "Enjoying God's gifts" and "You know what the dish" as "They made us the flying fish" and while "Dudes find bravado from the bottom of the bottle." His witness through rap reminds those who get bravery from a bottle that "they got the face twisted up like Picasso there's another way to live. You ain't gotta go. Somebody tell em!" This song does not emphasize Christ or God as much as it does living for God and that someday, for the lost, "The party's over here."
Superhuman
Superhuman by Andy Mineo is a call for repentance and trust in Christ as Mineo appeals to the lost, rapping "Come you sinners poor and needy, Weak and wounded, sick and sore, Jesus ready stands to save you, Grace requires nothing more." To Christ, Mineo states that "He will embrace me in His arms, In the arms of my dear Savior." This song looks to Christ for the only way to be saved (Acts 4:12) while he admits "the grace that I talk about on all my records, I need it for myself, cause really I'm just a mess."
Uno Uno Seis
The song by Andy Mineo, Uno Uno Seis, is Spanish for "one, one six" and much of this song is in the language that the brothers and sisters in the Dominican Republic would understand. He appeals not only to the Dominicans but to the brothers and sisters in Cuba and Colombia…and elsewhere around the world, rapping "Dimelo loco, chacho let's go, vamonos we out here oh," which being translated, is "Dimelo crazy, chacho let's go, let's go and "Mi amigos y yo venimos" (my friends and I come) and "Todos los dias, manito, dale ya tu sabe ahh" or "Every day, little hand, and you know."
Know That's Right
The song, Know That's Right by Andy Mineo focuses on what is right in Jesus Christ as in his claiming, "My Savior is Jewish, my lawyer is Jewish" and what is right is not found in this world and that "money always come with a price. I love this life, but I'm sure what I got next, to die for" which is entering into the kingdom of heaven, "And you know, you know that's right."
Bitter
The song, Bitter, by Andy Mineo is focused on not being bitter but better, as he raps, "I don't wanna be bitter, bitter, bitter. I don't wanna be bitter... so take it all away." He asks, "Anybody know the feeling of rejection? Feels like you was kicked in your midsection," and I would imagine that's been all of our experience at one time or another, and certainly it was for Mineo but the question he asks himself (and us) is, "I got unforgiveness in my heart, then there really ain't no room for love" so we can become bitter or better by the trials and tribulations in this world/
Conclusion
Andy Mineo has some of the most popular rap songs there are, and these Christian rap songs cross over into Billboard's top hits too, as the method of his music allows the Message to reach those who have not yet trusted in Christ. That's his purpose…to reach the lost, but song, word, and deed.
Article by Jack Wellman