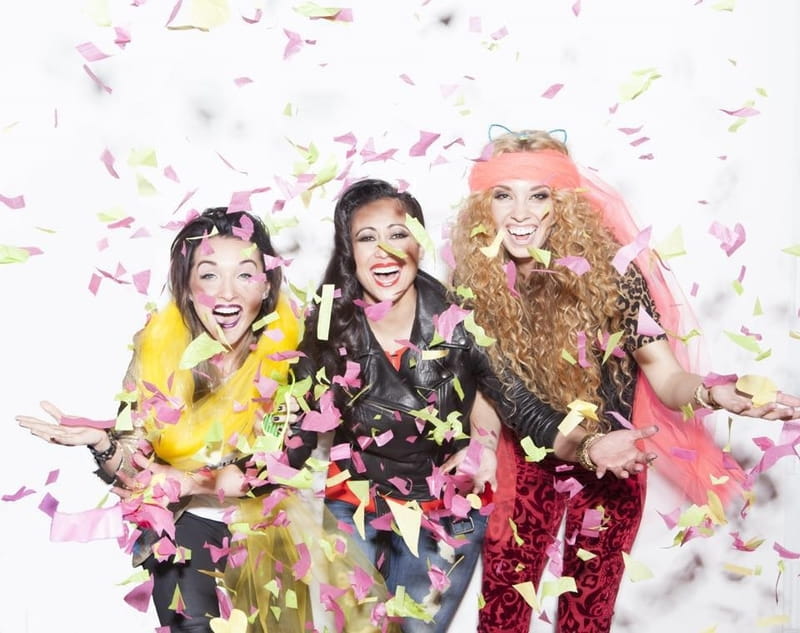 A lot has changed since 1 Girl Nation's 2013 self titled album debut which was followed up by a Deluxe Karaoke Edition and a Christmas EP in 2014. What began as a 5-member group has now shifted to a 3-member group. While two of it's original members decided to pursue other dreams, Kayli, Carmen, and Lauryn Taylor have stuck together. With so much change came the decision to adjust the name of the band to reflect the growth and new direction of the group. 2016 introduces 1GN and brings forth a brand new record on April 15, 2016 featuring their single "Get Hype".
Staying true to their Christian message, 1GN aims to proclaim to young girls that they can believe in and worship Jesus while having fun and dancing a little – or a lot. With top songs like, While We're Young, Vertical and Count Your Rainbows, it's like a veritable Jesus-loving party experience with this band.
The party atmosphere aside, these girls take seriously their message and purpose. It is apparent through what we find on media and in the lyrics of their songs that they desire to share their love for Christ and wisdom they've gained in their journey's to encourage and uplift. As an age gap-filler, 1GN provides wholesome entertainment for young girls and young women alike.
We caught up with 1GN for a fun-filled interview about the release of their new single, Get Hype. Lauryn Taylor Bach, Carmen Justice and Kayli Robinson stated that the inspiration for Get Hype, was to write a song that would be an energizing start to their live show. A song that would get people excited and up on their feet. One that was an overflow of the joy they have in Jesus. Upon listening to the first few seconds of the song, you will see they have accomplished their goal in creating a song that would start off their live show with excitement.
The band members of this "Toby Mac meets One Direction" (1GNofficial.com) band recall that, while they were working on the song, "it was a lot of fun to sing and also hilarious when we would get tongue tied!" They also mentioned that it was a fun song to write and that they agreed, "nothing was too crazy!"
Get Hype chorus:
Are you ready, ready, set, go
Get up, get loud, tell everyone you know
'Round the world from left to right
(Are you ready?) It starts tonight
Are you ready, ready, set, go
Get up, get loud, tell everyone you know
'Round the world from left to right
(Are you ready?) It starts tonight.
Making the Get Hype music video "was a dream" the band said. They confirmed that, "It takes so many people and moving parts to make a music video happen! Everything that each person had worked on for months all came together that day and it was beautiful. Definitely a day we will all remember!!"
When the girls were asked about what it was like to hear "Get Hype" being played on radio stations all over the country, they expressed their joy and surprise. It was an unexpected moment for the band, and hearing the feedback that listeners everywhere were enjoying it brought them so much excitement.

Tell us what "Get Hype" means to you.
1GN: "At the end of the day we get so hyped about what the Lord is doing through our music. We want to be a voice that combats all the negative messages our generation is getting thrown at us. Although Get Hype is a fun silly song, we believe we have so much to celebrate as Christians!"
In a world where it is often a challenge to find quality and wholesome entertainment for young girls and music they will look forward to sharing with their friends, we can be grateful for 1GN and their solid message and ministry through energizing music.
Get Hype is being played on radio stations nationwide and is available for purchase as a single on iTunes here: http://smarturl.it/1gngethype
Follow the band on their website,1GNofficial.com, as well as on Twitter (@1GNofficial), Facebook (1GN) and Instagram (1gnofficial). You can also subscribe to their YouTube channel (1GN).
Article by Andrea Stunz
I'm a born-and-raised Texan who enjoys any adventure that requires a passport. As a Christ-following pilgrim, I'm a lover of stories and a connoisseur of sunrises and coffee - best when served together. I listen to a wide range of musicians with Andrew Peterson, Jimmy Needham and Bethel Music being just a few of my favorites. When I'm not writing, you'll find me in the kitchen or spending time with those I love.