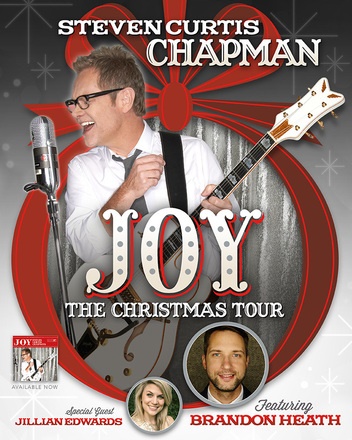 elebrated multi-award winner Steven Curtis Chapman will usher in the 2014 holiday season with fans on JOY: The Christmas Tour in more than a dozen cities this winter. The tour will feature five-time GRAMMY® nominee Brandon Heath and special guest singer/songwriter Jillian Edwards. JOY: The Christmas Tour will begin in Houston, Texas, November 29 and make its way throughout the East and Midwest until the week of Christmas.
Collectively, Chapman's Christmas albums have sold nearly 1.5 million copies, and he plans to treat fans to an evening filled with songs from each of his seasonal albums. Selections from JOY, his fourth career Christmas album, released in 2012, will highlight the night, as well as beloved songs from his three previous holiday offerings: The Music of Christmas (1995), the Hallmark exclusive Christmas is All in the Heart (2003) and All I Really Want for Christmas (2005). Fans can also expect some surprises as the award-winning singer/songwriter reworks some of his biggest hits to fit the holiday mood
Throughout the night, the legendary artist will also be collaborating with his tourmates, Brandon Heath and Jillian Edwards. Heath will perform cuts from Christmas Is Here, his debut holiday effort, which released last year to critical acclaim. Meanwhile, audiences will also have the opportunity to meet Chapman's daughter-in-law, Jillian Edwards, and hear songs from her forthcoming Christmas EP.
"The Christmas season is my very favorite time of year, and I'm so looking forward to this get-together of friends and family," Chapman shares. "My band, crew and I have been working on the plan for the tour and the song list, and it's going to be a great night of caroling, worshipping, storytelling and fun as we celebrate the hope and the joy of our Savior's birth together. We're praying God will use this time, and we hope you can join us."
Show Hope, the orphan care ministry founded by Chapman and his wife Mary Beth, will be highlighted on the tour as the title presenting sponsor for the majority of the dates. In addition, for three cities to close out the run, long-time friends and acclaimed band Third Day will join Chapman as co-headliners on dates in Roanoke, Va.; Augusta, Ga.; and Tampa, Fla. These special nights—billed as "Joy & Worship" dates—will allow the artists to blend Chapman's Christmas-oriented night with Third Day's worship-focused set.
For a full list of dates and ticketing information, visit www.stevencurtischapman.com.