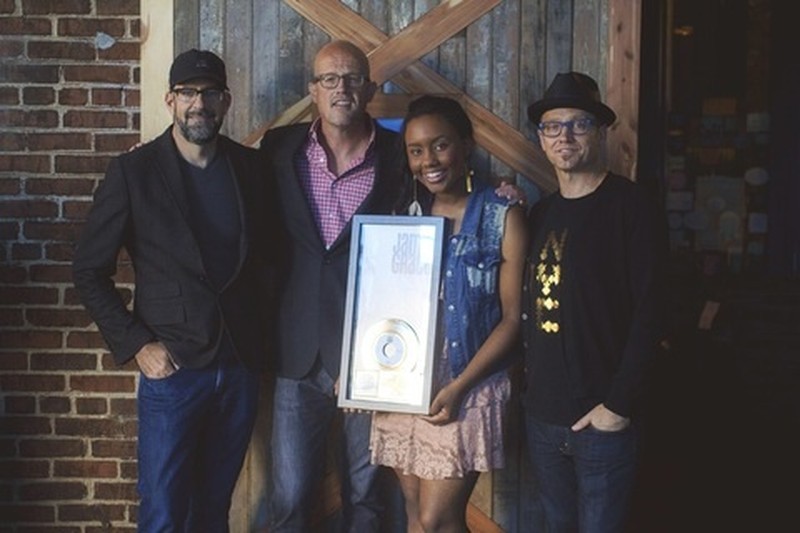 GRAMMY®-nominee Jamie Grace is celebrating a number of achievements so far this year, furthering her status as one of the most successful young artists in the industry. Just last week, Jamie Grace's No. 1 single "Hold Me (feat. TobyMac)" celebrated 500,000 singles downloaded, earning an RIAA Digital Gold certification. At the age of only 22, the achievement launches Jamie into a league of only four female Christian artists to have sold more than half a million singles.
Last week, Jamie Grace was featured on the "Power of She" segment on HLN's Morning Express with Robin Meade. As a part of Tourette Syndrome Awareness Month, which runs from May 15 – June 15, Jamie Grace shared about her ongoing battle with Tourette syndrome, her work with her non-profit foundation ImAFighter.org, as well the explosion of her musical career after she was discovered on YouTube by TobyMac. Watch the video below.
Jamie Grace's latest album Ready To Fly released earlier this year and was declared the "real deal" by Sherri Shepherd, co-host of ABC's The View, and a "coming of age record…preparing to do life cranked all the way up to eleven." Her second single from the album, "Do Life Big," is living up to its own name, breaking into the Top 10 on the Hot AC/CHR chart and Top 20 on the Christian AC chart this week.
Earlier this month, Jamie Grace became the First Christian Artist to Appear on a 7UP Can at the K-LOVE Fan Awards. The award was completely voted upon by fans and was awarded to Jamie Grace in person by Pepsi MidAmerica President Lee Crisp. Beginning in September, Jamie Grace will appear on four million 7UP cans throughout the Midwest. Additionally, consumers will be able to download a free song by Jamie Grace with a promo code on their can.
This August, Jamie Grace will headline the Air1 Positive Hits tour. For more information, visit www.jamiegrace.com.