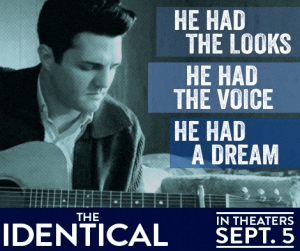 When Blake Rayne entered an Elvis Presley impersonation contest, he never dreamed that it would be the start of a career that someday would lead him to a role in a major motion picture. In fact, he did it as a joke.
Although his mother was not a huge Elvis fan herself, his strong resemblance to the star became the subject of a running joke between the mother and son. In fact, people made comments about how he looked like "a young Elvis" so frequently that it became commonplace.
"My mom and I have a great relationship," Rayne stated. So when Rayne's mother learned about an upcoming Elvis impersonation contest, she faxed him the form to be funny. Rayne thought he would do her one better and actually enter the competition, never thinking that he was really going to win it. But win he did! "I've been blessed with a lot of dumb luck," Rayne said.
That luck just landed the Nashville resident a huge break, as he was cast in the dual role of Ryan Wade and Drexel Hemsley in THE IDENTICAL. THE IDENTICAL is a redemptive story that begins in the Great Depression with the birth of twin boys to a poor couple. Unable to provide for both children, the parents make the difficult decision to give one of their sons to a childless pastor and his wife (Ray Liotta and Ashley Judd). As Ryan grows, unaware that he is adopted, he is encouraged by the Wades to pursue a life in the ministry, like his father. Ryan, however, feels pulled toward his lifelong love of music, and in the 1950s, this meant rock 'n' roll. Ryan launches a career by performing the legendary music of Drexel Hemsley, unaware that he is Drexel's twin. When their destinies collide tragically, Ryan is left reeling and questioning all of his beliefs in God, family and himself.
Rayne did not find it difficult to identify with the character of Ryan. "There are lots of similarities between Blake Rayne and Ryan Wade," he explained. "When I was growing up, we didn't have a lot of money. My father was an athlete, so sports were pushed, and I was expected to get straight As." On the occasions he thought maybe he might like to try out for a play or join the chorus, it really was not encouraged. So he never took that leap back then.
After winning the Elvis impersonation contest, he finally came to the conclusion, "I'm gonna do this. Then people asked me if I was crazy," he admitted. That extended beyond family to friends and other acquaintances who posed questions about how he was going to make enough money to support himself or how he was ever going to be able to retire. Yet he launched a very successful career impersonating Elvis Presley.
Since he was not a big Elvis fan before he started his endeavor, he says he "learned just by doing Elvis music. How I got brought into this business was a bit of a history lesson, and I learned as I went. Nearly every current musician has been inspired by the early 50s music," he acknowledged, referencing early Sun Records artists like Sam Perkins and Johnny Cash, in addition to Elvis.
However, his own personal tastes lean more towards modern indie rock, like Kings of Leon. When he decided to break out and do his own music, "just being myself" rather than Elvis, he largely got the same reaction as when he left his former career to impersonate Elvis. People asked him why he would risk giving up a successful career to launch another risky one without guarantees. That bet has paid off with the lead role in THE IDENTICAL.
Some might find it a daunting task to take on a dual role in their first major film project, but Rayne worked with an acting coach in Los Angeles who helped him understand what playing a dual role really entailed. He also did a lot of research on identical twins and the idea of nature versus nurture to work through how these two characters were brought up separately.
It seemed he did not find the concept of the dual role quite as daunting as the idea of working with Ray Liotta. When he learned Liotta was playing the role of his dad, "I almost cried I was so scared!" he admitted. However, the experience exceeded Rayne's expectations. Liotta flew into Nashville two weeks early, intent on bonding with his on-screen son. They attended a couple of Titans football games and concerts while getting to know each other. When they arrived on-set, they had an easy, comfortable familiarity.
"There were so many different scenarios like that," he gratefully said about his co-stars. "It was just jaw-dropping every day – to come in and have the role I had, and the actors around me knowing I was a first-time film actor were very supportive and helpful."
It would seem Rayne most certainly has no regrets about submitting his entry all that time ago. He is happy with the path he has chosen. He said, "In this world today, we are inundated with information and people trying to tell us what we should do. You need to just get past it all and think about what you really want. If your heart is in the right place, your path is blessed."
It sounds as if Blake Rayne took some advice from Ryan Wade's mother (Ashley Judd) who says, "If He is in your dreams, nothing can stand against them."
THE IDENTICAL opens in theaters nationwide on Sept. 12.
Article By Kim Frauli
Kim Frauli is a wife and stay-at-home mom of three beautiful children. She spent several years in marketing and communications for non-profit organizations, including serving as editor-in-chief of a Catholic hospital's health magazine. She took a break from full-time work in 2009 to focus on family and volunteer work, but she continued to work on freelance projects. She has served as a Sunday School superintendent and teacher, PTO president, St. Paul Booster Club officer, Girl Scout troop co-leader, youth sports coach and Woman's Club president, in addition to chairing various events for church and schools. Kim and her family live on a rural Midwestern farm with plenty of animals, including horses and cows. In addition to writing, Kim's other interests include reading, cooking, going to the movies, and cheering on her children at their various activities.