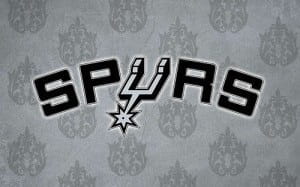 David Robinson was born on August 6, 1965 in Key West, FL. He was the second born in his family to Ambrose and Freda Robinson. He is most widely known for his career in the NBA, playing center with the San Antonio Spurs. However, he also is a faithful man to the Lord! Here is a snap shot of David Robinson: his faith, bio, career, and foundation.
Early Years
David's father was in the Navy, and with that David had several moves growing up. He was known for being a very intelligent child. By the time he was 14 years old he was enrolled into advanced computer classes at a local college. After his dad retired from the Navy, they settled down in Virginia, where David attended high school. David excelled in math and in sports, but ironically he only played basketball his senior year.
His basketball skills were nothing to speak of in high school compared to the 1320 he scored on his SAT. He followed in his father's footsteps and joined the Navy. It was here that he really honed his skills and became an All-American and was awarded the Naismith and Wooden Awards his Senior year there. He graduated in 1987.
NBA Career
After graduating from the Navy he was immediately drafted to the Spurs as a 1st round draft pick. This is interesting because the Franchise knew they would have to wait 2 years to get David because he had to fulfill obligations to the Navy after graduation. They drafted him anyway, and it was one of the best decisions made for the team. In the last half of his career with David, known as the Admiral, at center and Tim Duncan (power forward) leading the team, they were a menace to play against. These two men were nicknamed "The Twin Towers" because of their amazing reputation for the game. They led the Spurs to 2 NBA Titles in 1999 and 2003. David Robinson retired after the last game and final victory of the 2002-2003 season. He is quoted as saying, "My last game, streamers flying, and world champions. How could you write a better script than this?" This is how every player wants to retire, on top! This is how Ray Lewis felt when he retired from the Baltimore Ravens last year when they clenched the Superbowl title for the 2012-2013 season. David was named one of the 50 greatest NBA players ever and for good reason. He was rookie of the year, and an 8 time all-star. He won the NBA scoring title, blocked shots title, and rebounding title. He was named defensive player of the year as well. He was named MVP in 1995. He scored 2 NBA titles! He was an amazing athlete!
Philanthropy
David Robinson has done many great things for charity, most remarkably he funded the $9 million Carver Academy in San Antonio, which is a non-for-profit organization. This academy provides opportunities for inner city kids that need help. David is involved with the Academy today in its day to day activities. David donates 10% of his income each year to different charities.
Faith
David Robinson is a Christian man and is always ready to show it. In an interview he stated that in his first year in the NBA he had it all: the house, the money, fans…everything. But he knew he was missing something and that is when he found God. David said, "I just fell on my knees and I started crying, saying 'God I am so sorry! You've blessed me incredibly, given me so much, given me everything I have and I've never honored You, never. I never thanked You, never anything really. I've been like a spoiled kid in the house. You've been blessing me and I'm just running around doing what I want to do.' I said, 'from here on Lord, everything I have is Yours. Wherever You want me to go, I'll go. Whatever You want me to say, I'll say. Lord, just let me walk with You.'" In the same interview, David goes on to talk about the body of Christ and how we all have a place in it, and it may not be in the pulpit. It may be in ushering. He talks about how your place in the body of Christ is important because God put you there. David is a great example of what a Christian man should look like and we can learn a lot from him by his faithfulness to Jesus.
Quotes From David
"God has placed you here for a reason. He's given you talents for a reason."
"It is our responsibility to forgive, when other people do things to us."
"As I read, the Bible jumped out, the pages came alive to me and it was a transforming experience."
Conclusion
David Robinson is the real deal. He excelled through school and the NBA. He channeled his love for God through his NBA career and is now retired, but not really. With his work in the Carver Academy he is plenty busy and he loves it! I have much respect for this man and I am so thankful that so many children are getting to know Jesus because of him. God bless you all!
 Check out this article about another great Christian sports witness:   12 Awesome Tim Tebow Quotes