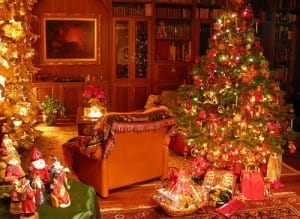 Christian music is such a popular genre nowadays that when Christmas time rolls around there is no shortage of contemporary artists who are singing Christmas tunes. This list contains some of the best classic Christmas songs performed by today's top contemporary Christian artists. Christmas is such a wonderful time of year with families gathering together for the season any of these songs in the top 20 will help set the mood and entertain guests that are visiting. Be sure to enjoy the videos while reading the countdown and make sure to check out my number 1 song as it is an original work from that band.
"The Truth" Hebrews 11:6 "And without faith it is impossible to please God, because anyone who comes to him must believe that he exists and that he rewards those who earnestly seek him."
20. Trans Siberian Orchestra- "Christmas Cannon"

19. Brandon Heath- "The Night Before Christmas"

18. Kutless- "It Came Upon a Midnight Clear"

17. Natalie Grant- "O Little Town of Bethlehem"

16. Chris August- "I'll be Home for Christmas"

15. Newsboys- "All I Want for Christmas is You"

14. David Crowder Band- "Go Tell it on the Mountain"

13. Amy Grant- "Silent Night"

12. Casting Crowns- "O Come All Ye Faithful"

11. Colton Dixon- "Jingle Bells"
"The Truth" Romans 10:17 "Consequently, faith comes from hearing the message, and the message is heard through the word of Christ."
10. Mercy Me- "Rockin Around the Christmas Tree"
Favorite Lyrics: Rockin' around the Christmas tree
Have a happy holiday
Everyone dancin' merrily
In the new old fashion way
9. Jeremy Camp- "Away in a Manger"
Favorite Lyrics: Away in a manger,
No crib for His bed
The little Lord Jesus
Laid down His sweet head
The stars in the bright sky
Looked down where He lay
The little Lord Jesus
Asleep on the hay
8. Tenth Avenue North- "Deck the Halls"
Favorite Lyrics: Follow me
In merry measure
Fa, la, la, la, la
La, la, la, la
While I tell of Yule
Tide treasure
Fa la la la la
La, la, la, la
All these stars
Have come out
To shine so bright
On this Christmas night
(Christmas night)
We can share
This special time
Favorite Lyrics: Joy to the earth, the Saviour reigns!
Let all their songs employ
While fields and floods, rocks, hills and plains,
Repeat the sounding joy,
Repeat the sounding joy,
Repeat, repeat the sounding joy.
No more let sins and sorrows grow,
Nor thorns infest the ground.
He comes to make his blessings flow
Far as the curse is found,
Far as the curse is found,
Far as, far as the curse is found.
6. Third Day- "O Holy Night"
Favorite Lyrics: O holy night the stars are brightly shining
It is the night of our dear Savior's birth
Long lay the world in sin and error pining
'Til He appeared and the soul felt its worth
A thrill of hope the weary world rejoices
For yonder breaks a new and glorious morn
5. Matt Maher- "O Come O Come Emmanuel"
Favorite Lyrics: O come, Thou Key of David, come
And open wide our heavenly home
Make safe the way that leads on high
And close the path to misery
Rejoice, rejoice, Emmanuel
Shall come to thee, o Israel
4. Sidewalk Prophets- "What a Glorious Night"
Favorite Lyrics: The Shepherd's came to
See the baby, stood by his mother's side
Here lay the Savior inside a manger
Oh What a glorious night
3. Trans Siberian Orchestra- "Christmas Eve/Sarajevo
Featured Video:
2. For King and Country- "Little Drummer Boy"
Favorite Lyrics:Little baby
Pa, rum, pa, pum, pum
I am a poor boy, too
Pa, rum, pa, pum, pum
I have no gift to bring
Pa, rum, pa, pum, pum
That's fit
To give a king
1. Sanctus Real- "Shining"
Favorite Lyrics: He came just liked he promised
His Love will not be silenced
The light of the world is shining
Conclusion
I love Christmas, it is a grand time of year, and the only thing that can make it better is the music of the season. I hope you enjoyed my top 20 countdown, Sanctus Real with Shining is far and away I think the hottest Christmas song going right now anywhere and the fact that it is their original work is even more impressive. Any of these classics will make great background music for Family Christmas board game time.
Read these corresponding articles covering 2 of my favorite bands: Top 10 Sanctus Real Songs
Tenth Avenue North: Top 8 of All Time
Resources- ESV Holy Bible, Youtube, Photo Credit: angelocesare via Compfight cc