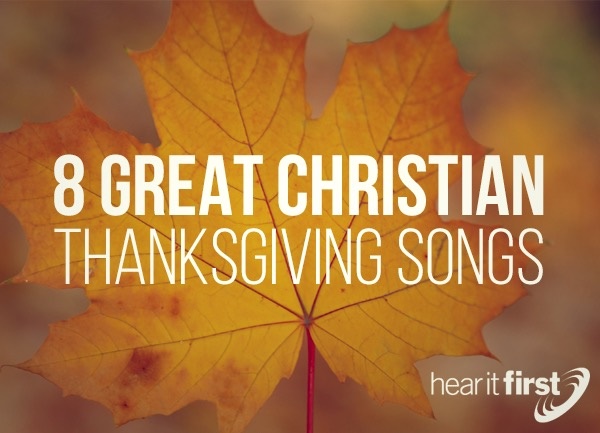 Fall is such a captivating time of the year with gorgeous colored leaves, bright orange pumpkins, cool temperatures for running and breakfast full of Maple syrup and pumpkin spiced lattes. November encompasses fall perfectly. I love Thanksgiving. No, not just for the food, but because many people focus on what they are thankful for and this produces so many blessings – including patience for the holiday season. Many Christian artists have been inspired to thank God and encourage others to do so in their music. God continually gives us grace in so many ways and the older you get, the more you can see your blessings and be grateful for them.
Here are eight great Christian Thanksgiving songs.
8. Worthy Is the Lamb by Hillsong on the Album You Are My World
Like many other songs by Hillsong, "Worthy Is the Lamb" is great to sing in worship service.
Favorite Lyrics
Thank you for the cross Lord
Thank you for the price You paid
Bearing all my sin and shame
In love You came and gave amazing grace

Thank you for this love Lord
Thank you for the nail pierced hands
Washed me in Your cleansing flow
Now all I know Your forgiveness and embrace
7. In Your Presence by Jeremy Camp on the Album Stay
I have many favorite Jeremy Camp songs and I love that "In Your Presence" is a worship song.
Favorite Lyrics
As I bow my head before you,
I lay my burdens down at your nail pierced feet,
Every ounce of you radiates your glory,
With you I know that I'm complete

And I sing Hallelujah,
You are my God, Maker of the heavens,
Hallelujah, You are my LORD,
I bow before your presence,
6. Indescribable by Chris Tomlin on the Album Arriving
"Indescribable" was released in 2004 and the album went platinum and peaked on Billboard's Top Christian Albums as No. 3.
Favorite Lyrics
Indescribable, uncontainable,
You placed the stars in the sky and You know them by name
You are amazing God
All powerful, untameable,
Awestruck we fall to our knees as we humbly proclaim
You are amazing God
You are amazing God
5. Nothing Compares by Third Day on the Album Come Together
This song is a great reminder that nothing is compared to God. God exceeds all other creation and beings and embodies the definition of good.
Favorite Lyrics
I've heard all the stories
I've seen all the signs
Witnessed all the glory
Tasted all that's fine
Nothing compares to the greatness of knowing You, Lord
Nothing compares to the greatness of knowing You, Lord
4. Your Great Name by Natalie Grant on the Album Love Revolution
God's name is so powerful and this song beautifully tells the story of what His power continues to do.
Favorite Lyrics
All the weak find their strength at the sound of your great name
Hungry souls receive grace at the sound of your great name
The fatherless—they find their rest at the sound of your great name
The sick are healed and the dead are raised at the sound of your great name
3. Wonderful, Merciful Savior by Selah on the Album Press On
This song is so upbeat and leads your heart to praise and worship our mighty God.
Favorite Lyrics
You are the one that we praise
You are the one we adore
You give the healing and grace
Our hearts always hunger for
Oh, our hearts always hunger for

Almighty, infinite Father
Faithfully loving Your own
Here in our weakness You find us
Falling before Your throne
Oh, we're falling before Your throne
2. Forever by Chris Tomlin on the Album The Noise We Make
The way Chris Tomlin sings the line His love endures forever can't be forgotten as this song lifts your mood.
Favorite Lyrics
Give thanks to the Lord our God and King
His love endures forever
For He is good, He is above all things
His love endures forever
Sing praise, sing praise
1. 10,000 Reasons by Matt Redman on the Album 10,000 Reasons
The album 10,000 Reasons was ranked No. 1 on the Billboard U.S. Christian Album chart after it was released in 2011.
Favorite Lyrics
Bless the Lord, O my soul
O my soul
Worship His holy name
Sing like never before
O my soul
I'll worship Your holy name

Jesus, I'll worship Your holy name
Lord, I'll worship Your holy name
Singing thanks is certainly not new and one of the earliest songs of thanksgiving is "Come, Ye Thankful People, Come" written by Henry Alford in 1844. "We Gather Together" is also a hymn of thanksgiving with a long history. It was first written in 1597 in Dutch and then translated into English in 1626. What is your favorite hymn or mainstream Christian song about Thanksgiving?
Article by Elise Cleary
I am a Christian writer and editor that lives in northern Michigan and thoroughly enjoy music, movies, TV shows, books and other entertainment with a Christian focus. My favorite song is "Oceans" by Hillsong United because it reminds me that has big plans for me and everyone else who puts their trust in Him. There are many movies that have impacted my life, but a few include God's Not Dead, The Shunning and Letters to God. I also write for www.faithandentertainment.com and love connecting with readers, so please don't hesitate to contact me! When I'm not writing I enjoy watching movies and laughing with my busy toddler and husband.