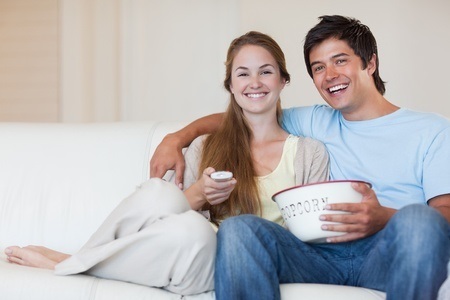 How do you choose the right romantic movie for a Christian date? Comedy movies can lighten the mood and a little romance can make you feel connected to your date. Avoid the pitfalls of choosing the wrong movie by selecting one of these seven romantic movies to watch on a Christian date.
7. You've Got Mail
This older movie stars Tom Hanks as Joe Fox and Meg Ryan as Kathleen Kelly. Kathleen owns a small, cozy bookstore on a corner in New York, but is forced to close when the big Fox Books opens across the street. Around the same time, Kathleen meets a handsome and charming man she begins falling for and they start chatting online. Joe keeps visiting Kathleen's store and when he brings his young nephew with him, the truth comes out that he's connected to the bookstore that's driving her out of business. You've Got Mail is a cute and clean story that makes a great romantic movie to watch on a Christian date.
6. Ever After: A Cinderella Story
Ever After: A Cinderella Story follows the Cinderella storyline, but is set in the 1500's. Young Danielle is deeply cherished by her father but her stepmother and stepsisters have always been jealous of her. Unfortunately, Danielle's father dies unexpectedly and she's forced to work as a servant for her stepmother. Years later, Prince Henry has come of age to get married and is looking for true love over who his parents think he should marry. Danielle unexpectedly saves him catching his attention, but her stepmother has a different idea of who the prince should marry. Drew Barrymore plays Danielle and brings a lot of humor to this clean romantic movie.
5. A Walk to Remember
Landon Carter (played by Shane West) is a bad boy in high school that hangs around the wrong crowd one too many times in A Walk to Remember. After he negatively influences another student who nearly lost his life, the principal orders volunteer work and starring in the school play with the hopes of introducing him to positive activities and a more positive crowd. Jamie Sullivan (played by Mandy Moore) is a preacher's daughter and all around good girl. Landon's friends make fun of her, but he needs her help in learning the lines for the play. He ends up learning way more than he could have ever imagined and has to prove his true love and intensions for Jamie in order to gain her father's trust. You will fall in love with this movie for your next date night.
4. Sweet Home Alabama
Reese Witherspoon stars as Melanie Smooter along side Josh Lucas as Jake Perry and Patrick Dempsey as Andrew Hennings in this complicated north meets south love story. Melanie is from Alabama and has created a successful life for herself in New York. She is engaged to Andrew Hennings, who happens to be the mayor's son, but she has to take care of one errand from her past that could put her engagement in jeopardy. Melanie was married to Jake years ago, but never took the time to file for a divorce when she left. As her dream Alabama wedding approaches, tensions build and she has to make a huge decision on whether or not she is truly over Jake.
3. Elizabethtown
Drew Baylor (played by Orlando Bloom) is a shoe designer who causes his company to lose one billion dollars in the movie Elizabethtown. He can't deal with the fallout and decides to commit suicide, but his sister unexpectedly calls with news that his father has died. This saves Drew, but the puts responsibility on him to fly his father home to Elizabethtown. In the process, he meets Claire Colburn (played by Claire Colburn) who sticks with him through the stress and grief. This is a great movie choice for your next Christian date.
2. Letters to Juliet
Sophie (played by Amanda Seyfried) is an up-and-coming writer who is engaged to Victor, a chef about to open his first restaurant. Their wedding is weeks away, but they decide to take their honeymoon to Italy before the wedding because of Victor busy schedule. Victor ends up so fascinated with opportunities to visit vineyards, learn authentic recipes and explore the finest in Italian cuisine that he leaves Sophie to wonder around for herself. Instead of waiting for him, she begins exploring the area and unexpectedly helps the Secretaries of Juliet who respond to love questions from distressed women. It's a tradition that has gone on for years and Sophie finds a letter written years ago and decides to respond. This takes her on an adventure to help an old widow find the true love of her youth and she learns a few things about herself as well.
1. P.S. I Love You
Holly (played by Hilary Swank) and Gerry (played by Gerard Butler) live in a tiny apartment, work hard and have an almost sickeningly sweet relationship. They dream big about having children and a bigger place one day when Gerry suddenly gets cancer and dies far too soon. Holly is devastated and leans on her friends and family to get through each day. Gerry carries on his sweet nature by writing letters as he grew sicker as he knew that Holly would struggle immensely after he died. She receives the letters throughout the year following his death and slowly learns to accept what happened and live again.
There are many great movies that are perfect for Christian dates. If you look for romantic comedies rated PG or PG-13, you will be less likely to experience awkward scenes that plague many would-be great movies. What are your favorite films for a date?
Article by Elise Cleary
I am a Christian writer and editor that lives in northern Michigan and thoroughly enjoy music, movies, TV shows, books and other entertainment with a Christian focus. My favorite song is "Oceans" by Hillsong United because it reminds me that has big plans for me and everyone else who puts their trust in Him. There are many movies that have impacted my life, but a few include God's Not Dead, The Shunning and Letters to God. I also write for www.faithandentertainment.com and love connecting with readers, so please don't hesitate to contact me! When I'm not writing I enjoy watching movies and laughing with my busy toddler and husband.