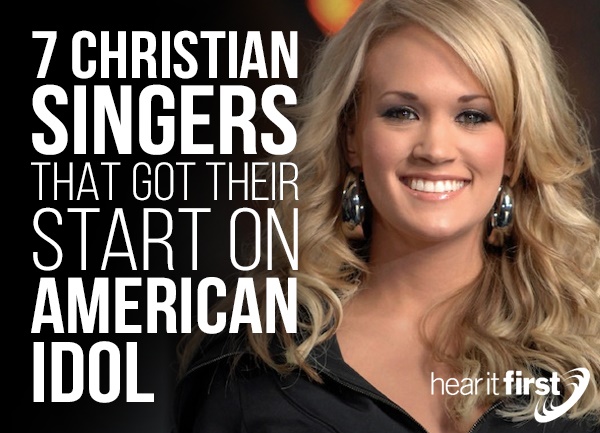 The first season of American Idol debuted in 2002 and has given many Christian artists the start they needed. Not all the Christian singers won, but they didn't need to! Original judges Paula Abdul, Simon Cowell and Randy Jackson, proved early on that they were looking for talent – regardless of the genre. Over the past 14 years, there have only been 11 judges, which is incredible for a show that has garnered as much attention from both fans and critics. Here are seven Christian singers that got their start on American Idol.
7. Phil Stacey – Placed 6th on Season 6
After his journey on American Idol was over, Phil Stacey quickly signed to Lyric Street Records and then later signed to Reunion Records. His studio albums released include Phil Stacey, Into the Light and Faith. In October he will be touring with the Ignite Conference and also playing at the Montana Youth Conference.
6. Jordin Sparks – Winner of Season 6
Jordin Sparks was only 17 when she won season six of American Idol! After the season she signed with 19 Recordings/Jive Records and released her first single "Tattoo" followed by her first full album Jordin Sparks. Her next album Battlefield was released in 2009 and reached number seven on the Billboard 200. Jordin has also branched out by becoming a spokesperson for Avon and playing roles in various TV shows and movies. Even though Jordin has a very packed schedule, she is dedicated to supporting many causes, including Malaria No More, Dosomething.org, Got Milk? and Save The Music Foundation. She has also performed at many charity events.
5. Colton Dixon – Placed 7th on Season 11
If you listen to Christian radio stations it's hard not to hear a Colton Dixon song! He and his sister Schyler auditioned in season 10, but didn't make it far. Colton went to show support for Schyler when she auditioned in season 11 and he ended up trying out as well! The rest is history and his career was launched soon after being eliminated by appearing on numerous shows, including Live! With Kelly and The Ellen DeGeneres Show. Colton won a GMA Dove Award in 2013 for "Best Rock/Contemporary Album of the Year" for A Messenger.
4. Chris Daughtry – Placed 4th on Season 5
Simon Cowell didn't initially give Chris Daughtry a pass when he tried out, but the tune changed with Chris' incredible performances. His rock performances included "Wanted Dead or Alive" by Bon Jovi and "Renegade" by Styx. After he was eliminated, Daughtry signed with RCA Records, forming the band Daughtry. They have released four albums, including Daughtry, Leave This Town, Break the Spell and Baptized. Chris Daughtry has performed many different types of rock music, but is still a devout Christian. The band Daughtry has also performed with Third Day.
3. Danny Gokey – Placed 3rd on Season 8
Danny Gokey knew he was blessed with singing talent, but wasn't sure what was next after his first wife died just four weeks before trying out for American Idol. His performances were emotionally moving and he signed with 19 Recordings/RCA Nashville after the season was over. Danny's first album My Best Days debuted at number four on the Billboard charts. His latest album Hope in Front of Me was released June 23, 2014.
2. Mandisa – Placed 9th on Season 5
While Mandisa was on American Idol, Simon Cowell could not stop making harsh comments about her weight. After the season ended, she released her first album True Beauty, which was influenced by her experience on the show. Mandisa has since released three other studio albums, including Freedom, What If We Were Real and Overcomer. She won a Grammy Award in 2014 for "Best Contemporary Christian Music Album" for Overcomer and also won two K-LOVE Fan Awards for the same album.
1. Carrie Underwood – Winner of Season 4
Carrie Underwood has become a household name in the music industry and focuses on country music. She began her career on American Idol and released the song "Inside Your Heaven" with runner-up Bo Bice. Her album Some Hearts has become the best-selling album of all the American Idol alumni. Carrie has won numerous awards and honors, including six Grammy Awards, 11 Academy of Country Music Awards and being inducted in the Grand Ole Opry. Carrie Underwood doesn't produce strictly Christian albums, but does talk about God in many of her songs, including "Thank God for Hometowns" and "Jesus Take the Wheel". She has also performed "How Great Though Art" at the Academy Country Music Awards.
It's amazing how God has used a mainstream show like American Idol to ignite the careers of so many Christian singers. Each one is unique and it shows that there is not just one way of making it big. What I admire most about Christian artists on American Idol is that they don't let the fame take away from serving and praising God. Who is your favorite Christian artist that got their start on American Idol?
Want to Tryout for American Idol?
Tryouts for season 14 of American Idol are almost over, but you can still audition live or online. Will you be the next Christian singer to get your start on American Idol?
Article by Elise Cleary
I am a Christian writer and editor that lives in northern Michigan and thoroughly enjoy music, movies, TV shows, books and other entertainment with a Christian focus. My favorite song is "Oceans" by Hillsong United because it reminds me that has big plans for me and everyone else who puts their trust in Him. There are many movies that have impacted my life, but a few include God's Not Dead, The Shunning and Letters to God. I also write for www.faithandentertainment.com and love connecting with readers, so please don't hesitate to contact me! When I'm not writing I enjoy watching movies and laughing with my busy toddler and husband.