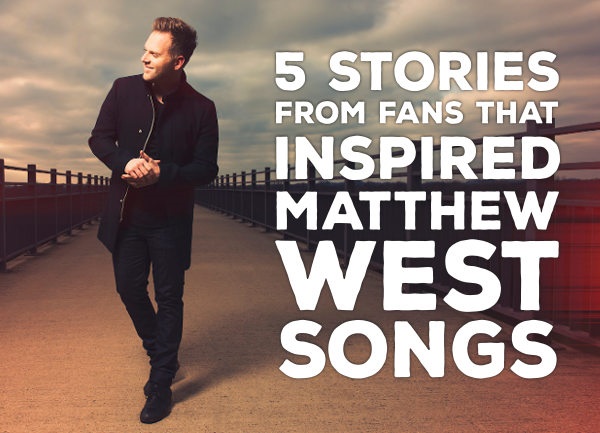 Matthew West used to share his own stories in his songs with the hope that a few might connect with listeners. Everything changed after he lost his voice and was forced to undergo surgery on his vocal cords and refrain from talking for two months. He did not know whether he would ever be able to sing again and went through a soul searching journey during those two months. God began revealing to Matthew how he could write songs inspired by other people's stories. So far, he has received over 40,000 stories and released three albums filled with songs inspired by these stories. In an interview with Billy Hallowell from The Blaze, Matthew stated, "It's important for me to personally read the stories because people are trusting me with the more raw and vulnerable parts of their stories."
Matthew ditched his go-to methods after his vocal cord story and he started depending on people writing and submitting their stories. He goes to a small cabin for days and weeks at a time to read through the stories about abuse, brokenness, teenagers struggling with image issues, marriages falling apart. He writes songs based on the stories that pick him. Here are some of the stories that have inspired Matthew West's songs.
5. "Strong Enough" from the Album The Story of Your Life
The song "Strong Enough" was inspired by the strength that 19-year old Hailey and her mom have shown. Hailey was 19 and in her first year of college when she was in a horrific accident after her car slid on black ice. She ended up breaking her leg and she has had 13 surgeries. Her mom, who is a single mom, told her, "Hailey, the Lord doesn't put anything on us that He doesn't think we are strong enough to handle." She replied, "He must think I'm pretty strong."
4. Forgiveness from the Album Into the Light
The story behind the song "Forgiveness" is heartbreaking, but also one of hope and redemption. Renee Napier was a mother of four who lost her teenage daughter who was a twin when her car was struck by a drunk driver named Eric. Over the years, Renee was convicted to forgive Eric and they began encouraging each other. Eric formed a relationship with God and Renee asked the courts to cut Eric's sentence from 22 years down to 11 years. Once he was released, the two started traveling around and presenting on the dangers of drunk driving and the power of forgiveness.
3. "Do Something" from the Album Into the Light
The song "Do Something" was inspired by a woman named Andrea while she was in college. Andrea studied in Uganda for a few months and discovered an orphanage with kids who were being abused and knew she had to do something. She told her dad that she wasn't coming back home and she stayed despite his initial negative reaction. The Uganda Government finally shut down the orphanage and she was suddenly in charge of 40 orphans. This lead to a new orphanage that she now runs and has opened the door to share Christ with these kids and help give them a bright future.
2. "Hello, My Name Is" from the Album Into the Light
The song "Hello, My Name Is" was inspired by a guy named Jordan who grew up as the son of a preacher, went to a Christian college and fell into drugs after breaking his ankle playing sports. He was suspended from college and he tried to kill himself at his lowest moment. His parents took him to Teen Challenge for a year and when he asked his parents not to leave, his mother told him "I love you too much to take you home." Change really started happening and he discovered a personal relationship with Christ. Jordan's story of redemption hasn't ended as he is now a teacher and coach and is working to become a preacher.
1. "Day One" from the Album Live Forever
"Day One" was inspired by Josh, who wrote to Matthew that he grew up in a rough area with a difficult home life. He spent time in and out of jail, but while he was in prison, he found God. When he was released, he was determined to not let his newfound faith just be considered "jail-house religion," and that he actually wanted to live out what he believes. Josh tried to find honest work, but no one would give a chance to an ex-convict recently released from jail. A Christian couple who owned a pizza restaurant was looking to hire and they gave him a chance. Josh has now worked his way up and is now general manager of that pizza restaurant. This is a great reminder that the words of Lamentations 3:22-23 still ring true for people today. "The steadfast love of the Lord never ceases; His mercies never come to an end; they are new every morning; great is your faithfulness."
The Stories Continue
All of these stories are powerful and connects these songs to each one of us. It's amazing to see how God continues to work through Matthew West and the unending stories of redemption and hope He shares with us through each song. Matthew still loves receiving stories and has said this new process of songwriting has become a part of him. You can submit your story on his website and follow him on Facebook and Twitter for updates on the songs inspired by people who are not alone in their stories.
Article by Elise Cleary
I'm a Christian writer and editor residing in northern Michigan and thoroughly enjoy Christian centered music, movies, TV shows and books. A favorite song is "Oceans (Where Feet May Fail)" by Hillsong United and I find many songs by Matt Maher, Tim Timmons, Third Day, Laura Story, Jeremy Camp and numerous other artists uplifting. A few of my favorite Christian movies include God's Not Dead, The Shunning, Do You Believe and many by the Kendrick brothers. When I'm not writing, I enjoy running, experimenting in the kitchen and spending time with my musically gifted husband and spunky daughter. I am so blessed and in awe of the work God is doing throughout the Christian entertainment industry.