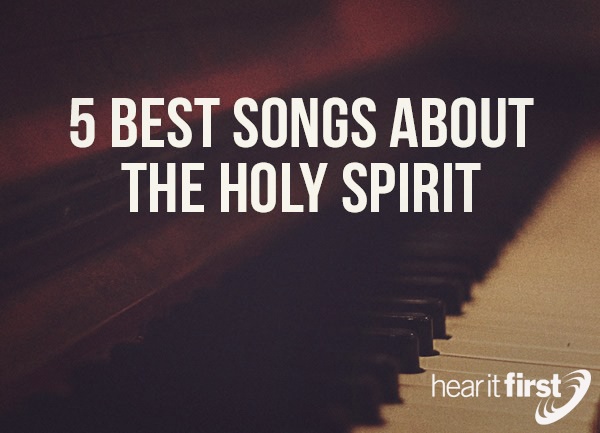 The Bible talks about the power of the Holy Spirit numerous times and it's a big deal. Luke 4 talks about how Jesus was filled with and led by the Holy Spirit. If Jesus embraced this incredible power then shouldn't we also strive to fully understand how the Holy Spirit can guide us? Many Christian singers and songwriters have answered "yes" and have been inspired to write and sing about the Holy Spirit. The Bible is the source of truth about the power and what faithful followers utilized the power, but many songs remind us and encourage us to keep renewing our faith in the Holy Spirit.
Here are the five best songs about the Holy Spirit and the truths they uncover.
5. "Spirit Of The Living God" by Bryan & Katie Torwalt
Bryan and Katie Torwalt harmonize about the power of the Holy Spirit in their lyrics and their longing for the Spirit to be present. "Come shake these walls | With a mighty rushing wind | I've seen a glimpse of your great power." Nothing can hold back the Holy Spirit, which isn't surprising since God is all-powerful and He is the source of it. Its power can heal harsh heart wounds, like Jesus' death on the cross. "Spirit of the living god, have your way | I'm longing for your presence to fully invade | So I'll pour my love on the king above all kings."
4. "Never Walk Alone" by Rend Collective
The Holy Spirit intercedes in so many incredible ways and the song" Never Walk Alone" describes this perfectly. "I will never, ever, ever walk alone | You are with us, for us | Always holding on | Thought I wander, Your love goes further | I will never walk alone." It also brings us hope and strength to keep us from faltering as life is crumbling. "Questions may haunt us | Casting their shadows | Still You're the hope and the fire in me | I will not tremble | I will not stumble | You are my courage, my bravery."
3. "Abide With Me" by Matt Redman
How does the Holy Spirit abide with us? We are safe from danger and never alone when the Holy Spirit is present. "Abide with me, Abide with me | Don't let me fall, and don't let go | Walk with me and never leave | Ever close, God abide with me." What inspires the Holy Spirit? The power comes from God and God is love (1 John 4:8). "Oh love that will not ever let me go | Love that will not ever let me go | You never let me go."
2. "Holy Spirit" by Kari Jobe (feat. Cody Carnes)
The Holy Spirit moves at different paces – sometimes it's slow and other moments it's fast. This version of "Holy Spirit" starts out slower and allows you to take in the essence of what the Holy Spirit can do. "I've tasted and seen of the sweetest of loves | Where my heart becomes free and my shame is undone | Your presence, Lord." There are always limits when you think about Earthly resources and powers to solve a problem. The Holy Spirit is limitless and unrestrained. "Holy Spirit, You are welcome here | Come flood this place and fill the atmosphere."
1. "Same Power" by Jeremy Camp
Where do you turn when life is falling to pieces? You didn't plan disaster, but it seems to have overtaken you. Jeremy Camp has some truths to share with us about the Holy Spirit. "The same power that rose Jesus from the grave | The same power that commands the dead to wake | Lives in us, lives in us | The same power that moves mountains when He speaks | The same power that can calm a raging sea | Lives in us, lives in us | He lives in us, lives in us." 1 Corinthians 2:12 says that the Spirit we have received is from God, it is God's Spirit in us! When we realize that the same power that rose Jesus from the dead lives in us, and we live by that daily, it changes us deeply. If you are crying out to Jesus, let the Holy Spirit come in and strengthen you – His power supply was the Holy Spirit too.
Open Your Heart to the Holy Spirit
I hope you have gathered a clearer picture of how the Holy Spirit works through us in each of these songs. Start looking for signs of this incredible power at work in your life, and let these songs be reminders of what God is doing. Maybe you were suddenly overcome with peace during a horrific accident. Maybe someone popped into your mind and you keep thinking about them and running into them while running errands and know there is a reason you are connected. Some people call these circumstances coincidence, but it's really the Holy Spirit interceding. How can you tap into this power? Ask God to open your heart to the Holy Spirit and to realize what He's trying to do!
Article by Elise Cleary
I'm a Christian writer and editor residing in northern Michigan and thoroughly enjoy Christian centered music, movies, TV shows and books. A favorite song is "Oceans (Where Feet May Fail)" by Hillsong United and I find many songs by Matt Maher, Tim Timmons, Third Day, Laura Story, Jeremy Camp and numerous other artists uplifting. A few of my favorite Christian movies include God's Not Dead, The Shunning, Do You Believe and many by the Kendrick brothers. When I'm not writing, I enjoy running, experimenting in the kitchen and spending time with my musically gifted husband and spunky daughter. I am so blessed and in awe of the work God is doing throughout the Christian entertainment industry.