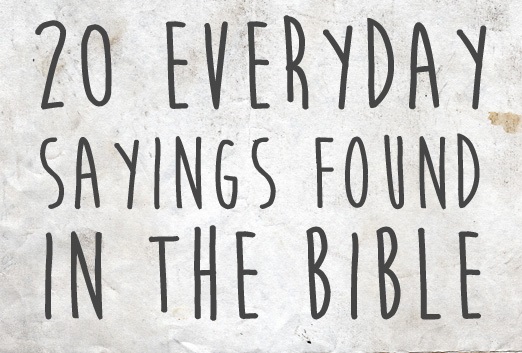 Some people think the Bible is outdated, but many of the everyday phrases we use comes from Bible verses. Sometimes phrases become over used and we begin to lose the sense of what they mean, but when you study the verses behind these phrases, you will develop a greater understanding.
Here are 20 everyday saying found in the Bible.
20. Faithful Unto Death: Revelations 2:10
"Do not fear what you are about to suffer. Behold, the devil is about to throw some of you into prison, that you may be tested, and for ten days you will have tribulation. Be faithful unto death, and I will give you the crown of life."
19. As old as the hills: Job 15:7
"Are you the first man who was born?
Or were you brought forth before the hills?"
18. In the twinkling of an eye: 1 Corinthians 15:52
"In a moment, in the twinkling of an eye, at the last trumpet. For the trumpet will sound, and the dead will be raised imperishable, and we shall be changed."
17. Sign of the times: Matthew 16:3
"And in the morning, 'It will be stormy today, for the sky is red and threatening.' You know how to interpret the appearance of the sky, but you cannot interpret the signs of the times."
16. Sour Grapes: Jeremiah 31:30
"But everyone shall die for his own iniquity. Each man who eats sour grapes, his teeth shall be set on edge."
15. The apple of his eye: Deuteronomy 32:10, Zechariah 2:8
"He found him in a desert land,
and in the howling waste of the wilderness;
he encircled him, he cared for him, he kept him as the apple of his eye."
14. A man after my own heart: Samuel 13:14
"But now your kingdom shall not continue. The Lord has sought out a man after his own heart, and the Lord has commanded him to be prince over his people, because you have not kept what the Lord commanded you."
13. An eye for an eye, a tooth for a tooth: Matthew 5:38
"You have heard that it was said, 'An eye for an eye and a tooth for a tooth.'"
12. At his wits end: Psalms 107:27
"they reeled and staggered like drunken men
and were at their wits' end."
11. Bite the dust: Psalms 72:9
"May desert tribes bow down before him,
and his enemies lick the dust!"
10. Eat Drink and be merry: Ecclesiastes 8:15
"And I commend joy, for man has nothing better under the sun but to eat and drink and be joyful, for this will go with him in his toil through the days of his life that God has given him under the sun."
9. Fight the good fight: 1 Timothy 6:12
"Fight the good fight of the faith. Take hold of the eternal life to which you were called and about which you made the good confession in the presence of many witnesses."
8. Go the extra mile: Matthew 5:41
"And if anyone forces you to go one mile, go with him two miles."
7. Love of money is the root of all evil: Timothy 6:10
"For the love of money is a root of all kinds of evils. It is through this craving that some have wandered away from the faith and pierced themselves with many pangs."
6. As white as snow: Daniel 7:9
"As I looked, thrones were placed, and the Ancient of Days took his seat;
his clothing was white as snow,
and the hair of his head like pure wool;
his throne was fiery flames; its wheels were burning fire."
5. Pearls before swine: Matthew 7:6
"Do not give dogs what is holy, and do not throw your pearls before pigs, lest they trample them underfoot and turn to attack you."
4. Put your house in order: 2 Kings 20:1
"In those days Hezekiah became sick and was at the point of death. And Isaiah the prophet the son of Amoz came to him and said to him, "Thus says the Lord, 'Set your house in order, for you shall die; you shall not recover.'"
3. The blind leading the blind: Matthew 15:14
"Let them alone; they are blind guides. And if the blind lead the blind, both will fall into a pit."
2. The letter of the law: 2 Corinthians 3:6
"Who has made us sufficient to be ministers of a new covenant, not of the letter but of the Spirit. For the letter kills, but the Spirit gives life."
1. The root of the matter: Job 19:28
"If you say, 'How we will pursue him!'
and, 'The root of the matter is found in him,'"
There are many other phrases we commonly use daily that are from the Bible. People become accustomed to the phrases that are spoken around them, so they are passed down from generation to generation. What phrases do you use from you favorite Bible passages?
Article by Elise Cleary
I am a Christian writer and editor that lives in northern Michigan and thoroughly enjoy music, movies, TV shows, books and other entertainment with a Christian focus. My favorite song is "Oceans" by Hillsong United because it reminds me that has big plans for me and everyone else who puts their trust in Him. There are many movies that have impacted my life, but a few include God's Not Dead, The Shunning and Letters to God. I also write for www.faithandentertainment.com and love connecting with readers, so please don't hesitate to contact me! When I'm not writing I enjoy watching movies and laughing with my busy toddler and husband.