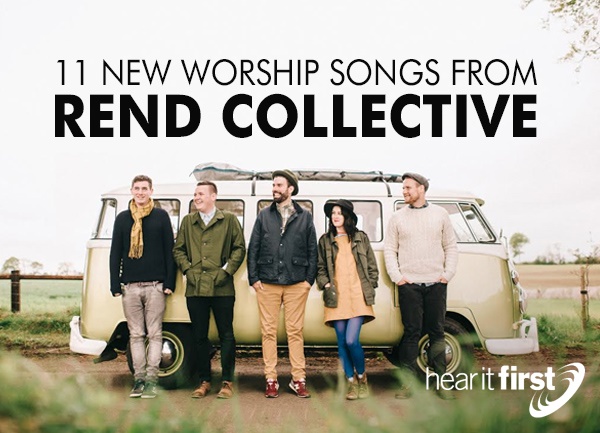 What's the first thing to do when you wake up? Many parents make coffee and get the kids ready for school. Students roll out of bed and rush to class after hitting the alarm five times. Others wake up ready to conquer their day. How do you transform a hectic morning into a day ready to give your best to your kids, coworkers and – more importantly – God? Do you realize how much control you have over how your morning starts and your day ends? Choose to set your eyes on Christ as soon as you wake up by worshipping God. This will set your mind on things above and help you to choose joy, love and grace. Christian band Rend Collective released their new album As Family We Go and it's not only a great worship album to wake up to, but it will energize you throughout your day. It's also less expensive than your morning espresso and afternoon iced latte from Starbucks!
Here are 11 new worship songs from Rend Collective:
11. "Free As A Bird"
What if you could feel "free as a bird" every moment of every day? You can when you live with Christ by your side. The things that cage us in are not the walls of your home – it's often the restrictions that we set on ourselves. My favorite lyrics are: "Let our praises run wild and free | Your lion heart is alive in me | Let our freedom and joy begin | With You we're dancing upon our chains | With You we're soaring on eagle's wings."
10. "You Will Never Run"
You will not regret watching the music video to "You Will Never Run" and it's especially funny when your kids offer their commentary. Some days you need to worship God for how He stays with you as the stressful boss, unpaid bills and conversations meant to be loving leave you wanting to run away. Here are my favorite lyrics: "Love wide as galaxies | Love deeper than the sea | Countless as all infinity | Love like a shooting star | Tearing apart the dark | Shining for all eternity | Shining for all eternity."
9. "Every Giant Will Fall"
Are you facing a situation that is like the wall of Jericho the Israelites faced? It seems impossible to tear down the walls. You can awaken to a clear path as you keep walking in faith with God even when His answer seems far different from what you could have ever expected. Here are my favorite lyrics from this song: "When my fears like Jericho | Build their walls around my soul | When my heart is overthrown | Your love is my battle cry | The anthem for all my life."
8. "One And Only"
"One And Only" is a song of reminders and a song of hope. Our human flesh drives us to try and control our lives, but life can only truly be fulfilled when we give control over to the One who created the world and sent His son to redeem us. My favorite lyrics that describe this are: "Jesus, One and Only | Great and Holy | We are Yours| How our hearts race | At your glory | Lord Almighty | We are Yours | And Yours alone."
7. "Coming Home"
Where is home? We have all heard that "home is where the heart is." If you have given your heart to Christ, then He may lead you to where His children need Him the most – across an ocean and far away from your earthly home. Home is where you can be yourself and you experience peace and love. This is all freely available when you live in Christ. Here are my favorite lyrics: "You are my first love to my last breath | You are my first love to my final breath | I'm coming home to You | I'm coming home to You | You are where I belong | And now I'm coming home to You."
6. "Never Walk Alone"
One way that Satan tries to separate us from Christ is by feeding us lies that we are alone. Remind your heart daily just how close Jesus is. He's always with us and he can fuel your hope and strength even when those around you seem to be failing you. My favorite lyrics are: "I will never, ever, ever walk alone | You are with us, for us, always holding on | Though I wander Your love goes further | You are my hope and future | I will never walk alone."
5. "Your Royal Blood"
I highly recommend listening to "Your Royal Blood" as you take a drive and see God's creation – the rolling mountains, a lake covered with morning fog, a trail with vibrant green grasses and majestic trees. Let His artistic creation consume your soul as you think about how He is creatively redeeming every aspect of your past. You just don't lose when you are on God's team. My favorite lyrics are: "This was won upon the cross | This was written on His scars | This has made us conquerors | Nothing but Your royal blood | Nothing but Your royal blood."
4. "Joy Of The Lord"
What leads to experiencing joy from the Lord? Practicing praising Him! Your heart will ache less and be strengthened in new ways. Your relationship with Christ will because stronger as you find reasons to praise and worship Him. My favorite lyrics are: "The joy of the Lord is my strength | The joy of the Lord is my strength | In the darkness I'll dance | In the shadows I'll sing | The joy of the Lord is my strength."
3. "Just A Glimpse"
Remember the first time you felt God's embrace and you know you saw His work firsthand? It's no coincidence that this sticks with you. We crave someone to protect and save us. You won't need to turn to everything and everyone else once you experience Jesus' power – He's all you need. My favorite lyrics are: "I can't do this without You | You're my fire | You're my fire | I can't do this without You, Lord."
2. "The Artist"
Remember the first time your kid painted a picture they were beaming about? They joyfully described what it was and how they painted each line, circle and carefully chose each color. You were excited for them, despite some of the imperfections. That's how God created us. He's beaming with who He created you to be and bursting to show you how the imperfections and cracks are made perfect in Him. My favorite lyrics are: "You make all things | Bright and beautiful | Wild and colourful | You make our lives | Bright and beautiful | Wild and colourful | You are the artist."
1. "Celebrate"
Have you thought of the countless things you have to celebrate despite the heartbreak, pain and stress that life brings? It's easy to think about how situations in life could be worse, but a great comfort is finding the blessings in our tough situations and celebrating what God has done. My favorite lyrics are: "Celebrate, celebrate | Shout it from the mountaintops | Celebrate, celebrate | Even with a broken heart | Till dawn awakes, we'll sing Your praise, dancing in the dark | For all our days our song will say, "Lord how great You are!"."
Living each day for Christ requires effort. Worshipping God aligns your heart and mind with Him – making it easier to conquer Satan's games and daggers. Start each day praising Him and you will find more purpose for how each moment is spent. You can purchase "As Family We Go" from Rend Collective on iTunes and watch all the music videos on YouTube. Follow HearItFirst on Facebook for the latest updates from all your favorite Christian artists.
Article by Elise Cleary
I'm a Christian writer and editor residing in northern Michigan and thoroughly enjoy Christian centered music, movies, TV shows and books. A favorite song is "Oceans (Where Feet May Fail)" by Hillsong United and I find many songs by Matt Maher, Tim Timmons, Third Day, Laura Story, Jeremy Camp and numerous other artists uplifting. A few of my favorite Christian movies include God's Not Dead, The Shunning, Do You Believe and many by the Kendrick brothers. When I'm not writing, I enjoy running, experimenting in the kitchen and spending time with my musically gifted husband and spunky daughter. I am so blessed and in awe of the work God is doing throughout the Christian entertainment industry.