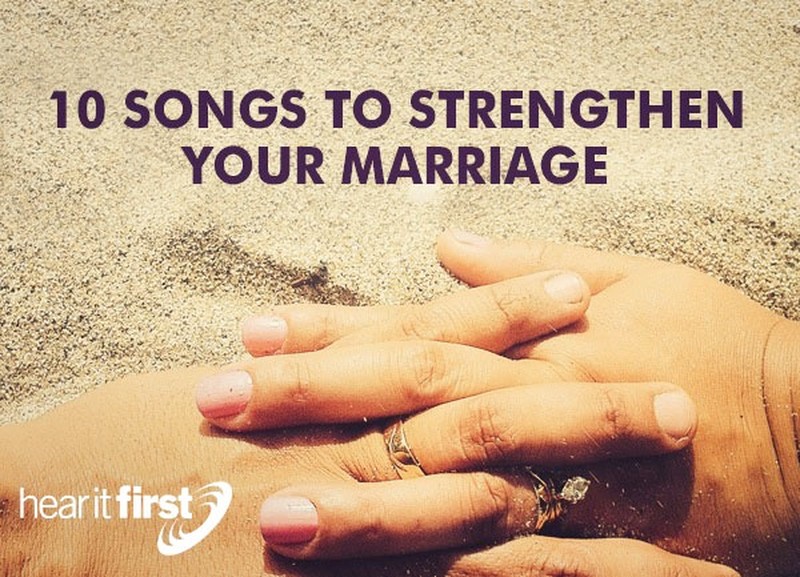 June, July and August are typically popular months to get married because of the warm weather. Wedding bliss that's full of celebration and good wishes. A wedding day symbolizes the union of two people that vow to love one another and stay committed for life. A happy wedding does not guarantee a happy marriage or even an easy one. Life happens, challenges come, minds change and commitments are tested. You may know that marriage will bring seasons of ups and downs, but living it is different than reading about what another couple is going through. God ordained marriage and wants it to be a blessing, so how do you strengthen your relationship with your spouse during trying times? Many Christian artists have written songs that breath in hope and restoration. Regardless of how long you have been married or what season you are in, God can always make your marriage stronger. You can listen to all these songs on WOW's Love Songs playlist on Spotify.
Here are the top 10 songs to strengthen your marriage:
10. "When The Crazy Kicks In" by Francesca Battistelli
Family life can seem crazy with everyone in your family pulled in different directions and feeling overwhelmed. "When The Crazy Kicks In" is about inviting God into the moments before the day starts, the kids wake up, the husband starts getting ready for work, lunches have to be made and the mountains of other tasks that are part of daily family life. God can breathe welcome and happy moments amidst the mundane.
Favorite Lyrics
Oh, come meet me in this moment
Before it all gets going
And these plates start to spin
And the crazy kicks in
A circus of distractions
Is just about to happen
I'll be ready when
The crazy kicks in
9. "Family" by TobyMac
TobyMac opens up about the struggles he and his wife Amanda have had through their marriage and how they forgot the reason why family was so important. "Family" came out of the struggles and talks about feelings of distance and simply surviving and why you can still continue fighting for your family.
Favorite Lyrics
I still believe…
I still believe…

That we're not too far apart?
Two worlds among the stars
Don't take a piece of my heart please don't leave
It's not too late to say: "Father show us the way
To fight for what we got
Cause You believe in family, in family"
8. "When We Love" by Love & The Outcome
Being married is an amazing opportunity to show Christ's love, support and encouragement regardless of the mistakes you or your spouse have made. Will your love be perfect? No because only God is perfect, but we are made perfect because of Christ. Choosing love is deciding to show the evidence of God in your marriage.
Favorite Lyrics
When we love, when we love, when we love someone
We're the evidence, the evidence of You
When we love like You love, we can see You move
You're alive in us when we love someone
(When we love someone, when we love someone)
7. "Together" by Steven Curtis Chapman
"Together" is a testament to the journey that all marriage relationships go through. The line "We had no way of knowing when we started way back there and then how the road would twist and turn and ben, we just knew we belonged together" speaks a lot of truth about what many couples face. It's impossible to know exactly what God has in store, but hold onto the truth that God brought you together for a reason. Steven Curtis Chapman said, ""Together" is really just a celebration of God's faithfulness and real honesty just saying, "I know that it's only by God's grace, but I'm so thankful that we can stand here together after all these years, and all that we've walked through."
Favorite Lyrics
We've climbed up mountains higher than
Were ever in our hopes and plans
We've held onto each other's hands
Watched miracles unfold together
And we've crawled on our hands and knees
Through valleys cold and dark and deep
Sometimes not even sure if we could make it out alive together

And if it wasn't for God's mercy and His grace
There's no way we would be standing in this place
But because He has been faithful
Every step along the way
Here we are together, together
6. "First" by Lauren Daigle
The first step in strengthening your marriage is giving your heart to Christ or recommitting to Him. This opens the door for Him to start working to rebuild your relationship in ways you may never have imagined were possible.
Favorite Lyrics
Before I speak a word
Let me hear Your voice
And in the midst of pain
Let me feel Your joy
Ooh, I wanna know You
I wanna find You
In every season
In every moment
Before I speak a word
I will bring my heart
And seek You
5. "Without You" by for KING & COUNTRY
Have you dealt with a life-threatening illness or watched your spouse battle a disease? It can be a trying time filled with uncertainty and wondering if life will ever get back to normal. "Without You" was sung by Luke Smallbone and his wife Courtney when he was dealing with a life-threatening digestive disorder.
Favorite Lyrics
I heard a voice from the other side
Singing "hold fast, love last"
As winter turns into summertime
Singing "hold fast, love last"
Heard another voice from the other side
Singing "hold fast, love last"
As winter turns into summertime
Singing "hold fast"

So let's dance a little
Laugh a little
And hope a little more
Yes let's dance a little
Laugh a little
And hope a little more
Cause I don't want to live without you
No, I don't want to live without you
Without you
4. "Flawless" by MercyMe
Everyone is flawed, but Christ covers our flaws. What if you chose to live out the truth of being flawless in Christ? Not letting past mistakes dictate the future? This is possible in Christ! Embrace this and give love your spouse unconditionally, just as Christ does.
Favorite Lyrics
No matter the bumps
No matter the bruises
No matter the scars
Still the truth is
The cross has made
The cross has made you flawless
No matter the hurt
Or how deep the wound is
No matter the pain
Still the truth is
The cross has made
The cross has made you flawless

Could it possibly be
That we simply can't believe
That this unconditional
Kind of love would be enough
To take a filthy wretch like this
And wrap him up in righteousness
But that's exactly what He did
3. "Restored" by Matthew West
Matthew West wrote this song about a man named Joe who drifted away from God and his marriage fell apart. He had an affair and was in the process of leaving his wife when God intervened and began restoring his marriage.
Favorite Lyrics
So hold on to me, I promise you we'll make it through this
Stronger than we've ever been before
Let's be the proof that love can be restored
Now we could choose the easy way
Like people do these days
Go and find another meant to be
But I, I don't want somebody new
This heart belongs to you
2. "Lead Me" by Sanctus Real
"Lead Me" is about a man who decides to take hold of his responsibility of being the husband and father that God is calling him to be. It's amazing how you can feel all alone and put certain responsibilities, like work, above truly being present in your most important relationships. God can and will lead you back to putting your family first.
Favorite Lyrics
"Lead me with strong hands
Stand up when I can't
Don't leave me hungry for love
Chasing dreams, but what about us?

Show me you're willing to fight
That I'm still the love of your life
I know we call this our home
But I still feel alone"
1. Broken Together – Casting Crowns
"Broken Together" focuses on a couple being transparent about how they are each broken. No spouse is perfect, but God can use a husband and wife to bring redemption to the broken areas.
Favorite Lyrics
Maybe you and I were never meant to be complete

Could we just be broken together

If you can bring your shattered dreams and I'll bring mine

Could healing be spoken and save us

The only way we'll last forever is broken together
Listen To These Songs On This Spotify Playlist
Conclusion
You feel hurt, broken and hopeless. Your marriage is slipping away and all is lost. Does this describe where you are now? God has been in the business of redeeming and strengthening marriages since the beginning of time! He's waiting for you to fall on your knees and surrender your fears and all control to Him. As stated in Psalm 119:18 "Open my eyes, that I may behold wondrous things out of your law," God can open the eyes to truth and understanding. Listen to these songs with your spouse and let God mend any brokenness.
Article by Elise Cleary
I am a Christian writer and editor that lives in northern Michigan and thoroughly enjoy music, movies, TV shows, books and other entertainment with a Christian focus. My favorite song is "Oceans" by Hillsong United because it reminds me that has big plans for me and everyone else who puts their trust in Him. There are many movies that have impacted my life, but a few include God's Not Dead, The Shunning and Letters to God. When I'm not writing I enjoy watching movies and laughing with my busy toddler and husband.