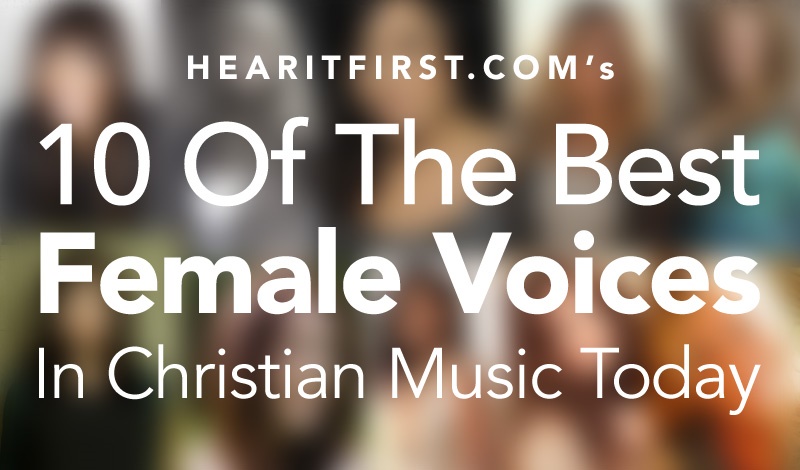 Do you have a favorite female Christian singer? It's so hard to choose just a handful because there are so many different styles that connect with people, from Mandisa to Ellie Holcomb and Francesca Battistelli, these women of the Lord have powerful voices! Imagine if all of the women on this list came together to sing! Here are 10 of the best female voices in Christian music today.
10. Kari Jobe
Kari Jobe began singing at the tender age of three and although she stays busy working as the associate worship pastor for Gateway Church in Texas, she has blossomed into an amazing singer. A few of my favorite songs of Kari Jobe include "Revelation Song", "Healer" and "Beautiful".
9. Jodi King – Love & The Outcome
Love & The Outcome is a husband-wife duo fairly new on the Christian music scene. Jodi King sings lead vocals along with her husband Chris Rademaker. Their album Love & the Outcome has set records and pierced the hearts of many. "He Is With Us", "King of My Heart" and "Heart Like You" are profound songs.
8. Francesca Battistelli
I love Francesca Battistelli because she puts so much of herself in each song. She doesn't hide from her emotions as is evident in many of her songs. My favorites include "I'm Letting Go", "Free to Be Me", "It's Your Life", "Motion of Mercy" and "Write Your Story".
7. Jenny Simmons
You probably first heard Jenny Simmons as the lead vocalist of Addison Road with her folk, soulful and coffeehouse style voice. She is now a Christian solo artist and her first album Heaven Waits for Me was released in 2013. While singing with Addison Road the songs "What Do I Know of Holy", "Hope Now" and "This Could Be Our Day" became mainstream Christian hits, among others. As a solo artist, her songs "Broken Hallelujah" and "Heaven Waits for Me" give her depth.
6. Jamie Grace
With a unique sound, Jamie Grace knows how to emphasize the right words in a song with her soulful and energetic voice. She was discovered by TobyMac after becoming a YouTube sensation and she went on to win a Dove Award in 2012. Songs that have topped the charts include "Beautiful Day", "Hold Me", "Do Life Big" and "Holding On".
5. Laura Story
Laura Story has been in the Christian music world since 1996 and released five solo albums. She sings about what's happening in her heart, including when her husband Martin Elvington was diagnosed with a brain tumor. Hearing her sing songs like "Blessings", "Mighty to Save", "What a Savior" and "Grace" remind me that God is in control and can make anything happen.
4. Britt Nicole
Following not just her dreams as a musician but God's calling, Britt Nicole decided to focus on her music career instead of attend college. Her strong and upbeat voice is hard to miss! I love the songs "Gold", "Ready or Not", "The Sun Is Rising", "All This Time" and "Set the World On Fire" because the lyrics are deep and powerful when matched with her voice.
3. Ellie Holcomb
You can hear a side of folk when you listen to Ellie Holcomb in a way that captivates you with many of the simple, but impactful lyrics. After playing with her husband's band (Drew Holcomb & the Neighbors) for six years, she began pursuing her own career in 2011. You need to listen to "The Broken Beautiful", "As Sure as the Sun", "My Portion and My Strength" and "Only Hope I've Got".
2. Mandisa
After season five of American Idol, Mandisa quickly became a Christian music sensation. She has been open and transparent about her battles, whether with her weight, being accepted or even disagreeing with Simon Cowell. Mandisa's songs "Overcomer", "Good Morning", "Stronger" and "Back To You" have quickly become favorites throughout my day.
1. Natalie Grant
Long-time female Christian singer Natalie Grant has had a great career and maintained her sweet southern disposition. From releasing her first album Natalie Grant in 1999. She has traveled around the world singing and performing, but one of the most influential trips she took was visiting the red-light districts of India and her personal missions. Whether you are drawn to "Hurricane", "Your Great Name". "I Will Not Be Moved", "Shout to the Lord", "You Are My All In All" or "The Real Me", Natalie Grant's voice can reach deep places in your soul.
Oh man, there are so many other great female Christian singers. Songs from Nicole C. Mullen, Plumb, Moriah Peters, Recebba St. James, Sara Groves and Nicole Nordeman show how God is using the talents of these amazing Christian women to bless and encourage others. More Christian artists are making waves in mainstream music as they have been featured in blockbuster movies and singing with mainstream artists.
Article by Elise Cleary
I am a Christian writer and editor that lives in northern Michigan and thoroughly enjoy music, movies, TV shows, books and other entertainment with a Christian focus. My favorite song is "Oceans" by Hillsong United because it reminds me that has big plans for me and everyone else who puts their trust in Him. There are many movies that have impacted my life, but a few include God's Not Dead, The Shunning and Letters to God. I also write for www.faithandentertainment.com and love connecting with readers, so please don't hesitate to contact me! When I'm not writing I enjoy watching movies and laughing with my busy toddler and husband.