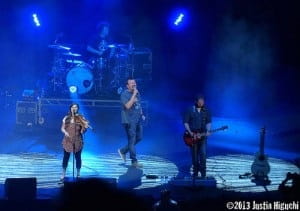 I am a HUGE music lover! I listen to all types and I love going to concerts! I've seen many different Christian bands live from Third Day and Bleach to Living Sacrifice and Impending Doom! I have to say that every concert is an enjoyable experience. While at a Living Sacrifice concert once, a woman and man were arguing and swearing at each other. Bruce (lead vocals) stops them and says, "Hey! We came here to worship Jesus!" This happened in a secular venue. That was one of the best concert experiences of my life! I definitely prefer rock and metal music the most, but I enjoy the whole spectrum! Here are 10 bands that I have yet to see, why I want to see them, and some of my favorite lyrics for each! Enjoy!
Metal
War Of Ages (WOA) – This band makes you want to get up and take a stand for Christ. They are extremely gifted with an awesome front man, Leroy Hamp, who engages the crowds he is belting out vocals for! Also, I have always wanted to see Steve Brown shred on his guitar! He is ridiculous!
Lyric, The Deception Of Strongholds – "Hold me closely in Your arms Lord. Shelter me under Your wings. I find myself stronger with You. My battle for You rages on and on."
Phineas – Let the mustache metal commence! This band rocks mustaches and sick metal licks! I have wanted to see them since I first saw their video for "I Am The Lion". They love their fans and that is a big reason to go see them live. Like Steve Brown in WOA, Jason Combs shreds lightning fast guitar solos, which is a huge pull for me!
Lyric, I Am The Lion – "My heart, a child, (is) trembling in sight of his wake, is longing to rest in the hollow of Your hand."
The Devil Wears Prada (TDWP) – This band is so good! No one sounds like them and that makes them stand out a little from the rest. They are a metal band, but they do throw in mellow songs like, Louder Than Thunder, from time to time. If I had my way I would go see them play their entire Zombie EP live. It is epic! Their lead vocalist, Mike Hranica, is one of the most passionate front men I have ever seen. Just watching him on videos makes me want to go see them play!
Lyric, Dead Throne – "She will slip...slip away. You will see your downfall. Dead throne (dead throne), we've put the world up onto a dead throne. Dead throne, we've put the world onto a dead throne."
Rock
Skillet – I am so bummed that I have yet to see Skillet since their former guitarist, Ben Kasica, has left. I always enjoyed his style of playing. This band simply rocks! They get intimate with their fans while playing and often give the meanings behind some of their songs before they play them. They are a band I must see!
Lyric, Whispers In The Dark – "No, you'll never be alone. When darkness comes I'll light the night with stars. Hear the whispers in the dark. No, you'll never be alone. When darkness comes you know I'm never far. Hear the whispers in the dark."
Pillar – Pillar is a band I would love to see, especially if they play their older stuff off of "Fireproof" or "Where Do We Go From Here". They really brought that hard-edge rock sound to those two albums!
Lyric, Frontline – "Stand beside one another, 'cause it ain't over yet. I'd be willing to bet that if we don't back down, you and I will be the ones that are holding the Crown in the end."
Stryper – I am so excited that Stryper has just released a new album, No More Hell To Pay! I am a huge fan of the hair bands, and Stryper is one of the biggest and best of them! Michael Sweet has one of the most recognizable voices out there and I still need to hear it live!
Lyric, Soldiers Under Command – "The battle that's waiting is fought so easily. Through Him, without sin, there is victory."
Contemporary
Casting Crowns – Do I need to say anything else? Casting Crowns is one of the biggest and best contemporary bands on Christian radio! The thing I love about them is their lyrics. This band is the essence of "real". Every song is them being real and that is why I want to see them!
Lyric, East To West – "In the arms of Your mercy I find rest 'cause You know just how far the east is from the west, from one scarred hand to the other."
Mercy Me – Mercy Me is also one of the biggest and best contemporary bands on Christian radio! There are two things I love about them: their lyrics, and their variety. They have powerful ballads like, I Can Only Imagine, and they have upbeat, fun songs like, Move. I hope to see them one day!
Lyric, I Can Only Imagine – "Surrounded by Your glory, what will my heart feel? Will I dance for You Jesus, or in awe of You be still? Will I stand in Your presence, or to my knees will I fall? Will I sing 'hallelujah'? Will I be able to speak at all? I can only imagine!"
Worship
Hillsong United – Two words that come to mind when I think of Hillsong are powerful and love. They have written some of the best worship songs of all time and to experience the presence of God in the venue they play at would be amazing!
Lyric, Inside Out – "Everlasting, Your light will shine when all else fades! Never ending, Your glory goes beyond all fame! And the cry of my heart is to bring You praise from the inside out, O my soul cries out!"
Jesus Culture – Jesus Culture does the same thing for me that Hillsong does. They write powerful music that grips your soul. They make you want to shout praises to God and tell Him how much you love Him! This is why I want to see them live someday!
Lyric, One Thing Remains – "In death and in life I'm confident and covered by the power of Your great love! My debt is paid! There's nothing that can separate my heart from Your great love!"
Conclusion
These are 10 concerts that I would love to go to! Hopefully I will someday. Who would you like to see live in concert? Let us know in the comments below! God bless you all!
Related Post- 101 Best Christian Songs of All Time
Resources-ESV Holy Bible, Youtube, photo credit: jus10h via photopin cc