'Be Still And Know' Steven Curtis Chapman Live Performance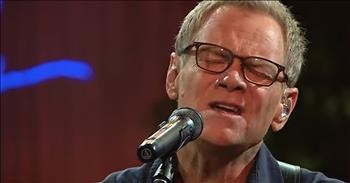 Dove and Grammy award-winning artist Steven Curtis Chapman performs a live rendition of his song, 'Be Still And Know.' This single was originally released in 1999 for his album, Speechless, and reached number one on the Christian charts.

The message is simple, yet beautiful. God is always there for us and He will never stop loving or supporting us along the way.
"Be still and know that He is God
Be still and know that He is faithful
Consider all that He has done
Stand in awe and be amazed
And know that He will never change
Be still"
For decades, Steven Curtis Chapman has been paving the way in Christian music. He's given us so many iconic songs such as 'Cinderella' and 'The Glorious Unfolding.' In fact, many of his songs have become staples in church services all over the world and he's one of the biggest names in modern-day gospel music.
'Be Still And Know' is one of Steven's most popular songs and it continues to touch hearts all over the world. God is our compass and our light when the world gets dark. When we stop and hand it over to Him, we open our hearts to a truly better life. We are so blessed to serve such an amazing and loving Father in Heaven.
"Be still and know that He is God
Be still
Be speechless"
Psalm 46:10 "He says, "Be still, and know that I am God; I will be exalted among the nations, I will be exalted in the earth."
steven-curtis-chapman

2201 views

2019-06-03T15:21:43

source: Steven Curtis Chapman Dove and Grammy award-winning artist Steven Curtis Chapman performs a live rendition of his song, 'Be Still And Know.' This single was originally released in 1999 for his album, Speechless, and reached number one on the Christian charts.

The message is simple, yet beautiful. God is always there for us and He will never stop loving or supporting us along the way.

"Be still and know that He is God
Be still and know that He is faithful
Consider all that He has done
Stand in awe and be amazed
And know that He will never change
Be still"

For decades, Steven Curtis Chapman has been paving the way in Christian music. He's given us so many iconic songs such as 'Cinderella' and 'The Glorious Unfolding.' In fact, many of his songs have become staples in church services all over the world and he's one of the biggest names in modern-day gospel music.

'Be Still And Know' is one of Steven's most popular songs and it continues to touch hearts all over the world. God is our compass and our light when the world gets dark. When we stop and hand it over to Him, we open our hearts to a truly better life. We are so blessed to serve such an amazing and loving Father in Heaven.

"Be still and know that He is God
Be still
Be speechless"

Psalm 46:10 "He says, "Be still, and know that I am God; I will be exalted among the nations, I will be exalted in the earth."

Today's Devotional
A Prayer to Be Sober-Minded - Your Daily Prayer - July 7
Top Artists