Hospital Honors Late Nurse Being Wheeled To Donate Organs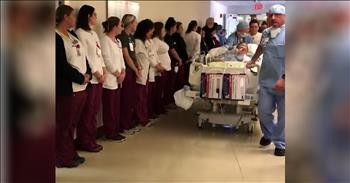 It was a heart wrenching moment captured on camera when one hospital honors a late nurse in a very special way.

58-year-old Mary Desin worked as a nurse at UPMC Hamot Hospital in Erie, Pennsylvania. Mary worked at the hospital for over 30 years and was well loved by all her co-workers. Sadly, she passed away suddenly from a brain aneurysm. Mary was registered as an organ donor.
Once her fellow co-workers learned that she would be wheeled to the operating room to retrieve her organs, they decided to do something special. Over 100 members of the hospital staff lined the hallway leading towards the operating room to honor this incredible woman.
Just watch as she is moved down the hall as these co-workers pay their respects. They all somberly bow their heads and pray as attendants wheel the bed through. It was a moment that struck a chord with the whole world.
Once the video was posted online, it quickly went viral and millions saw the selfless gift Mary gave through organ donation. Her son told Good Morning America, "She would want everybody to try to help anybody they possibly can." What an inspiring woman and this honor walk will be a moment that is remembered by the family for a lifetime.
Luke 6:38 "Give, and it will be given to you. A good measure, pressed down, shaken together and running over, will be poured into your lap. For with the measure you use, it will be measured to you."
godtube-inspiration

5388 views

2019-06-12T14:42:49

source: Good Morning America It was a heart wrenching moment captured on camera when one hospital honors a late nurse in a very special way.

58-year-old Mary Desin worked as a nurse at UPMC Hamot Hospital in Erie, Pennsylvania. Mary worked at the hospital for over 30 years and was well loved by all her co-workers. Sadly, she passed away suddenly from a brain aneurysm. Mary was registered as an organ donor.

Once her fellow co-workers learned that she would be wheeled to the operating room to retrieve her organs, they decided to do something special. Over 100 members of the hospital staff lined the hallway leading towards the operating room to honor this incredible woman.

Just watch as she is moved down the hall as these co-workers pay their respects. They all somberly bow their heads and pray as attendants wheel the bed through. It was a moment that struck a chord with the whole world.

Once the video was posted online, it quickly went viral and millions saw the selfless gift Mary gave through organ donation. Her son told Good Morning America, "She would want everybody to try to help anybody they possibly can." What an inspiring woman and this honor walk will be a moment that is remembered by the family for a lifetime.

Luke 6:38 "Give, and it will be given to you. A good measure, pressed down, shaken together and running over, will be poured into your lap. For with the measure you use, it will be measured to you."

Today's Devotional
A Prayer for Your Aging Parent - Your Daily Prayer - October 19
Top Artists