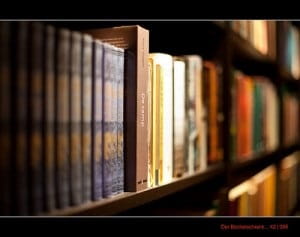 Summer is not over yet, so take advantage of the hot temperatures and read a book outside. Drift away from buzzing cell phones, blips of new emails and Facebook notifications into realities that are both fiction and non-fiction. I guarantee you will learn new insight about what's going on in the world today and reveal insight about your own life through Christian books.
Here's a list of the top Christian books of the summer.
"The Truth" Luke 9:23 "And he said to all, "If anyone would come after me, let him deny himself and take up his cross daily and follow me."
Non-Fiction Books
Many of these books made the Christian best-selling lists each month. It goes to show that America is captivated by Duck Dynasty and still holds a place for Gary Chapman's book that was first published in 1992.
11. Follow Me by David Platt and Francis Chan
This book explores one question: "What did Jesus really mean when He said 'Follow Me'?"
10. One Thousand Gifts by Ann Voskamp
Do you struggle trying to see God through your daily routines, struggles, debt, drama and deadlines? This book walks you through how to live a full life by being present to God.
9. Circle Maker by Mark Batterson
"Drawing prayer circles around our dreams isn't just a mechanism whereby we accomplish great things for God. It's a mechanism whereby God accomplishes great things in us," explains Mark Batterson about his book.
8. Unglued by Lysa TerKeurst
Emotions surrounding us can propel our relationships or build a foundation for the Great Wall of China. Learn how to be honest and kind while enduring challenging relationships.
7. The Duck Commander Family by Willie Robertson and Korie Robertson
See an inside perspective of who the Duck Dynasty family is and what makes them tick.
6. Not a Fan by Kyle Idleman
Pastor Kyle Idleman invites you to explore what it really means to be a true disciple – living, loving and praying like Christ.
5. Happy, Happy, Happy: My Life and Legacy as the Duck Commander by Phil Robertson
Duck Dynasty has become a household name and Phil Robertson shares his autobiography and his priorities of faith, family and ducks.
4. Jesus Today by Sarah Young
Enduring difficult times can be trying and Sarah Young uses her own experience to offer encouragement, knowing that God is in control.
3. The 5 Love Languages by Gary Chapman
This book walks through what Gary Chapman calls the five love languages, including words of affirmation, acts of service, receiving gifts, quality time and physical touch.
2. Heaven Is for Real by Todd Burpo
Todd Burpo shares his four-year-old son's experience of seeing heaven while going through emergency surgery.
1. Jesus Calling by Sarah Young
Sarah Young spent years as a missionary and felt God was calling her to write her thoughts down into what turned into a daily devotional.
"The Truth" Philippians 4: 6-7 "Do not be anxious about anything, but in everything by prayer and supplication with thanksgiving let your requests be made known to God. And the peace of God, which surpasses all understanding, will guard your hearts and your minds in Christ Jesus."
Fiction Books
There was a lot of competition to remain on the top-selling lists of Christian books this summer. I noticed that books that were third or fourth best selling one month, did not make the list the following month. As a note, the books listed here were also competing with fiction books part of book series, but I like to keep the lists separate.
7. The Shack by William Paul Young
After living the nightmare of his youngest daughter being abducted and brutally murdered, Mackenzie Allen Phillips is called by God to go back to the murder scene.
6. Cross Roads by William Paul Young
A very successful businessman is awakened to his actions and sees glimpses of redemption by undoing a major injustice, but time is running short.
5. Home Run by Travis Thrasher
Baseball player Cory Brand left a lot in the past when he started a baseball career, but suddenly has to face his hurts and mistakes. He encounters the true healing power of God.
4. Band of Sisters by Cathy Gohlke
This story walks through a tangled web of injustice and keeping promises. One woman, Maureen fights for the lives of other women who are quickly disappearing after being denied the life that was promised to her long ago.
3. Redeeming Love by Francine Rivers
Angel experienced a childhood that left her bruised and dead inside after being sold into prostitution when young. She marries a wonderful Christian man who is patient and Angel slowly experiences God's healing and mercies.
2. The Chance by Karen Kingsbury
Two childhood friends, Nolan and Ellie, make a truce to return to an ancient oak tree and read letters they wrote to one another and placed in an old, rusty, metal box. There lives have taken different paths eleven years later, but they both experience loneliness and deep wounds that need to be healed.
1. The Harbinger by Jonathan Cahn
This chilling book explores how prophetic omens of warning from ancient Israel are playing out in America. It considers the idea that "there is an ancient mystery that holds the secret of America's future."
"The Truth" 2 Timothy 1:7 "For God gave us a spirit not of fear but of power and love and self-control."
Fiction Books Part of Series
I noticed these books consistently stayed on the best-selling lists through the summer. It has surely been a successful summer for Wanda E. Brunstetter!
7. When Jesus Wept, The Jerusalem Chronicles Series #1 by Bodie Thoene and Brock Thoene
"'When Jesus Wept' captures the power and the passion of the men and women who lived through the most important days in the history of the world," from an overview of the book.
6. Damascus Countdown, The Twelfth Imam Series #3 by Joel C. Rosenberg
Joel C. Rosenberg brings a story of the Middle East portraying today's uncertainty and conflicts.
5. The Pieces of Summer, Discovery Series #4 by Wanda E. Brunstetter
Meredith Stoltzfus is grieving over the loss of her husband, Luke, when Jonah Miller begins spending a little too much time helping her.
4. The Hope of Spring, Discovery Series #3 by Wanda E. Brunstetter
Running out of money with a baby soon to be born, Meredith Stoltzfus is getting desperate, especially while still trying to comprehend the loss of her husband Luke.
3. Goodbye to Yesterday, Discovery Series #1 by Wanda E. Brunstetter
This is the first book in Wanda E. Brunstetter's Discovery Series about Meredith and Luke Stoltzfus. They are a young Amish couple who are faced with many trials and struggles.
2. Truth-Stained Lies, Moonlighter Series #1 by Terri Blackstock
An investigative blogger finds herself investigating a crime against her brother's wife as she tries to clear his name. The case takes a drastic turn as her brother's five-year-old son is kidnapped.
1. The Guardian, Home to Hickory Hollow Series #3 by Beverly Lewis
Schoolteacher Jodi Winfield finds a young toddler, Sarah, one morning while running in Pennsylvania. After inquiring around the town, no one seems to know who the little girl is or where she is from.
Did you have time to read a few books this summer? This is quite a diverse list, from self-help, historical, true spiritual journeys, suspense, love and Amish country. I tend to like a combination and am thankful there are so many wonderful Christian artists to choose from. Each time I read a book by a Christian author, either fiction or non-fiction, I feel like I was called to soak in the words for a reason. Thank goodness Christian authors listened to their calling to write with a focus on God. Who are your favorite Christian authors?
Click on this link to see our definitive article on faith as it was written in the king of books, the Bible.  77 Bible Verses About Faith to Encourage You Today
Resources- ESV Holy Bible, Youtube, photo credit: Maarten Takens via photopin cc