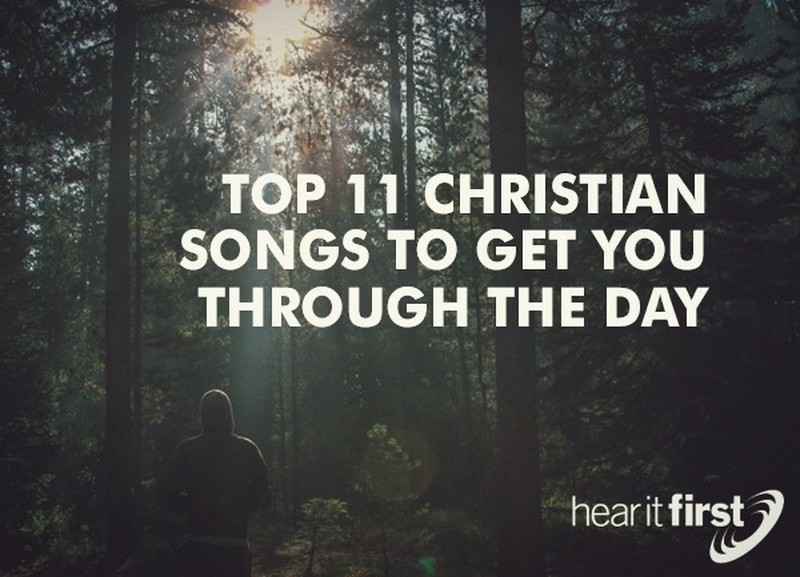 Some days can just be a struggle no matter how much coffee you have or encouraging messages you receive via Facebook. Are you having a rough day today? Take a break – locking yourself in the bathroom for five minutes counts – and fall on your knees praying to God. Let His promises of his love and enduring strength and power raise you up. Turn on your favorite Christian music station or YouTube channel and let the messages you hear coat your soul.
Here are the top 11 Christian songs to get you through the day when everything looks bleak. The YouTube & Spotify playlist links are at the bottom of the article.
11. Break Every Chain by Tasha Cobbs
The words are so simple, but the way Tasha Cobbs focuses on each word exudes strength and power that nails it to your soul. Can you hit all the high notes in this song? Give it a try!
Favorite Lyrics
There is power in the name of Jesus
to break every chain, break every chain, break every chain.

There's an army rising up.
To break every chain, break every chain, break every chain.
10. I Need A Miracle by Third Day
Are you looking for a miracle today? Never. Give. Up. God is in the business of giving out miracles and "I Need A Miracle" by Third Day tells the story of just one of the many miracles that can happen for you and anyone else. Don't let fear consume you.
Favorite Lyrics
Well no matter who you are and no matter what you've done
There will come a time when you can't make it on your own
And in your hour of desperation
Know you're not the only one
Prayin', "lord above, I need a miracle
I need a miracle"
9. Shoulders by for KING & COUNTRY
I love so many songs by for KING & COUNTRY. "Shoulders" is a light-hearted song to listen to complete with the band's unique style and accents. More importantly, it is so uplifting. The drum section in the background comes through strongly and I can imagine marching toward God and away from the stress that life can bring.
Favorite Lyrics
My help comes from You
You're right here, pulling me through
You carry my weakness, my sickness, my brokenness all on Your shoulders
Your shoulders
My help comes from You
You are my rest, my rescue
I don't have to see to believe that You're lifting me up on Your shoulders
Your shoulders
8. He Knows by Jeremy Camp
Do you feel alone today? God knows exactly what you are going through because He is with you! Fall to your knees and let Him embrace your soul.
Favorite Lyrics
He knows, He knows
Every hurt and every sting
He has walked the suffering
He knows, he knows
Let your burdens come undone
Lift your eyes up to the one
Who knows
He knows
7. Greater by MercyMe
Do you have a clear picture of how God views you? You are His, yes, that means He thinks all your doubts and fears are enough for Him. God redeemed you a long, long time ago. Celebrate!
Favorite Lyrics
There'll be days I lose the battle
Grace says that it doesn't matter
'Cause the cross already won the war
He's Greater
He's Greater

I am learning to run freely
Understanding just how He sees me
And it makes me love Him more and more
He's Greater
He's Greater
6. Blessings by Laura Story
God is all around us and encompasses both the big things and small things. Look for the blessings that surround you – especially while going through hard times. Broken relationships, abandonment and losses all bring blessings.
Favorite Lyrics
What if my greatest disappointments
Or the aching of this life
Is the revealing of a greater thirst this world can't satisfy
What if trials of this life
The rain, the storms, the hardest nights
Are your mercies in disguise
5. Redeemed by Big Daddy Weave
Shout this line when you first wake up in the morning: "I AM REDEEMED"! Yes you are! You no longer have to feel like you are in prison for your shortcomings or missteps. Let this amazing gift from God set the tone for your day!
Favorite Lyrics
All my life I have been called unworthy
Named by the voice of my shame and regret
But when I hear You whisper, "Child lift up your head"
I remember oh God, You're not done with me yet
Jesus' love for you is stronger and more powerful than the love from any person. His love is perfect – correcting when needed, comforting when called and unending.
Favorite Lyrics
I couldn't run, couldn't run from His presence
I couldn't run, couldn't run from His arms

He holds the stars and He holds my heart
With healing hands that bear the scars
The rugged cross where He died for me
My only hope, my everything
3. He Knows My Name by Francesca Battistelli
Think you are unprepared? Not worthy? A mistake? God knows everything about you and chose you to fulfill an extremely important calling! Let this sink in and remind yourself of this each time negative thoughts try to creep in.
Favorite Lyrics
I don't need my name in lights
I'm famous in my Father's eyes
Make no mistake
He knows my name
I'm not living for applause
I'm already so adored
It's all His stage
He knows my name
He knows my name

I'm not meant to just stay quiet
I'm meant to be a lion
I'll roar beyond a song
With every moment that I've got
2. Broken Together by Casting Crowns
Does life ever turn out to be the perfect picture we dream about? Little boys and girls often dream about their wedding, prince charming or their princess who will be waiting at the alter. "Broken Together" shares what so many marriages go through. Remember, God brought you and your spouse together for a reason and you have to seek Him through your brokenness in order for Him to redeem your marriage.
Favorite Lyrics
Maybe you and I were never meant to be complete
Could we just be broken together
If you can bring your shattered dreams and I'll bring mine
Could healing still be spoken and save us
The only way we'll last forever is broken together
1. How Can It Be by Lauren Daigle
The chains of missed deadlines, unpaid bills, family obligations, fingers pointed, harsh words, abuse, neglect and too many other chain links can make you feel two inches tall. You are free. YOU are FREE. YOU ARE FREE. Give every ounce of worry and stress to God. Let Him fight your battles for you.
Favorite Lyrics
You plead my cause
You right my wrongs
You break my chains
You overcome
You gave Your life
To give me mine
You say that I am free
How can it be
How can it be

I've been hiding
Afraid I've let you down, inside I doubt
That You could love me
But in Your eyes there's only grace now
Look for the Blessings
God has your back even when it feels like everyone is against you. He knows what you can handle and will often bring you the person, break or miracle at the right time to encourage you. Let Him lift you up and don't worry about the outcome of each situation you are enduring. You will experience the true blessings of the devastation, loss, stress and setbacks when you see how God is trying to work through you.
Listen To All These Songs On These Awesome Playlists
Article by Elise Cleary
I am a Christian writer and editor that lives in northern Michigan and thoroughly enjoy music, movies, TV shows, books and other entertainment with a Christian focus. My favorite song is "Oceans" by Hillsong United because it reminds me that has big plans for me and everyone else who puts their trust in Him. There are many movies that have impacted my life, but a few include God's Not Dead, The Shunning and Letters to God. I also write for www.faithandentertainment.com and love connecting with readers, so please don't hesitate to contact me! When I'm not writing I enjoy watching movies and laughing with my busy toddler and husband.