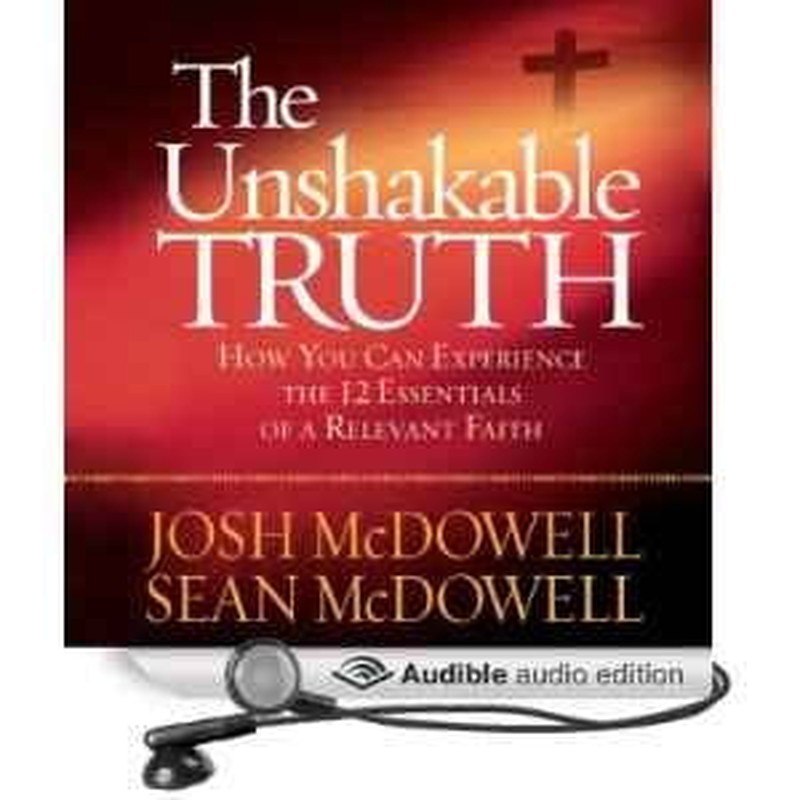 Josh McDowell's life was drastically changed when he accepted Jesus as Savior and Lord. His heart was changed from a desire to be a lawyer to a craving to tell a doubting world about the truth of Jesus. In 1960 Josh joined the staff of Campus Crusade for Christ (now known as Cru). Not long after he founded the Josh McDowell Ministry to reach young people for Christ.
Since 1960 Josh has written and co-authored more than 130 books. Here are my top 10 picks for Josh McDowell books:
10. 77 Facts About God and the Bible (2012)
Co-authored by Josh's son Sean, together they answer some of the most difficult questions that they have encountered "on the street". Examples of some questions include "If God is so loving, why can't he be more tolerant of sin?", "Is religion the real cause of violence in the world?" and "Aren't there errors and contradictions in the Bible?" This is a great resource for someone who enjoys apologetics. ISBN-13: 978-0736949248
9. Love Dad: Positive Answer for Young Teens on Handling Sexual Pressure (Why Wait) (1988)
One of those "hard to discuss with the kids" subjects, Josh does a great job in this tried and true book that addresses the emotional and physical aspects of teen sexuality. ISBN-13: 978-0849931277
8. Christianity: Hoax or History? (1989)
A great resource to be ready to give an answer, this pocket guide will serve as an invaluable witnessing tool. Josh uses science and the Bible to support a Christian world view. ISBN-13: 978-0842303675
7. The Unshakable Truth (2010)
Co-authored with his son Sean, this is a great book to use for a foundational Christian study. Suitable for a 13 week study or you can draw it out as long as 52 weeks. This book helps you to know what you believe and why you believe it. ISBN-13: 9780736928786
"The Truth":  We have also a more sure word of prophecy; whereunto ye do well that ye take heed, as unto a light that shineth in a dark place, until the day dawn, and the day star arise in your hearts: Knowing this first, that no prophecy of the scripture is of any private interpretation. For the prophecy came not in old time by the will of man: but holy men of God spake as they were moved by the Holy Ghost. (1 Peter 1:19-21)
6. The One-Year Book of Josh McDowell's Devotions, Volume 1 (1997)
When our children were younger we used this book as our family devotions book. It is well written and easy to understand. We especially liked the discussion questions included with each daily devotion. ISBN-13: 9780842343015
5. See Yourself as God Sees You (1999)
Josh uses the Scriptures to draw the reader to understand how God sees them. This would be a great book for individual or group study and it includes great life application examples and questions. ISBN-13: 978-0842318327
4. Handbook on Counseling Youth (1996)
This reference book is an excellent resource for anyone who works with youth. Counseling does not always need to be done in a formal setting. The handbook addresses subjects such as: abuse, addictions, family issues and more, ISBN-13: 978-0849932366
3. Evidence for the Resurrection (2009)
In this well documented book Josh and Sean McDowell present facts about the resurrection of Jesus. This book is full of over 2,000 years of historical documentation and it is easy to read and understand. ISBN-10: 0830747850
2. More Than a Carpenter (2009)
Originally published in 1977, this book has been updated with a new look and some new material. It is written based upon Josh's true life conversion from skeptic to believer. This book is co-authored by son Sean McDowell who provides the voice for the audio version as well. Book ISBN-13: 978-1414326276. Audio book ISBN-13: 978-1414324791
1. Why True Love Waits (2002)
This is by far the greatest book on the market on the subject of sexual purity. It is the revision of his earlier work "Why Wait" and is full of great information and examples to aid parents, youth workers and teachers discuss sexual purity with youth. ISBN-13: 978-0842365918
Some Memorable Quotes by Josh McDowell:
"I've never had anyone define purity. You probably can't define purity. Purity is to live according to original design."
"If there were more than one path to salvation then it would totally negate Jesus' sacrifice on the cross, his life, and his teachings."
"I am not a Christian because God changed my life; I am a Christian because of my convictions about who Jesus Christ is."
"After I set out to refute Christianity intellectually and couldn't, I came to the conclusion the Bible was true and Jesus Christ was God's Son."
"Anyone with sincere religious beliefs cannot say that all religions are true. That is so illogical it is pathetic. All religion cannot be true because some of them are so diametrically opposed to each other."
Check out this related post: Top 20 Josh McDowell Quotes
Final Thoughts
Josh writes from a unique point of view in that he was formerly and agnostic. Once his heart was soften for the Lord he has used his time and talents to honor Him with great books such as these few listed here. Do you have a favorite Josh McDowell book that I did not list? Include it in the comments below, we would love to hear from you.
Resource – The Holy Bible, King James Version