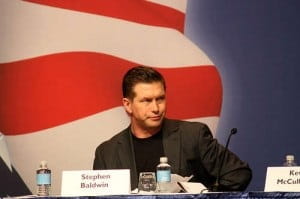 Stephen Baldwin has been in the entertainment business for quite a while now. He has starred in many blockbuster movies including: 8 Seconds and The Usual Suspects. While many know the Baldwin brothers have dominated movies and television (Alec Baldwin has hosted Saturday Night Live 16 times!), not many know that Stephen is also a reformed Christian. He is on fire for God and is doing many great things for the kingdom that you may not know about. Let us dive into the life of Stephen Baldwin and see the way Jesus has impacted him!
"The Truth" Luke 1:26-28

In the sixth month the angel Gabriel was sent from God to a city of Galilee named Nazareth, to a virgin betrothed to a man whose name was Joseph, of the house of David. And the virgin's name was Mary. And he came to her and said, "Greetings, O favored one, the Lord is with you!"
Growing Up
Stephen Baldwin was born on May 12, 1966 to Carol Newcomb and Alexander Rae Baldwin. He is the youngest of 3 brothers, Alec, Daniel and William. He also has 2 sisters, Elizabeth and Jane. Stephen was an opera singer while he was in high school. After graduating he attended the American Academy Of Dramatic Arts.
Television And Movies
In the beginning Stephen appeared in small roles on "Kate And Allie" and also on "Family Ties." He starred in his first movie, "The Beast", in 1988. This was the start of many movies to come including: Born On The Fourth Of July, The Usual Suspects, Bio-Dome, and The Flintstones In Viva Rock Vegas. As of 2002 he has appeared in many television programs including: Celebrity Mole Hawaii, Donald Trump's Celebrity Apprentice, CSI, Fear Factor, and I'm A Celebrity…Get Me Out Of Here! While on "I'm A Celebrity…Get Me Out OF Here" he baptized Spencer Pratt from the show "The Hills". Also he starred in "I'm In Love With A Church Girl" which came out October 18, 2013. Many big names are in this one! This movie stars Ja Rule, T-Bone, and Toby Mac!
His Faith
Stephen became a Christian while living in Brazil. His housekeeper was the catalyst for his wife, Kennya, becoming a Christian. This sparked his interest and after the attacks on 9/11 he gave his life to Christ. You can read his own personal story in his book "The Unusual Suspect" that was published in 2006. Since he became a Christian he has been a huge evangelist and has involved himself in many great things for the kingdom!
His Work For The Kingdom
In 2006 he formed a ministry known as "Breakthrough Ministry." This ministry uses extreme sports as a means to spread the gospel. In 2009 he started another ministry called, "Now More Than Ever" which reaches out to men and women who are enlisted in the armed forces all around the world. He is involved in different charities including: The Aids Project Los Angeles and The Carol M. Baldwin Cancer Research Fund. In the media he is the host of the show Livin' It, which is also involved with extreme sports. He uses this program to showcase awesome extreme sports athletes and to share Jesus. Probably his biggest outlet to evangelize is the radio show he hosts with Kevin McCullough called Baldwin/McCullough *Live*. "As of April 18, 2009, the show aired on more than 213 stations and in more than 400 cities across the US, and worldwide on Sirius 161 and XM 227. Today the very popular radio talk show airs on over 300 radio station affiliates to an audience of over 3 million listeners. In 2010 the radio broadcast became a television simulcast, with Family Net Television offering to take the show to over 600 cable outlets and available in over 26.7 million homes. Baldwin appears weekly on the show from the broadcast studios in New York City, as well as from various locations around the US when he is traveling for other business purposes." (stephenbaldwin.com) Stephen along with 3 other people from the station is involved in a group known as "Doing Much Good." Check out this excerpt from baldwinmccullough.com:
"In 2012 McCullough, Baldwin, and Johnson collaborated to feed '2013 Orphans for 2013.'
Together with their listeners they ended up feeding 6037.
In 2013 they once again joined forces in raising enough money to supply clean drinking water for nearly four entire villages in Haiti. The aftermath of the Western Hemisphere's worst earthquake in history has killed more than 450,000 Haitian children from the previously dead disease of cholera. 7000 children have died this year alone. Cholera is a disease born of tainted drinking supplies. The four water filtration plants the 'Do Much Good' team worked to build will service hundreds of thousands with crystal clean water, literally changing lives.
In 2013 the 'Do Much Good' team put a roof on the four buildings of an Orphanage in Belize, raised money, supplies, and relief for the victims of Hurricane Sandy, the victims of the Oklahoma and Midwestern Tornadoes, the victims of persecution in South Sudan, and are completing a campaign to feed '4000 Orphans in the final 4000 hours of 2013.'"
This is so awesome! Stephen Baldwin is helping so many sick and needy people! This is only what he has done this year!
Conclusion
The proof is in the pudding with Stephen Baldwin for sure! He is doing so much for the kingdom. Through radio, television, movies and missionary work he has helped many people come to know Christ! If you liked this article, let us know in the comments below! God bless you all!
Related Post- 9 Famous Christian Actors
Resources- ESV Holy Bible, Youtube, Photo Credit: Gage Skidmore via Compfight cc