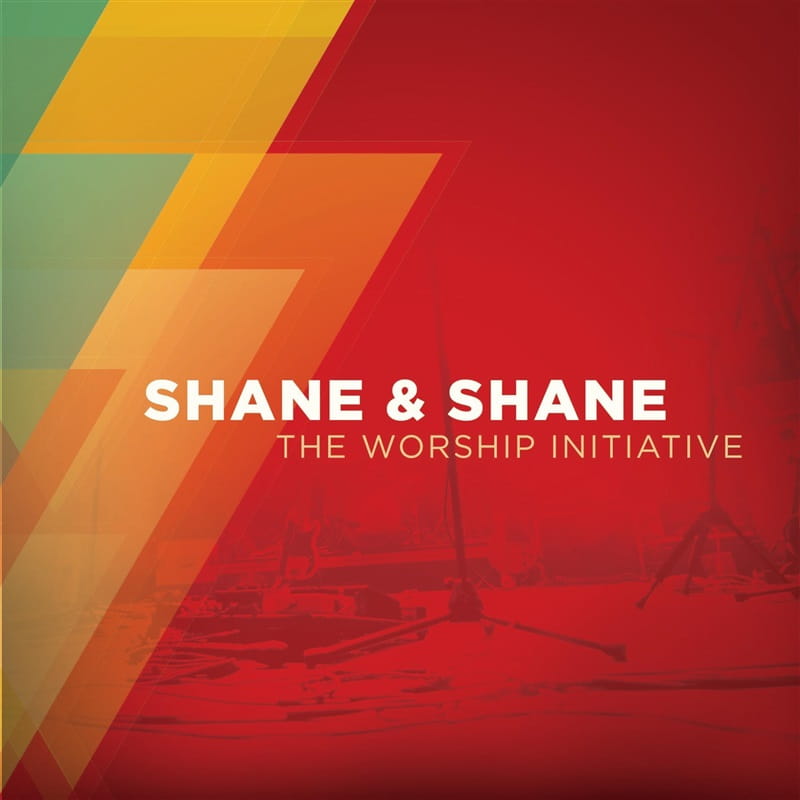 The Worship Initiative is the new album from Shane & Shane and it's more than a collection of great worship songs. It's a reflection of the season of discipleship that has restructured what God is doing with their incredible talent. The Worship Initiative is also the name of Shane & Shane's new collective online community for musicians and worship leaders to connect and grow in their God-given talent. This new resource is "a one-stop shop for training, a hothouse environment where all – musicians, worship leaders, budding songwriters – can grow and flourish in their craft and creativity and devotion to the Lord." Check out The Worship Initiative on their website.
The new album The Worship Initiative was born from this and each song embraces an aspect of devotion while praising God. Other artists have sung some of the songs and others are new, but there is a sense of familiarity throughout the album. Here's a sneak peak at what to expect from a few of my favorites off the album. You can purchase the album on iTunes and find it on Spotify.
"God of Ages Past"
This song beautifully embraces what it means to surrender your heart and let God take over. I imagine a person who has been trying and struggling to make life work while keeping God distantly at arm's reach. Then something happens; they are broken and finally give in and let God take over.
Favorite Lyrics
Then won't you come and break this old heart of stone

Start a fire in these broken bones

Here's my soul it has been exposed

To You

Oh God of Ages Past
"Seas of Crimson"
Shane Barnard stated that this is their favorite song on the album. This song has a touch of Josh Groban to it mixed with Casting Crowns. It's unique and beautiful and you gain a huge sense of power and strength building as they sing "it is finished all to you the highest praise." Their voices come together at different parts of the song, including during the chorus and at the very end.
Favorite Lyrics
Where there was sin your love rushed in
Where sin runs deep your grace runs deeper
For all enslaved the ransom paid
Light of the world, yours is the power
"Scandal of Grace"
You may recall the version by Hillsong United, which I love, but this version from Shane & Shane redefines how you worship singing this specific song. The drum march in the background gives me the image of marching toward Christ every time I surrender, each time I pray and with each moment filled with the Holy Spirit.
Favorite Lyrics
To much to make sense of it all

And all that your love breaks my fall

The scandal of grace

You died in my place

So my soul will live

Oh to be like you

To give all I have just to know you

Jesus there's no one beside you

Forever the hope in my heart
"Forever"
This list would not be complete without a quick glimpse of "Forever". This song is so moving and brings full emotion to what Christ endured and the victory He secured through His death and resurrection.
Favorite Lyrics
Forever He is glorified

Forever He is lifted high

Forever He is risen

He is alive

He is alive

We sing hallelujah

We sing hallelujah

The lamb has overcome

The lamb has overcome
"You Make Me Brave"
Bethel Music and other artists have sang this song and I love hearing it each time. The version from Shane and Shane just speaks to my soul. You can hear and feel the complete devotion to God as they sing. It starts out loud and energetic, but calms down as Shane sings "You make me brave, You make me brave, You call me out beyond the shore into the waves" and they singing these lyrics as a duet. This version is so unique!
Favorite Lyrics
As your love

Wave after wave

Crashes over me

Crashes over me

You are for us

You are not against us

Champion of heaven

You made a way for all to enter in
"All the Poor and Powerless"
With voices combined and Shane Barnard playing a guitar, this has a beautiful calming, coffee-shop type sound to it. I love it and it pairs well with a cup of coffee – try it, you'll love it! It was originally written by Christian artist All Sons and Daughters.
Favorite Lyrics
And all the hearts that are content
And all who feel unworthy
And all who hurt with nothing left
Will know that You are holy
I tend to let my soul soak up every word and every note in new music from Christian artists and my soul is happier and drawn closer to God through this. What I love most about it is that each song is different. I caught myself saying, "Oh, I love that song" to just about every song on the album and I've already added it as a playlist on Spotify. Seriously, check out new album The Worship Initiative!
Article by Elise Cleary
I am a Christian writer and editor that lives in northern Michigan and thoroughly enjoy music, movies, TV shows, books and other entertainment with a Christian focus. My favorite song is "Oceans" by Hillsong United because it reminds me that has big plans for me and everyone else who puts their trust in Him. There are many movies that have impacted my life, but a few include God's Not Dead, The Shunning and Letters to God. When I'm not writing I enjoy watching movies and laughing with my busy toddler and husband.