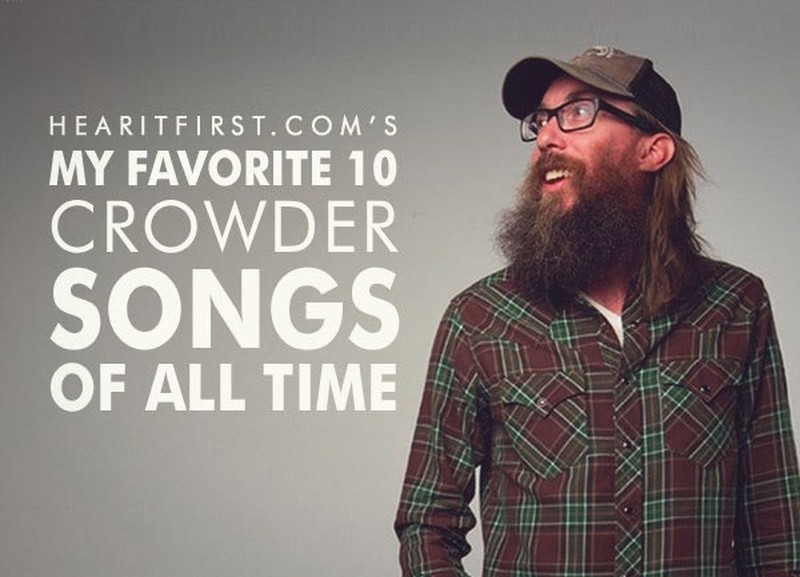 David Crowder first became a hit Christian artist while performing with the former band called the David Crowder Band. He and the members went separate ways and I have enjoyed the new music from Crowder – his new stage name. He has released one album under the name Crowder, called Neon Steeple. It peaked at #9 on the US charts after being released May 27, 2014. He also released tracks on an album called Crowder iTunes Session, which is only available on iTunes. It includes some tracks that are old gospel hymns, such as "Old Rugged Cross". I love his style because it is so unique and David Crowder is so genuine when he sings. He puts his entire heart and soul into each performance and song. I also love the many instruments he incorporates into each song.
Here are my favorite 10 Crowder songs of all time.
10. "Let Me Feel You Shine"
Favorite Lyrics
If I could feel You shine Your perpetual light
Then maybe I could crawl out of this tonight
If I could feel You feel You shine
Oh let me feel You shine
So beautiful and warm
So beautiful and bright
Like a sun comin' out of a rainy sky
Oh let me feel You shine Oh,
Let me feel You shine
9. "Come Alive"
Favorite Lyrics
Never fear, hope is here
Breathing into us
Breathing into us
We will rise, come alive
You're breathing into us
Nothing less than love

We have tasted and seen of the never ending grace of the King
Where the broken and the least of the least come alive
Come alive
8. "Lift Your Head Weary Sinner (Chains)"
Favorite Lyrics
If you're lost and wandering
come stumbling in like a prodigal child
see the walls start crumbling
let the gates of glory open wide

All who've strayed and walked away
unspeakable things you've done
fix your eyes on the mountain
let the past be dead and gone
7. "My Sweet Lord" (Featuring Emmylou Harris)
Favorite Lyrics
Let Your love shine down on me
And light the way to be
Oh and these are the words that I pray
I need my sweet Lord's help today

Blind is the fool, I see that now
I broke the rules, and let you down
I walked alone, Now I have run dry
I need my sweet Lord's help tonight
6. "Steeple Outro"
Favorite Lyrics
My heart was weary, My soul was heavy
My bones were aching, Lord
I needed waking, I needed breaking
I needed You my Lord

And You took my hand, led me to the river
And buried all I was
Then You kiss my face and told me I was Yours
And I knew I'd found my home
5. "You Are"
Favorite Lyrics
You are constant in my wandering
You are brighter than the dark in me
You are the love that sets me free
You are faithful, You are faithful, You are

Ever waiting for the weary
Ever wanting them to see
There's ransom, there's forgiveness
Your hope is all around me
4. "Come As You Are"
Favorite Lyrics
There's hope for the hopeless
And all those who've strayed
Come sit at the table
Come taste the grace
There's rest for the weary
Rest that endures
Earth has no sorrow
That Heaven can't cure
3. "I Am"
Favorite Lyrics
I am, Holding on to You
I am, Holding on to You
In the middle of the storm
I am holding on, I am

Love like this, Oh my God to find
I am overwhelmed, what a joy divine
Love like this sets our hearts on fire
2. "Open Skies"
Favorite Lyrics
Praise Him under open skies
Everything breathing praising God
In the company of all who love the King
I will dance, I will sing
It could be heavenly
Turn the music loud, lift my voice and shout
From where I am
From where I've been
He's been there with me
He's built a monument
His very people
So let his people
Sing, sing, sing
1. "How He Loves"
Favorite Lyrics
And oh, how He loves us, oh
Oh, how He loves us
How He loves us all

He is jealous for me
Loves like a hurricane, I am a tree
Bending beneath the weight of His wind and mercy
When all of a sudden
I am unaware of these afflictions eclipsed by glory
And I realize just how beautiful You are
And how great Your affections are for me
David Crowder is so talented and it's refreshing that he uses his abilities to serve God. Each song on the album Neon Steel carries a different style. You are bound to connect with at least one track that will soon become your favorite. What is your favorite Crowder song?
Article by Elise Cleary
I am a Christian writer and editor that lives in northern Michigan and thoroughly enjoy music, movies, TV shows, books and other entertainment with a Christian focus. My favorite song is "Oceans" by Hillsong United because it reminds me that has big plans for me and everyone else who puts their trust in Him. There are many movies that have impacted my life, but a few include God's Not Dead, The Shunning and Letters to God. When I'm not writing I enjoy watching movies and laughing with my busy toddler and husband.