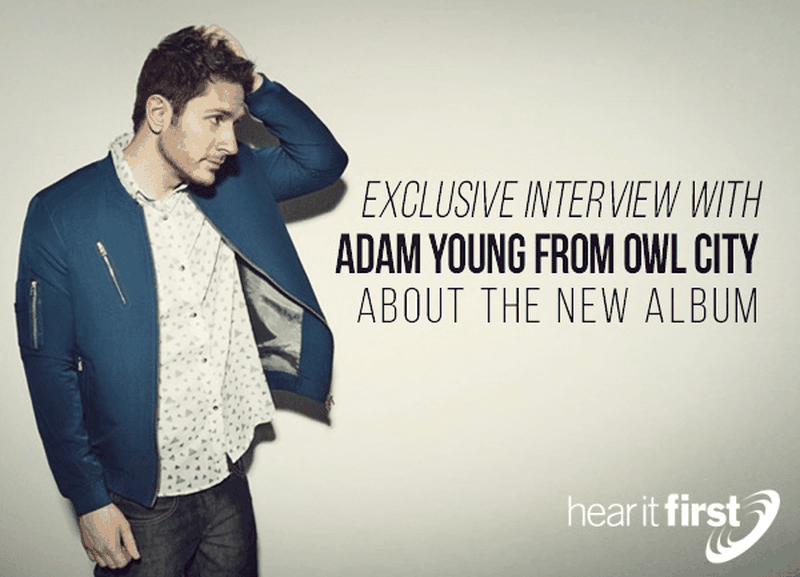 Owl City's newest album Mobile Orchestra is releasing July 10th and Adam Young teamed up with Britt Nicole, Jake Owens, Hanson (yes, the Hanson brothers!) and a few other artists on some of the songs. Lead singer Adam Young has professed his Christian beliefs before, but it comes through loudly on many of the new tracks. The name of the album is fitting as Owl City recently toured in the Philippines, Indonesia, China and Japan and has fans from around the world. The last album, The Midsummer Station, was released in 2012 and it won numerous awards for the song "Good Time" (featuring Carly Rae Jepsen).
I had a chance to ask Adam Young a few questions and here's what he had to share about the new album.
Do you have a favorite song on the album?
Adam: "Yeah. There is a song called Back Home. It's maybe the most literal song on the album because it's really about every time I come home after a long tour. Especially overseas. I fly back home to Minneapolis and it's always about an hour drive back home to where I live. I pass the same things and I get closer and closer and it's this great feeling of always coming back home. I wanted to capture that and pay homage to how much I love being home."
What was it like working with Jake Owen?
Adam: "It was a blast! I'm not the kind of guy who gets star struck very often, but I've been a huge fan of Jake's over the past few years. I listen to a lot of music and I guess his style was kind of in my head when I wrote Back Home – kind of electronic meets country vibe. He wrote back and said he was a fan of mine and he said he would love to collaborate and work together."
What did Britt Nicole bring to the song "You're Not Alone"?
Adam: "I feel like "You're Not Alone" with Britt Nicole would have been no where as good without her fingerprints all over it. She added something so special to the song that I could have never done had I just sang the whole thing myself. She was so easy to work with."
How did you bring the theme of faith into the album?
Adam: "There is a song called "My Everything" and it's sort of the sister song to "You're Not Alone" in that I wanted to write a song that in a very simple way embodies how amazed I am by who God is and how thankful I am for the things He does in my life. It's songs like those that I hope at the end of the day can serve as encouragement who may feel spiritually weary or tired. Hopefully it might speak to people in ways they need to hear."
Song Highlights
Here are highlights from a few of the songs!
"My Everything"
Adam sings very openly about his faith and how God is His everything. He talks about running to God when he's filled with fear, when trouble comes and when he's knocked down. The words are very meaningful with the catchy, but not overly done, music.
Favorite Lyrics
When my hope is lost
and my strength is gone
I run to you and you alone
When I can't get up and I can't go on
I run to you and you alone
'Cause you're my light in the dark
and I sing with all of my heart
"You're Not Alone" (feat. Britt Nicole)
"You're Not Alone" has already topped the charts and for good reason. The encouraging words, upbeat rhythm and quiet piano in the background help the message to sink in deep. Together Britt Nicole and Adam Young bring a beautiful message of how God rescues us and never leaves us.
Favorite Lyrics
I'm lost without You
I'll never doubt You
Your grace is beyond compare
And though when it rains, it pours
You know all I have is Yours
You smile when you hear my prayer
"Back Home" (feat. Jake Owens)
As Adam mentioned, this song talks about what's it's like for him to return back home. He's a country boy who still lives in Owatonna, Minnesota – a town of 25,000. Bringing country singer Jake Owens into the song is very fitting.
Favorite Lyrics
So here's to the cheap sunglasses
Redbull and minivans and
People who had your back when
The world didn't understand
See, we won't forget where we came from
The city won't change us
We beat to the same drum
No, we won't forget where we came from
The city can't change us
We beat to the same drum, the same drum
Mobile Orchestra delivers the electronic sound that we've come to love from Owl City through many upbeat songs. It has a lot of great energy and they brought in the style of each artist they collaborated with and blended it well with their own style. You will love the electronic-country vibe of "Back Home" that features Jake Owen. What's your favorite song to date from Owl City? Don't forget to follow Owl City on Facebook and Twitter! Preorder Mobile Orchestra on iTunes and look for it on Spotify July 10th!
Article by Elise Cleary
I'm a Christian writer and editor residing in northern Michigan and thoroughly enjoy Christian centered music, movies, TV shows and books. A favorite song is "Oceans (Where Feet May Fail)" by Hillsong United and I find many songs by Matt Maher, Tim Timmons, Third Day, Laura Story, Jeremy Camp and numerous other artists uplifting. A few of my favorite Christian movies include God's Not Dead, The Shunning, Do You Believe and many by the Kendrick brothers. When I'm not writing, I enjoy running, experimenting in the kitchen and spending time with my musically gifted husband and spunky daughter. I am so blessed and in awe of the work God is doing throughout the Christian entertainment industry.